On one of my recent menu plans, I shared a photo of this cauliflower, and several of you wanted the recipe.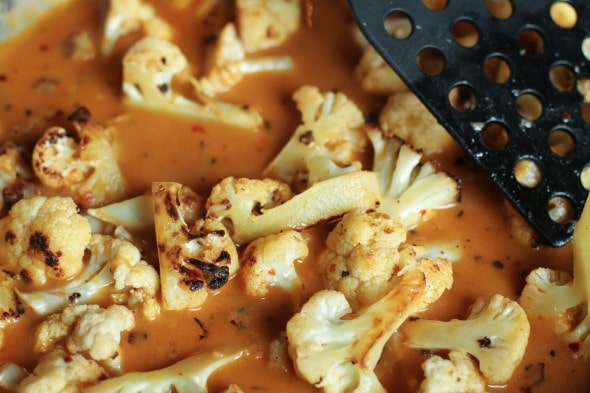 No one at my house adore cauliflower, but this recipe made it palatable to almost everyone. I think it's because when the cauliflower cooks in a flavorful sauce, it tastes less…cauliflowery.
And that's a happy thing for my family. 😉
I found the recipe in my big Cook's Illustrated cookbook as I was searching for ways to use the cauliflower my produce box sent me.
(I love that cookbook so much. It doesn't have pictures (boo!) but it does contain a lot of awesome-fabulous recipes.)
Here's how to make your cauliflower:
First up, you mix fish sauce, lime zest and juice, sugar, and red pepper in a bowl until the sugar is dissolved. Add coconut milk and curry paste, and the sauce is done.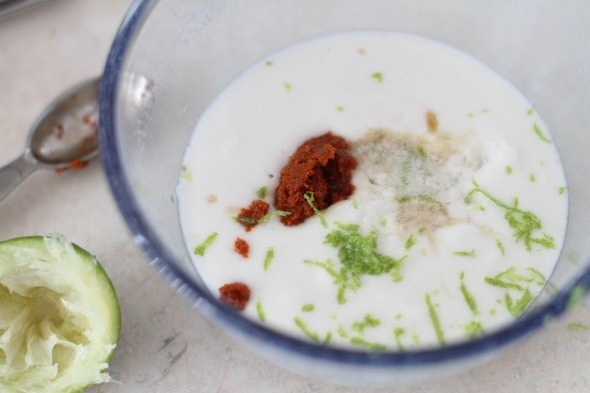 I would never in a million years have put this combination of ingredients together, but it somehow works.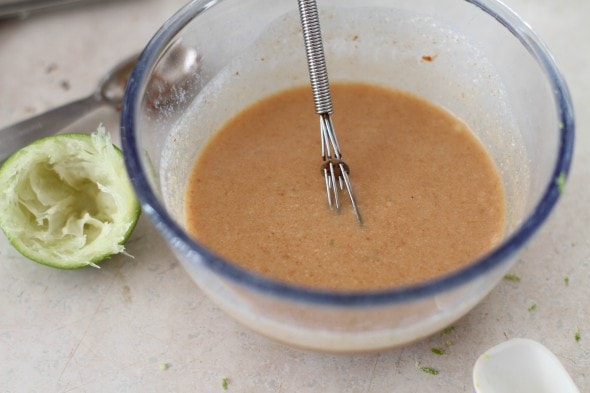 Next up, heat a tablespoon of oil in a nonstick or cast iron skillet until the oil is shimmering. While the oil is heating up, cut your cauliflower into small, 3/4 inch florets.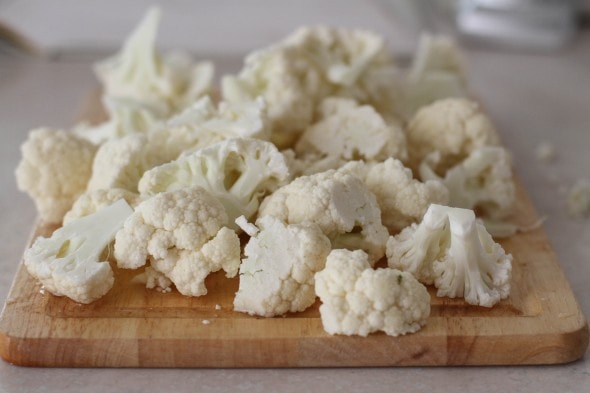 Add the cauliflower to the hot pan, and cook the florets for about 3 minutes, or until they're barely tender. The original recipe says to stir every 10-15 seconds, but I let mine sit still more than that, so they get nice and browned.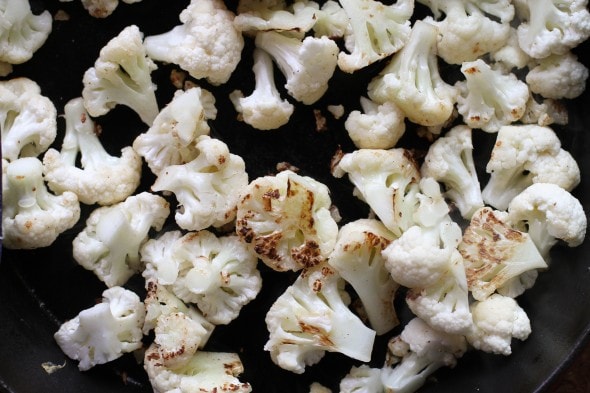 While the cauliflower browns, mince your ginger and garlic.
Clear the cauliflower away from the center of the pan, and add oil, garlic and ginger. Let them cook for about 30 seconds, and then stir the oil/garlic/ginger into the cauliflower.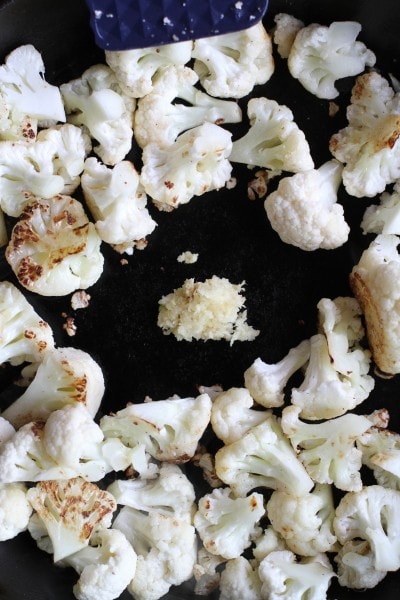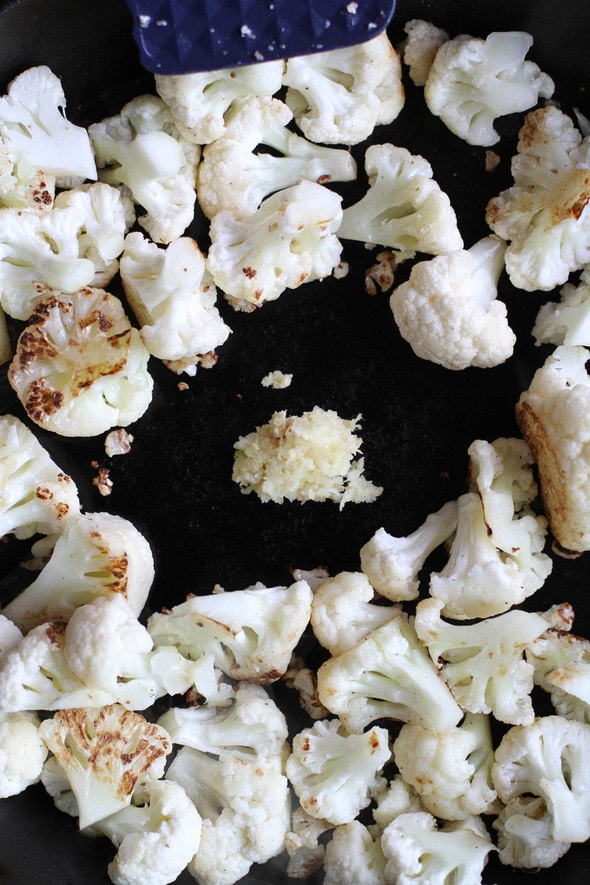 Then pour the sauce mixture in…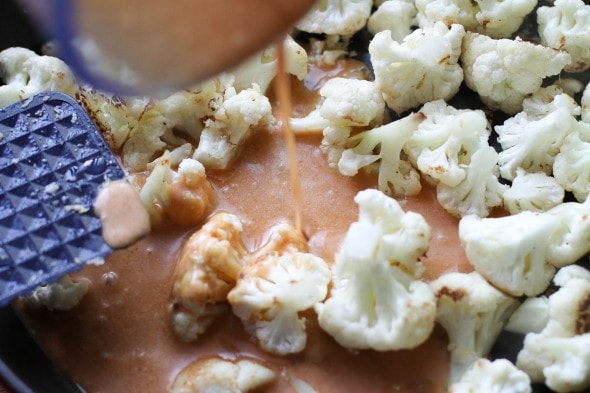 …and simmer the cauliflower in the sauce for about 5 minutes, or until it's as tender as you like it to be.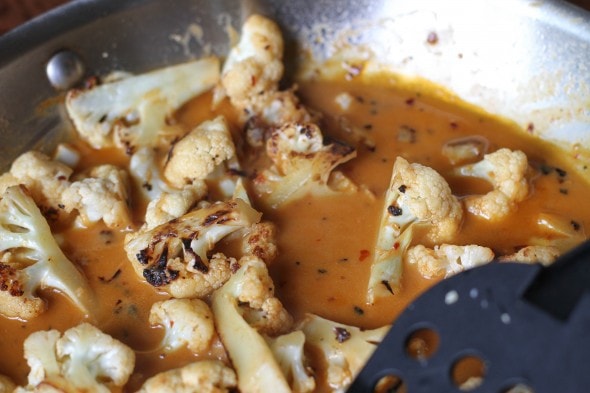 The original recipe calls for sprinkling the cauliflower with fresh basil leaves, but I haven't had them on hand. So, feel free to add them, but I'd say the cauliflower is quite edible even without the basil.
Cauliflower with Thai Red Curry Sauce
Serves 4-6
Printable Cauliflower with Thai Red Curry Sauce
Thai Sauce Base
3 tablespoons fish sauce
1 tablespoon lime juice plus 1 teaspoon grated zest from 1 lime
1 tablespoon light brown sugar
â…› teaspoon red pepper flakes
1 cup coconut milk
2 teaspoons red curry paste
Cauliflower
1 tablespoon vegetable oil plus 1 more teaspoon
3 pounds cauliflower (about 1 large head), cut into even ¾-inch florets (about 4 cups)
2 medium cloves garlic, minced or presed through garlic press (about 2 teaspoons)
¼ inch piece fresh ginger, peeled and minced (about 1 teaspoon)
2tablespoons minced fresh basil leaves
For Thai Sauce Base: Mix fish sauce, lime zest and juice, sugar, and red pepper in small bowl until sugar is dissolved. Add coconut milk and curry paste to Thai Sauce Base, and whisk in bowl until smooth; set aside.
To Cook Cauliflower: Heat 1 tablespoon oil in 12-inch nonstick skillet over high heat until shimmering, 2 to 3 minutes. Add cauliflower and cook, stirring every 10 to 15 seconds, until just barely tender, about 3 minutes.
Push cauliflower to sides of skillet, clearing center of pan. Add remaining teaspoon oil, garlic, and ginger to center of pan and mash with back of spoon; cook until fragrant, about 30 seconds, then stir mixture into cauliflower.
Reduce heat to medium-high; stir in sauce mixture. Simmer, stirring occasionally, until cauliflower is tender, about 5 minutes. Sprinkle with basil; serve immediately.