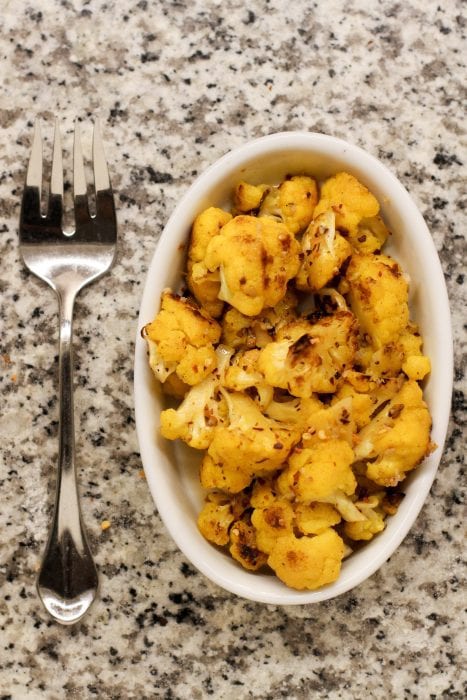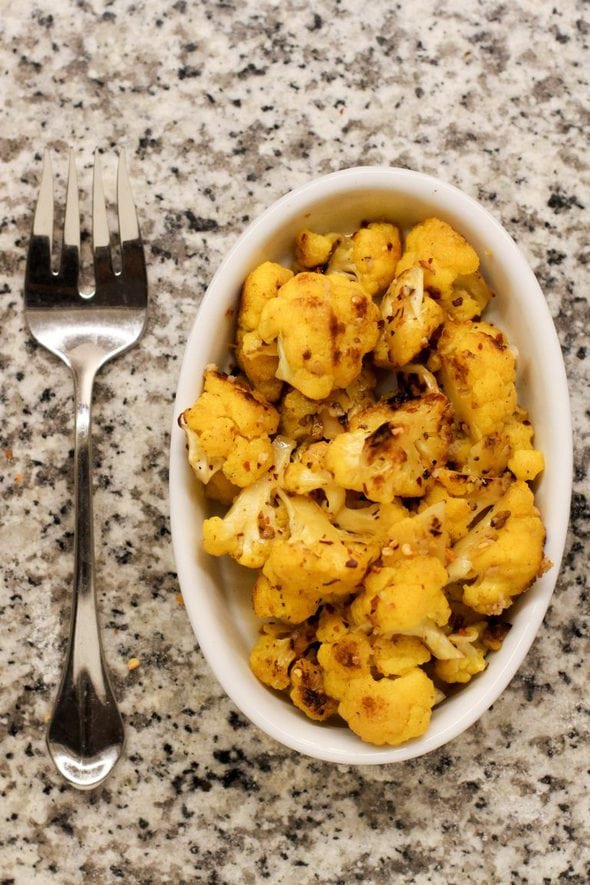 I live in a household of People Who Are Not Fans Of Cauliflower.
But cauliflower is really good for you, and my Hungry Harvest box sends me heads of it every now and again, so I do my best to serve it in ways that are not offensive to the people at my table.
I came across this recipe in my ATK Quick Family Cookbook (which I use all the time!), and everyone in my house has deemed it tolerable.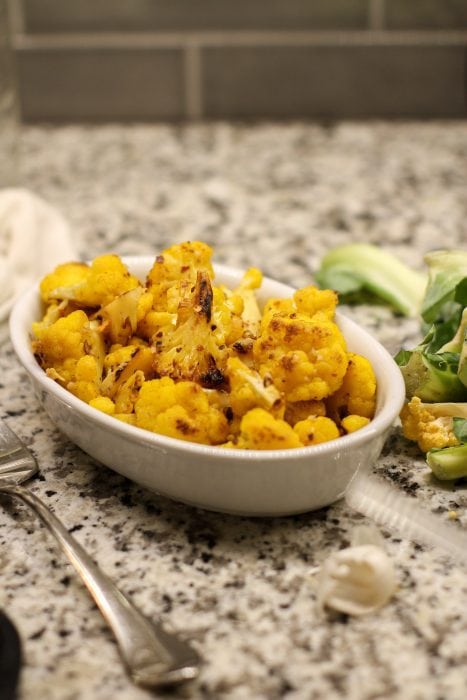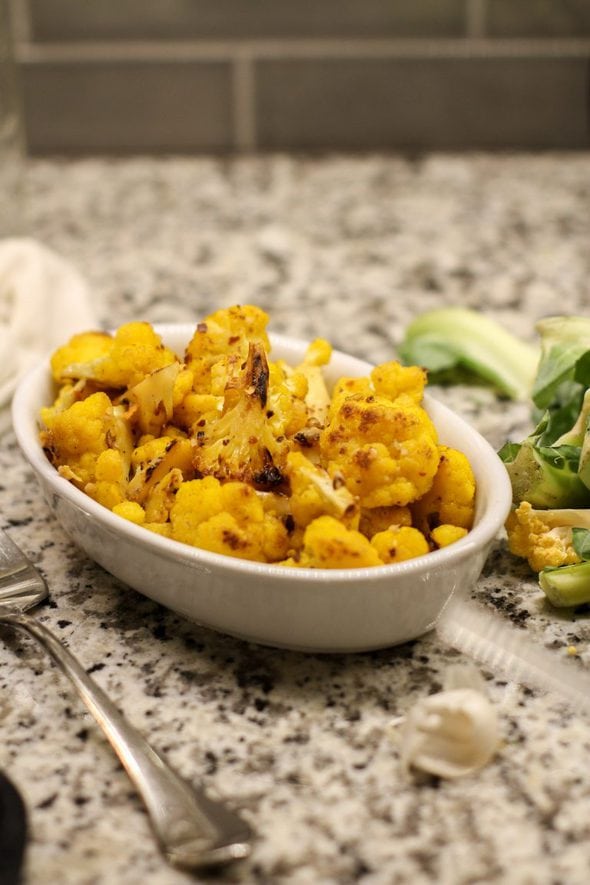 Which, I know, is hardly a glowing recommendation.
But coming from my family, it does say a lot.
It's been on my menu plan a few times, and you guys asked for the recipe.
It was dark when I took these pictures, so please excuse any not-fabulousness. Done is better than perfect, I say.
Oh, and this time around, I happened to have a head of yellow cauliflower from my Hungry Harvest box. So, I know this looks like curried cauliflower, but it's really not.
First up, mix minced garlic, olive oil, and red pepper flakes in a bowl.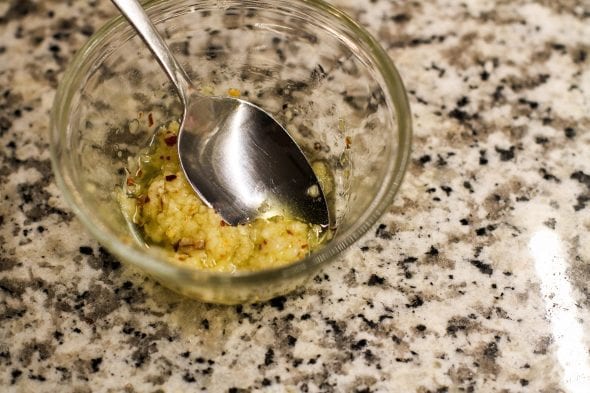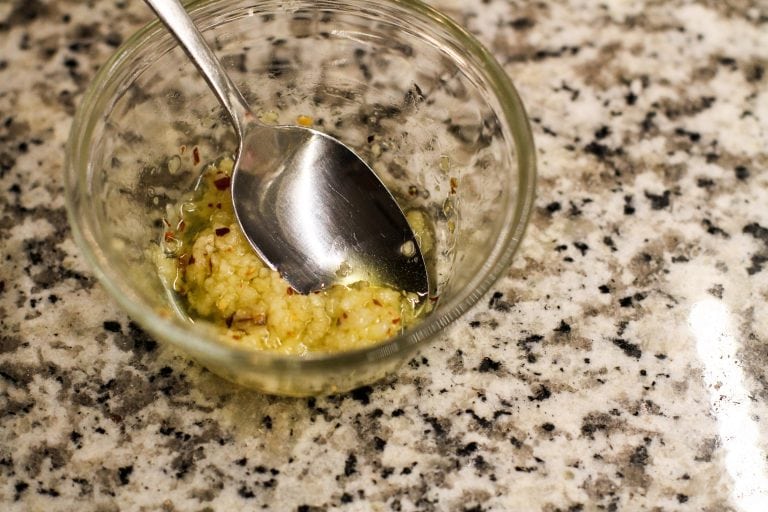 Then add 3 tablespoons of oil to a 12-inch skillet and heat it on medium-high until the oil is shimmering.
This is an important thing, friends: high heat makes almost everything taste better.
Add your cauliflower florets to the pan along with 1/4 teaspoon salt and cook for 7-9 minutes, stirring here and there.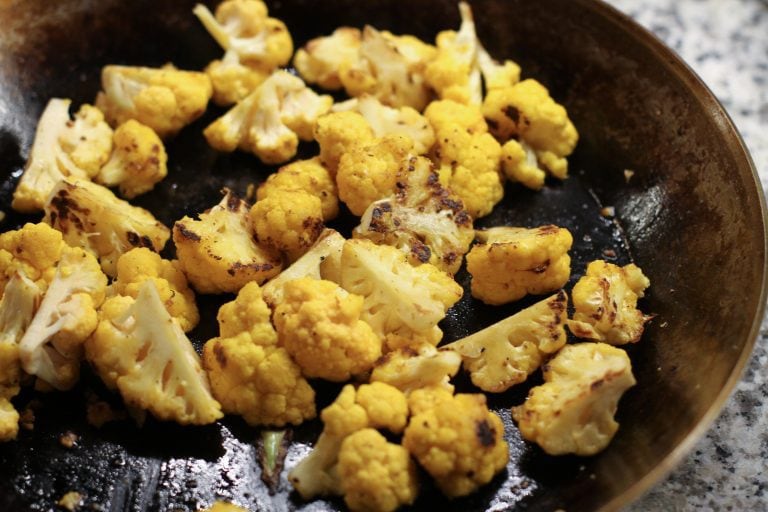 You should get some lovely browned spots, which definitely help the cauliflower taste more delicious.
Scoot the cauliflower out of the center of the pan and add the garlic mixture.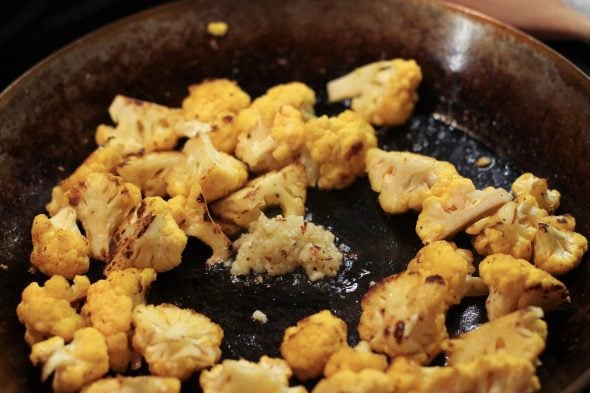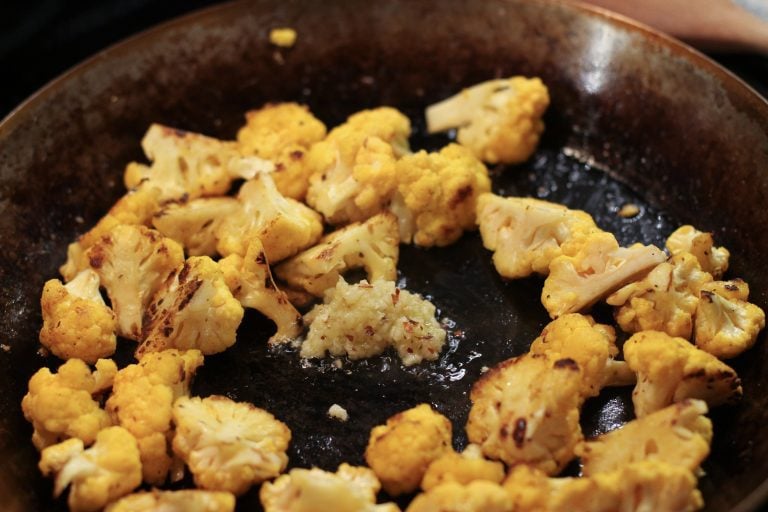 Cook that for about 30 seconds, and then stir it into the cauliflower.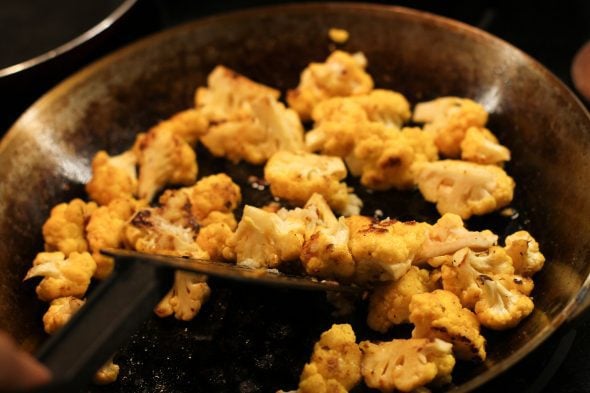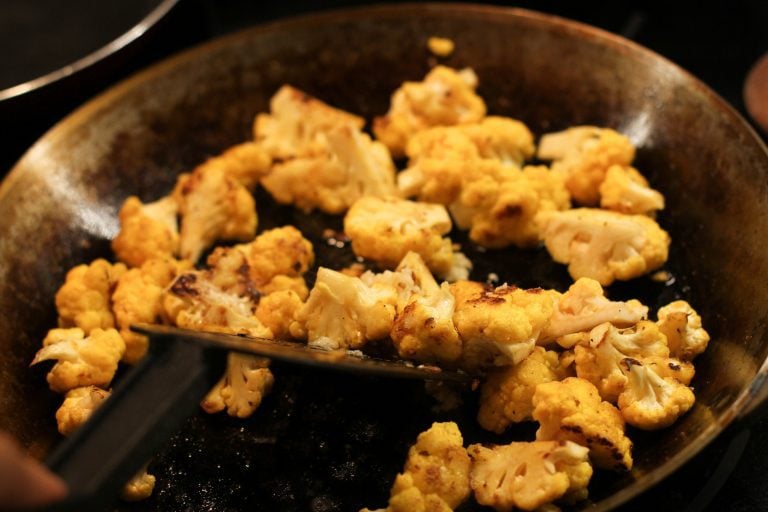 Next, add 1/3 cup white wine and 1/3 cup chicken broth. I just use cooking wine since I never have actual wine around the house. And I use homemade broth, which is not super salty.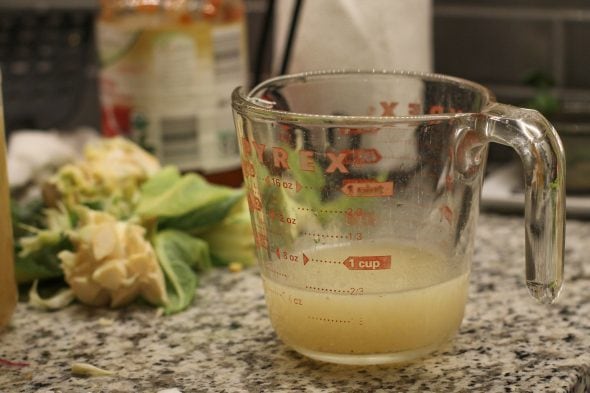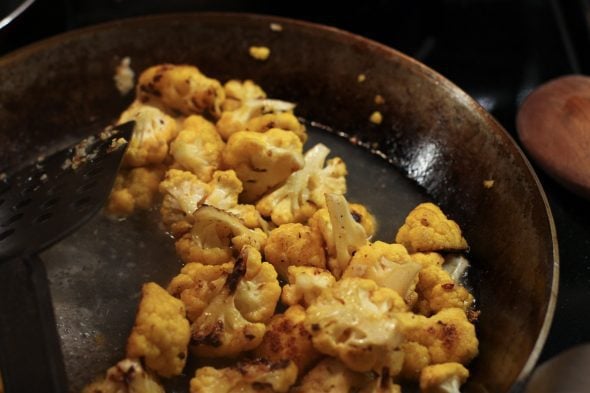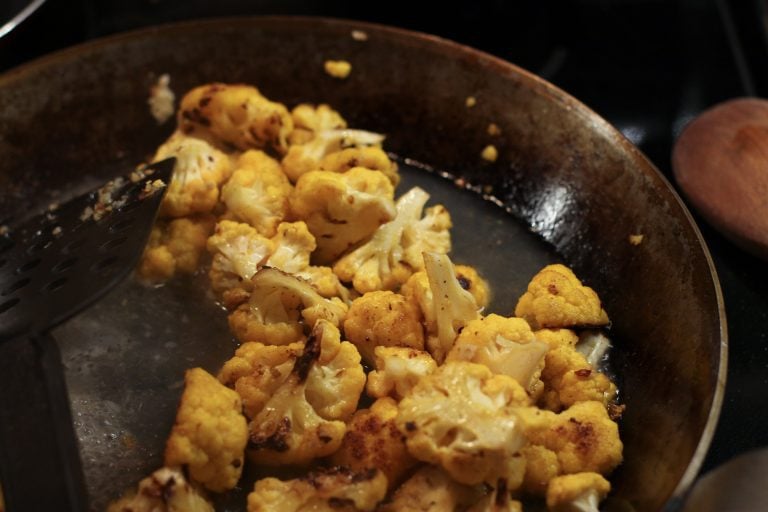 Cover the pan and let the cauliflower cook for another 4-5 minutes, or until it's crisp-tender.
And then you're pretty much done! Add salt and pepper to taste, and more red pepper flakes if you wish.
(I always wish for more red pepper flakes.)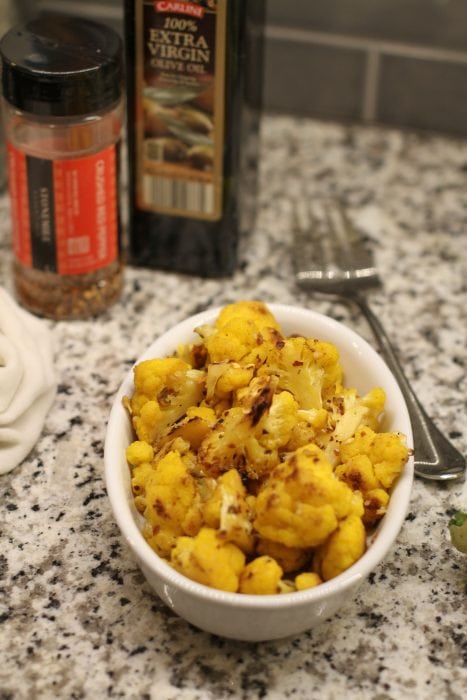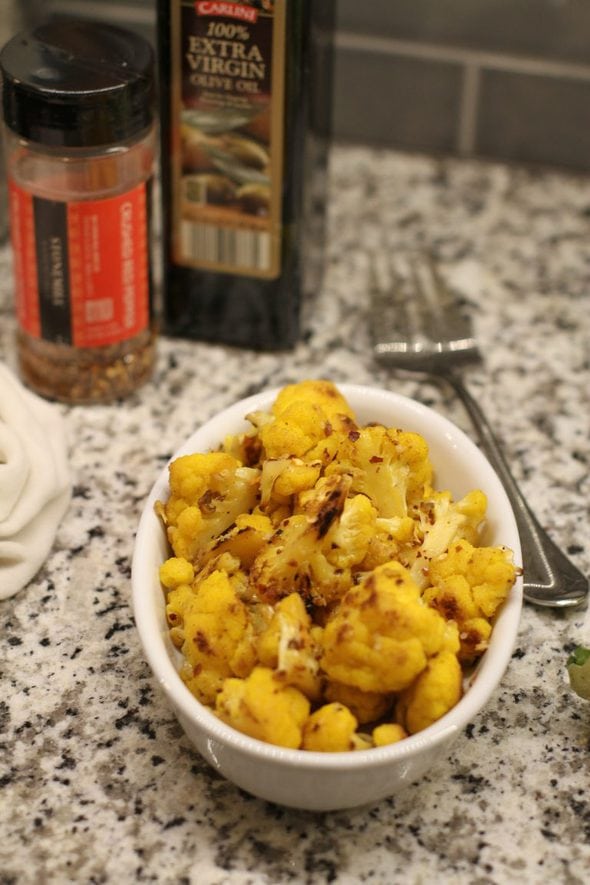 Easy, quick, and as my family says, tolerable.
Bon appetit! 😉
Braised Cauliflower with Garlic and White Wine
Printable Braised Cauliflower with Garlic and White Wine
3 tablespoons plus 1 teaspoon olive oil
3 garlic cloves, minced
1/8 teaspoon red pepper flakes
1 pound cauliflower florets, cut into 1-inch pieces
salt and pepper
1/3 dry white wine (or cooking wine)
1/3 cup low-sodium chicken broth
2 tablespoons minced fresh parsley, optional
In a small bowl, combine 1 teaspoon olive oil, plus garlic and red pepper flakes.
In a 12 inch skillet, heat 3 tablespoons oil over medium high heat until the oil is shimmering. Add cauliflower and saute, stirring occasionally, for 7-9 minutes, or until browned in spots.
Clear center of pan, add garlic, and cook for 30 seconds. Stir garlic mixture into cauliflower, then add broth and wine and cover and cook for 4-5 minutes, or until cauliflower is crisp tender.
Removed from heat and add salt and pepper to taste. Sprinkle parsley over top, if using.