For many years, I made potato cubes by cubing potatoes and then cooking them in a skillet with oil.
That kind of got the job done, but it required SO MUCH OIL, it took 45 minutes, and I had trouble with the outsides of the potatoes getting burnt before the insides got cooked.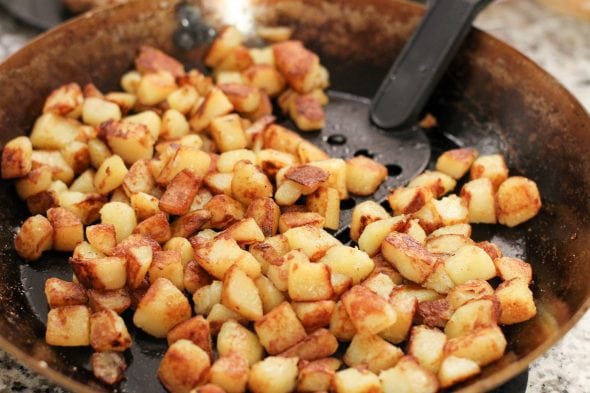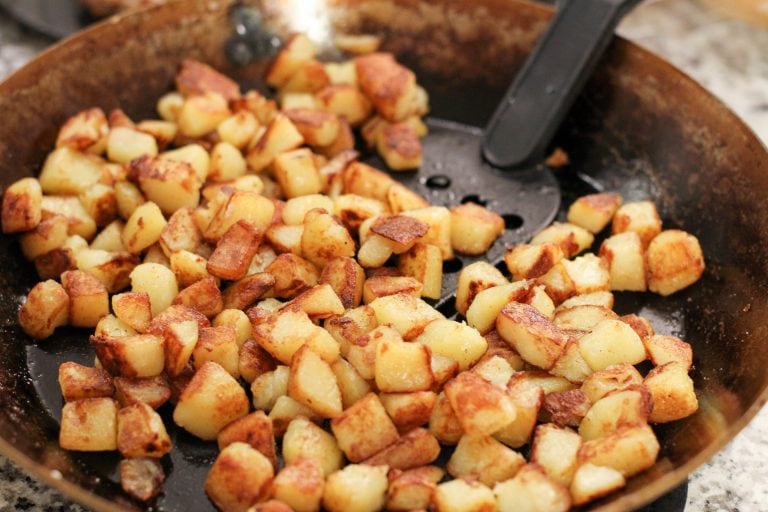 But then some years ago, I tried an ATK recipe for a steak and potato salad and my potato cooking life changed.
This salad has potato wedges in it, and the recipe called for par-cooking the potato wedges and then browning them on the stovetop.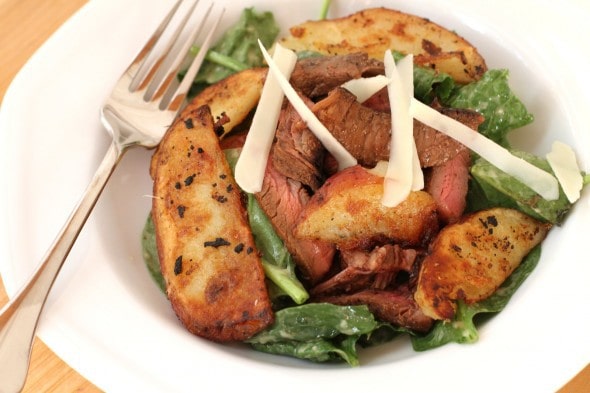 Brilliant!
This produced potato wedges that we perfectly cooked on the inside while also being perfectly browned on the outside.
And it took so much less time than the raw potatoes + skillet method.
So, I decided to try this with potato cubes as well, and I have never looked back.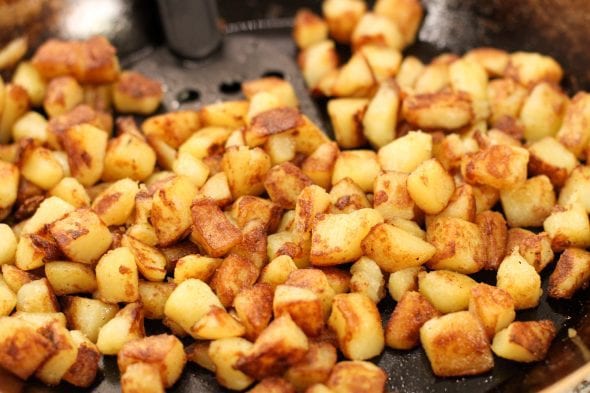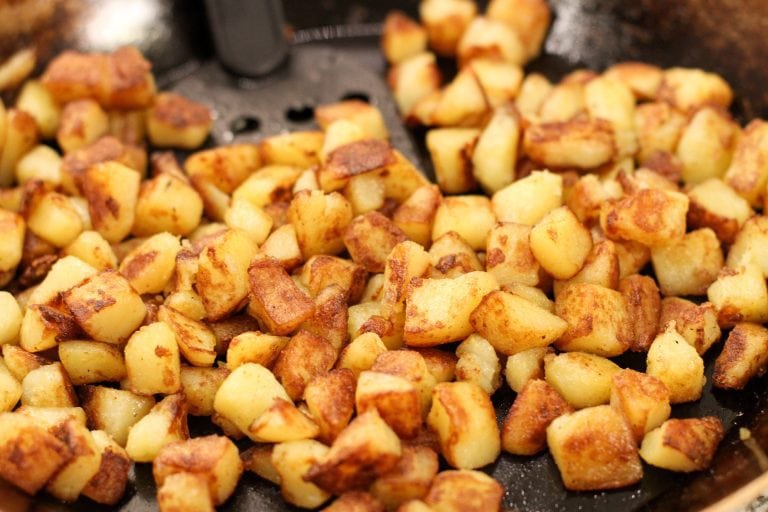 Parcook your potatoes, friends! It's life-changing.
This is really more of a method than a recipe, but here's how I go about making my potato cubes.
Parcook the potatoes in the microwave.
First, peel and cube your potatoes. I use either red potatoes or Yukon Golds. Russets may work too, but they'll be a little more prone to falling apart when you parcook them.
Drizzle the potatoes with a little oil (maybe a tablespoon per pound) and toss.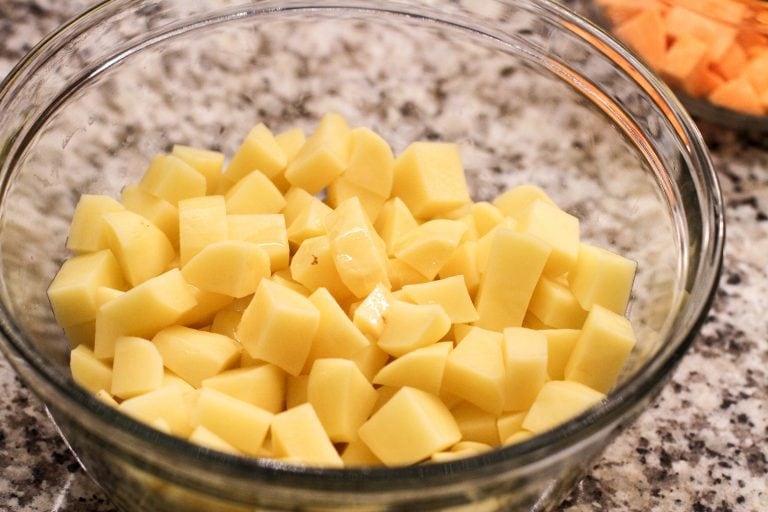 Cover the bowl and microwave the potatoes until they're softened, stirring about halfway through.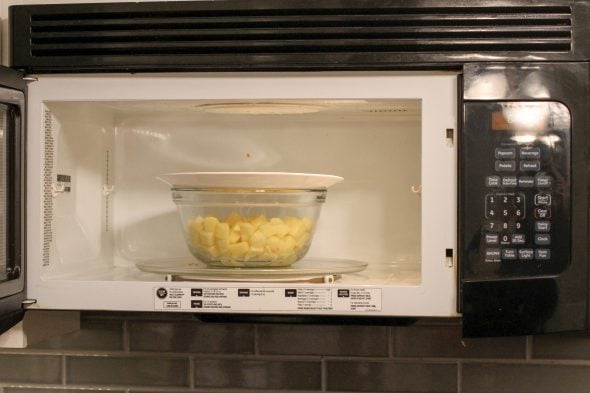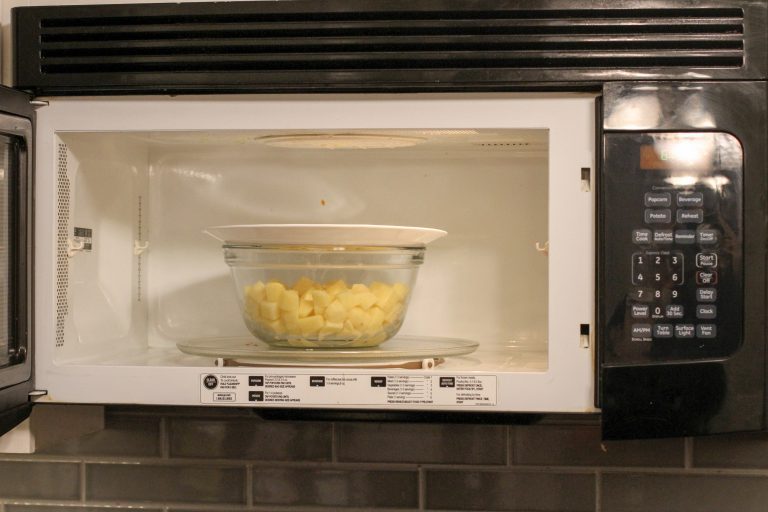 The amount of parcooking time you need will depend on how many potatoes you have and how powerful your microwave is.
For a bowl this size, in my microwave, it usually takes a total of 6-7 minutes.
The shouldn't be total mush, but you should be able to pierce them with a paring knife and meet with no resistance.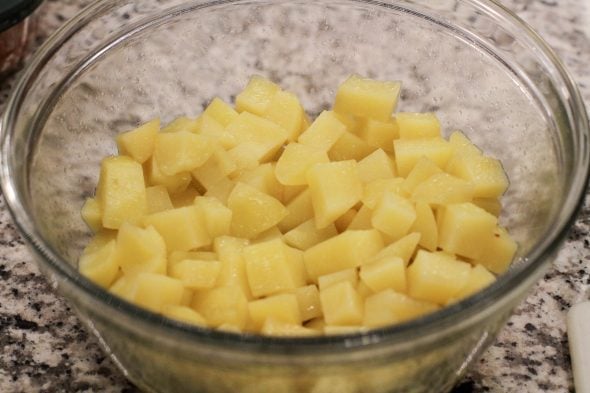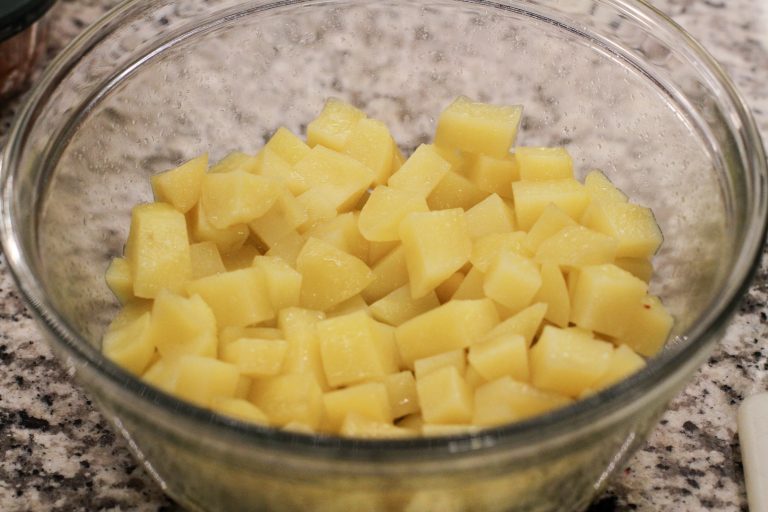 (If you prefer, you could parcook them on the stovetop instead of in the microwave.)
Fry the potatoes on the stovetop.
Now it's time to brown them!
You'll need some kind of fat to heat up in your skillet. The type is up to you, but I always use leftover bacon fat.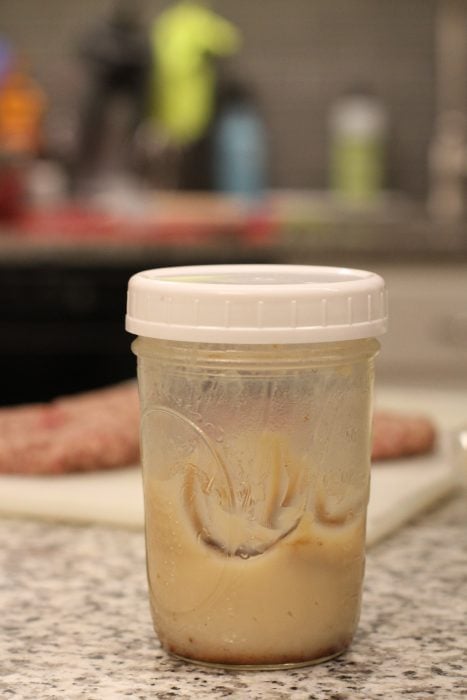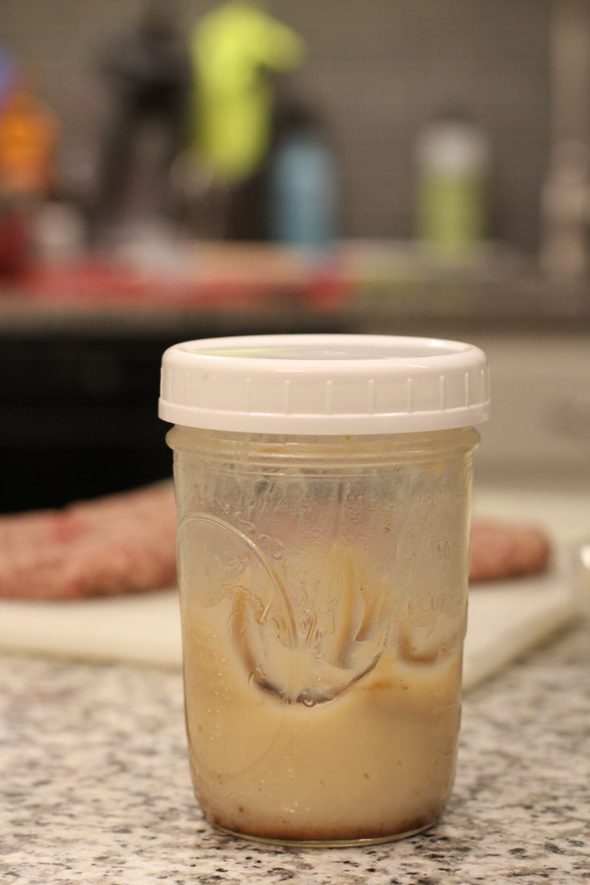 I just pour it into this jar whenever I cook bacon, and that way I always have some in the fridge.
(If I run out, it's time to cook more bacon!)
Anyway.
Heat a few tablespoons of your fat of choice over medium high heat in a large skillet (nonstick, cast iron, or carbon steel work best.)
A regular skillet will hold onto your potatoes and will never let them go. Either that or you'll have to use vast quantities of fat to keep them from sticking.)
Once the fat is hot (hot fat = beautiful browning), add the potatoes.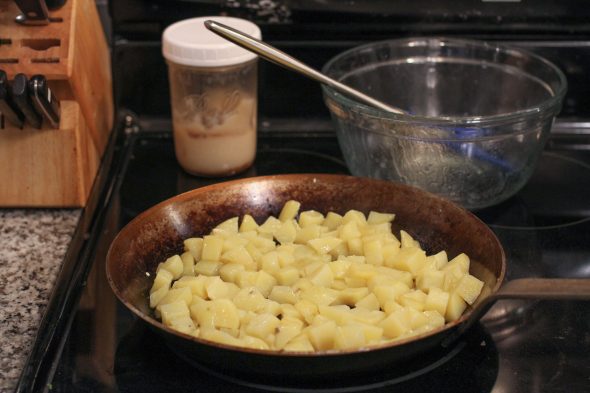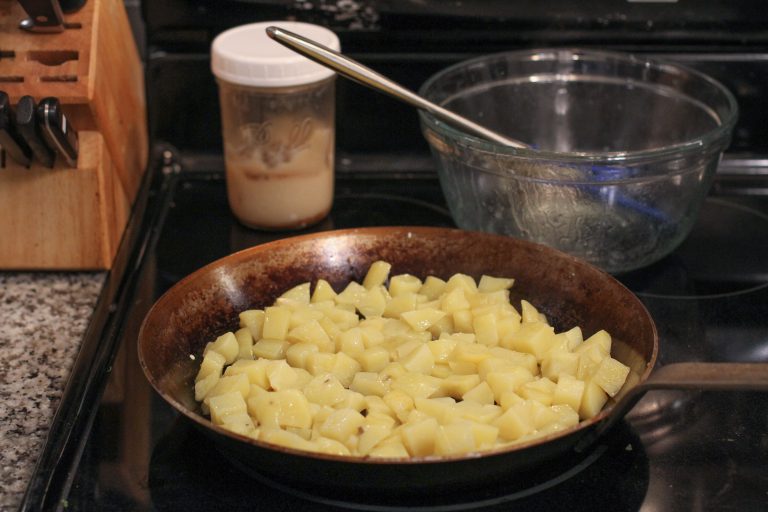 Cook them for several minutes without stirring, and then give them a stir to flip the browned sides up and the unbrowned sides down.
Let them cook for a few more minutes, adding more fat if necessary to prevent sticking, and give them another stir, repeating the process until the potatoes are as brown as you'd like them to be.
This is not going to be a perfect process, mind you. Unless you turn each potato cube by hand, you will not manage to evenly brown all four sides of each cube.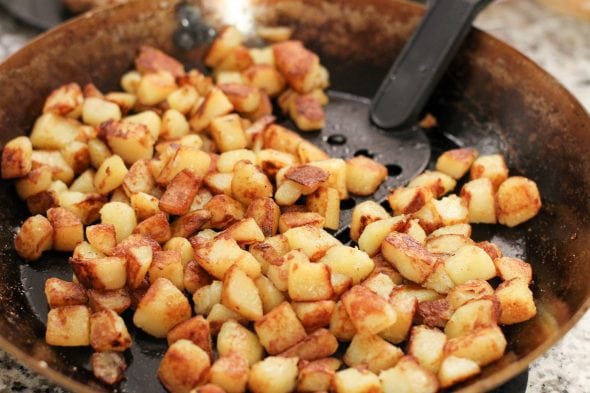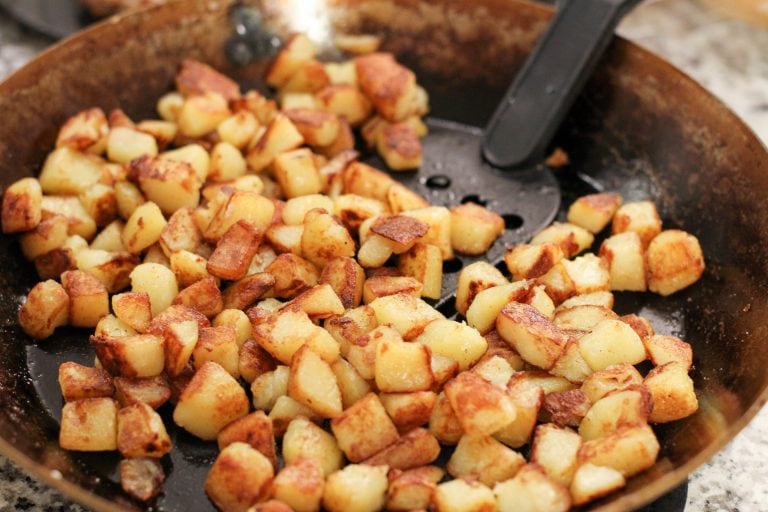 But they'll get brown enough to take on a lovely color and flavor, and no one at my house has ever complained about an unbrowned potato cube side. 😉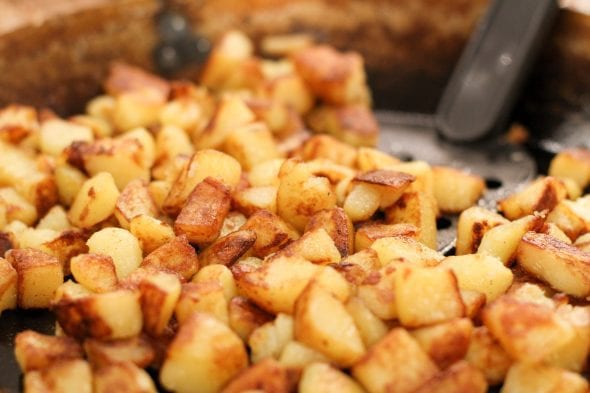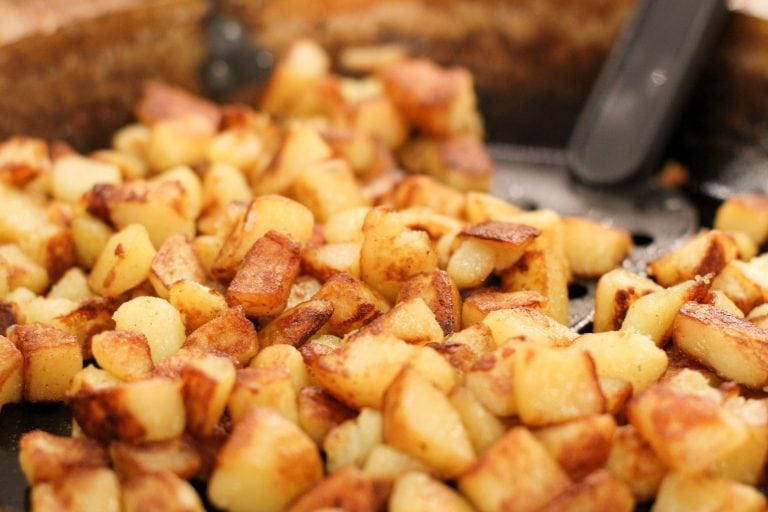 Once they're done, salt and serve them while they're hot!
Like many potato recipes, these are best right after they're cooked.
But if you misjudge how hungry your family will be, leftovers work pretty well heated up in a cast iron skillet.
Let me know if you try these!
This post contains affiliate links.