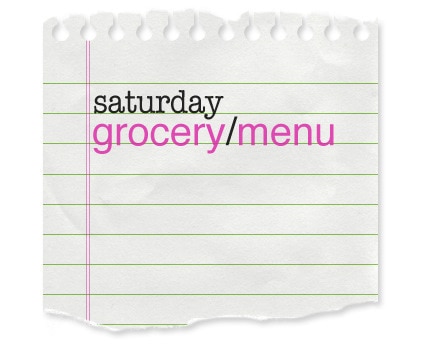 On Saturdays, I share my menu plan for the upcoming week along with a photo of my groceries and a tally of my spending. My goal is to spend $100/week for our food, toiletries, and cleaning products. I'm currently in the midst of trying to buy more local, sustainably-produced food while sticking to my budget. Can it be done? I don't know, but I'm going to try, and I'll share what I learn as I go along.
I spent $50.90 at Aldi and $16.86 at Weis, plus $2.50 for a dozen local eggs. So, my total for this week is a mere $70.26. Whee!
I apologize for how blurry this picture is…I accidentally used a really wide aperture, so only the front portion of the photo is in focus. And I'm sorry that you can't really see my groceries…my kids chose some really large stuffed animals this week!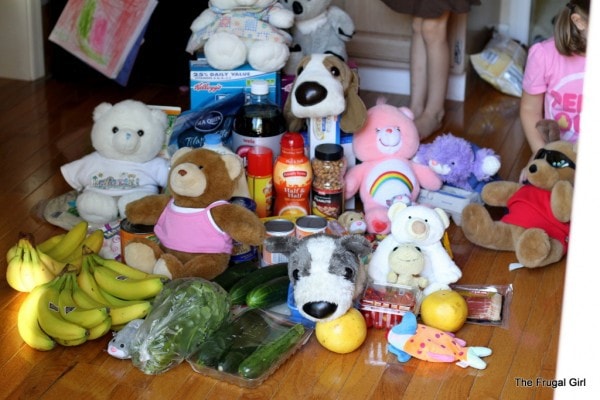 Saturday
Sunday
French Toast
OJ
scrambled eggs
Monday
Tuesday
Roast Beef and Mushroom Paninis (I promise I will take pictures of the process this time, like I've been promising to do for, um, a really long time!)
Spinach Salad topped with Spiced Pecans
Wednesday
Asian Tilapia (bumped from last week)
green beans
probably some rolls
Thursday
Friday
BBQ Chicken Pieces
Grilled veggies
whatever bread I happen to feel like making!
Oh, and several of you asked how to make the croutons in one of my 365 posts from this week. I actually posted about that way back in this blog's infancy, though the croutons pictured in my 365 post were made without garlic, and I used a 50/50 combination of olive oil and butter. Because I used salted butter, I didn't bother adding any salt. So, the ingredients in my pictured croutons were just bread and butter…simple, yet delicious.