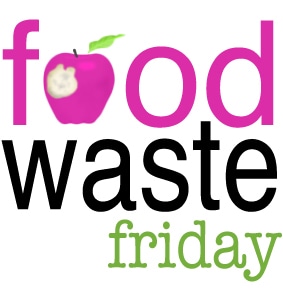 Every week, I post a picture of the food that has gone bad over the last seven days. Why do I do this? Because in March of 2008, I finally got fed up with the amount of food I was wasting, and I thought that showing my waste to other people would motivate me to use up my food instead of wasting it. Because this often embarrassing practice was so helpful for me, I invited other bloggers to join me in posting their food waste photos, and Food Waste Friday was born. If you're not a blogger but still want some food waste accountability, feel free to participate by leaving a comment.
I don't have a picture for you this week, but I do have to confess to composting a hairy tomato earlier in the week (it was so yucky, I didn't want to bother spending the time to take a photo before I threw it into the bucket!). For some reason, the rest of the tomatoes in that bunch were fine, but this particular one went south prematurely.
Happily, I didn't waste anything else and I'm not very over-run with leftovers at the moment. We do need to do some serious spinach-eating this week, though, or we will end up wasting some.
Fortunately, unlike lettuce, spinach can be used in a wide variety of ways, so I think I can manage this.
Edit: I found a box of OLD Cream of Wheat in my cupboard today…I bought it back before we were doing so well at not eating cereal (if I'd bought it this past winter, we'd totally have used it up), but it smelled very stale. I'm sure it would be safe to eat, but it wouldn't taste good at all.
So, I wasted a tomato and Cream of Wheat.
Oh, and for the record, I want to add that I am totally and entirely convinced that the best and most responsible thing (from a moral, financial, and environmental standpoint) is to eat every last bit of the food that we purchase. Wasting food is wasting resources and effort and energy, whether we're talking about a tomato or a cut of beef (though the beef is more of a waste since it's harder to produce than a tomato).
That said, avoiding food waste is hard work…it takes constant thought and attention to buy the right amount and use the right amount. And sometimes, even those of us who are highly inspired to avoid waste still have to throw away food that's gone bad.
Here's the thing, though…making an effort is what's important. Even if all of us only managed to cut our food waste by 50%, that would still make an enormous difference. We'd be consuming 50% fewer food-related resources and throwing away 50% less food trash.
Remember my whole "It doesn't have to be perfect to bless other people" thing? I feel the same way about food waste and perfectionism. If you wait to fight against food waste until you can be perfect and waste absolutely nothing, you'll never get started.
So, go eat some leftovers for lunch. Throw some wilty spinach into your scrambled eggs. Make some muffins with your wrinkly sweet potatoes. Cook up a pot of soup with your chicken bones.
And if you have to compost a moldy lime or you need to throw away some slimy meat, don't beat yourself up over it. It's better to compost a moldy lime than it is to compost a moldy lime AND some spinach and sweet potatoes. It's better to throw away a piece of rotten meat than it is to throw away a piece of rotten meat AND a bunch of chicken bones and leftovers.
Whatever you do, don't let perfectionism scare you into not even making an effort. I certainly haven't….if you browse through the Food Waste Friday archives, you'll see that I've had relatively few no-waste weeks (more's the pity!).
But what you will notice is that I don't often have pictures like this anymore. Or like these first food waste photo posts over on my old Blogger blog.
Yes, indeed. Progress has been made. Has perfection been reached? Nope. But I've wasted a whole lot less food in the last two years than I would have if I didn't even try.
Hmm. That turned out to be a lot longer than I meant it to be. I thought I was just going to add a little post-script and then I got all carried away!
In short, give food-waste-prevention a try, and when you have failures, don't give up or be discouraged….carry on, because less waste (even a LITTLE less waste) is a good thing no matter how you look at it.
_______________________________________________________
How did you do this week? If you blogged about your food waste, link us up by entering your info into the widget below. You'll save money, reduce your trash output, and get a little publicity for your blog! And if you don't blog, you can still share about your food waste by leaving a comment.