What's going on here?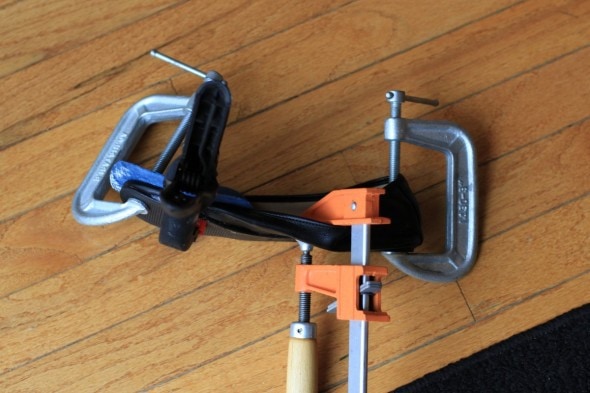 Well, the other week, the sole of Lisey's shoe came completely off (right as we were heading out the door to church too. Nuts.)
I already had a tube of shoe goo (remember this shoe repair?), so I made an effort to glue the sole back on. I've never had to deal with a whole sole, though, so keeping the sole squeezed onto the shoe during the drying period was going to be a challenge until Mr. FG suggested using clamps.
I'm not sure how long the glue job will hold, considering that I had to glue the whole sole, not just part of it, but hey, I already had the shoe goo and it only took me a few minutes, so I figured it was worth a shot.
______________________________
Speaking of flats, Zoe's been wanting a pair (Somehow, we didn't have any flats in her size, which is sort of odd, given that she has two older sisters who hand shoes down to her.), and so I took her out to a store to buy a pair.
Unfortunately, her feet seem to be kind of in between sizes and no matter which style we tried on, we couldn't find some that fit perfectly. And flats do need to fit perfectly, since they have no straps to hold them on (whereas you can buy Mary Janes a bit big and they'll still work.)
We gave up, and on the way home, we stopped at Goodwill where lo and behold, there was a pair of flats in the half size that Zoe needed.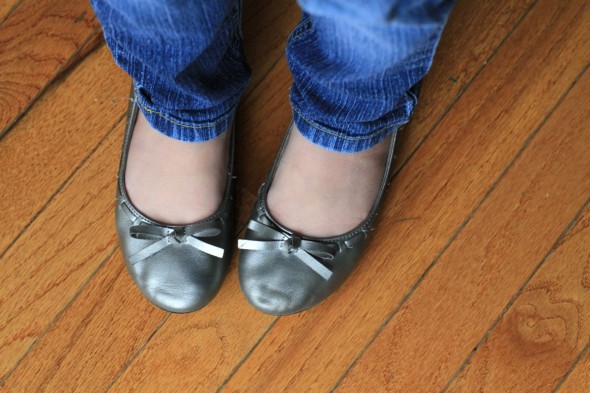 And they cost a whole $3.
Yay!
They're slightly broken in, which is actually kind of nice, because they're already all soft and flexible.
__________________________________
The other day on instagram (where I post not-super-high-quality photos that I take with Mr. FG's ipod. :)), I shared a photo of my Converse, which give me a mood lift every time I put them on thanks to their perky colors. I've never owned a pair before, and I love these.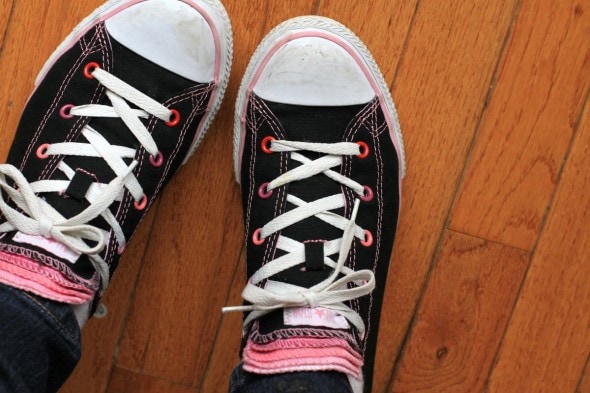 Happy shoes. Yup!
I found them this past spring at Famous Footwear (On the clearance rack. Which I check every time I'm shopping for shoes. Of course.), and Famous Footwear was running a Buy One, Get One Half Off sale.
Happily, these sales usually apply to clearance shoes as well, and I was buying a pair of shoes for one of my kids anyway, so it was very simple to get half off of the already reduced clearance price.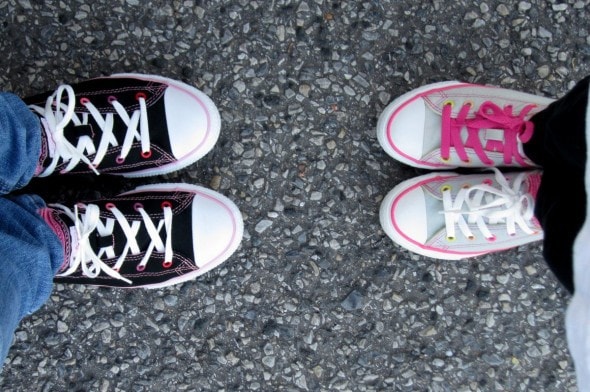 I think the price of my Converse ended up being about $10, which is, you know, kind of awesome. (!)
We've had good luck with finding other pairs of Converse on the clearance racks too, so if you're in the market, do take a quick peek next time you're in there.
Also, if you sign up for their rewards club, you'll get some coupons in your email inbox, which are frequently usable even on clearance shoes.
Thus endeth the miscellaneous shoe post.