Every other Monday, I answer reader questions. Got one for me? Leave a comment or email me (thefrugalgirl at gmail) and put Q&A in the subject line!
My question is about bread storage. I've been making several loaves of several types of bread at once to save time and turning on the oven.
When you freeze, do you slice first or thaw then slice? Also, you routinely make whole wheat bread I see but when I use any wheat (not even close to half and half) my bread is dense and doesn't turn out well like the white variety. Any tips?
-Holly
I usually freeze loaves whole because my crew can go through a loaf of bread in a jiffy, so it's no problem to thaw a whole loaf (it's not gonna go bad).
But when it was just Mr. FG and me, I'd slice and then freeze so I could take out only as much bread as we needed.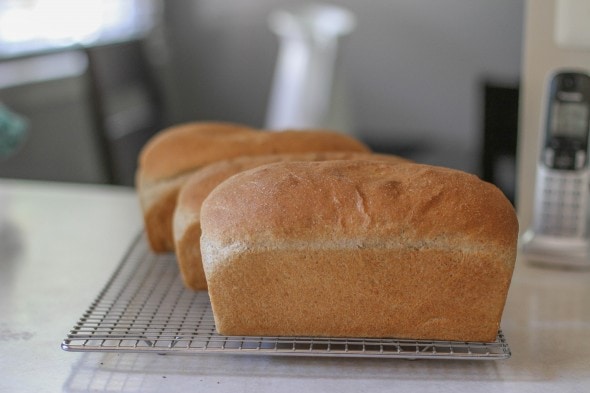 About the whole wheat thing…how fluffy is the white bread you make? If your white bread is on the denser side of things already, then I can see how whole wheat would weigh it down even further.
It's hard to diagnose exactly what's going on with your bread without seeing it, but whether you're talking white or whole wheat, a key part of achieving a fluffy bread is keeping your dough soft.
Many people (especially beginning bakers) add too much flour, and a stiff dough is very hard for the yeast to lift. Your dough should be soft enough so that when you knead it into a ball, the ball shape will flatten out a bit on the counter.
I hope that helps! And if it doesn't, feel free to email me some pictures of your dough/finished bread so I can try to troubleshoot further.
(In case any of you are wondering, here's how to slice homemade bread.)
I always dreamt of homeschooling (maybe this has something to do with the lousy education I received) and I have even started working on an MA in Childhood Education so that I can be properly prepared.
I don't have any kids yet, but I was wondering if you can tell me more about what homeschooling is like? What are the pros and cons? When did you start homeschooling? Until what age do you homeschool?
I'm afraid that it'll be too overwhelming! I am a bit of a control freak and I want to know if this is a bad thing for a homeschooler.
-Kayla
A few of your questions can be answered in posts I've written in the past, so let's start there!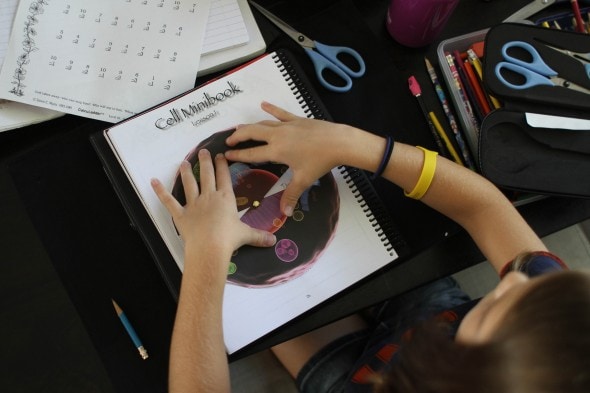 When do you start homeschool? At what age do you stop?
I homeschooled my kids starting in kindergarten, and I plan to continue on through the end of high school with all of them.
(My oldest is a junior in high school this year.)
But a lot of people just homeschool for the early grades and then send their kids to school for high school, or sometimes they switch to a more hybrid approach after grade school. It's not an all-or-nothing proposition, and you can always take it year by year.
Is it overwhelming?
Homeschooling has its overwhelming days, yes, but the lovely thing is that it's not like you usually jump into the deep end right away. You start with kindergarten, with just one kid, and then things progress from there.
It's tempting for me to think that life would be totally not overwhelming if I sent my kids to school, but the sensible side of me knows that there are overwhelming things about traditional school life too. It's just different.
What's homeschooling like?
Well, it usually looks a little different than classroom education!
(Which means that a fair amount of what you learn in school about childhood education may not be super applicable, though I'm sure some will.)
What our days look like have varied through the years, but here's sort of how it goes currently:
In the mornings after breakfast, I do Bible, math time tests, science, and history with Sonia and Zoe (5th and 6th grade). Then they work on their math, grammar, vocabulary, and reading curriculum independently, with me there to help as needed.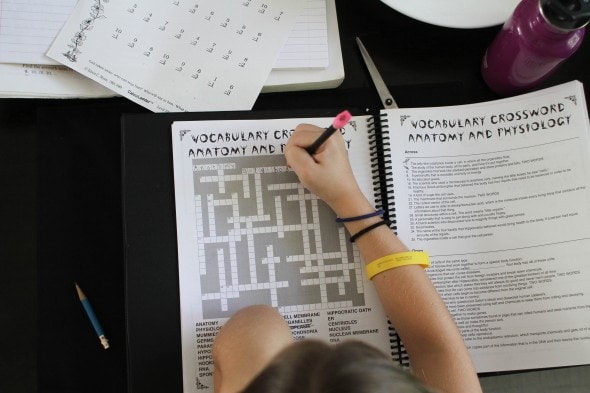 Lisey (freshman) and Joshua (junior) do most of their work independently, coming to see me if they need help.
When my kids come to me for help, I try really hard to help them find the answer themselves. It would be easier just to give them answers, but I want to make sure they've exhausted every possible opportunity on their own first (Did you re-read the directions? Did you look at the example? Did you look up the topic in the index? etc.)
Being able to find needed information on your own is a hugely helpful life skill, and I want to be super-duper sure my kids learn that.
I check all of my kids' work every day, marking things that are wrong. Then they go back and correct the mistakes, sometimes with my help if necessary.
My mom comes once a week to do Spanish and composition with my kids, and she gives them assignments to do throughout the week.
My younger two are usually done with their schoolwork by early afternoon, or sometimes before lunch if they've been diligent. My older two usually get a later start on their day (teenagers! so much sleeping!), but they're generally done by mid-afternoon.
(I know this seems like a short-ish day, but I promise we are getting serious amounts of work done. We just finish promptly each day because homeschooling is efficient.)
Mixed in with our days are things like dance, our martial arts class, doctor appointments, some days off for field trips/park days, a bi-weekly Bible study that two of my girls babysit for, etc. So not every day looks exactly the same, which is kind of nice…our school can bend and flex to fit with our everyday lives.
________________________
I hope that answered your homeschooling questions, Kayla! Let me know if I missed anything you wanted to know.
And the rest of you…if you have questions about anything I wrote today, leave a comment, and I'll chat with ya there.