Updated April 2019 to include a printable version.
When I posted the no-knead English Muffin batter bread recipe, I was poking thru my archives to find my recipe for no-knead batter rolls, and much to my surprise, I realized I never posted it.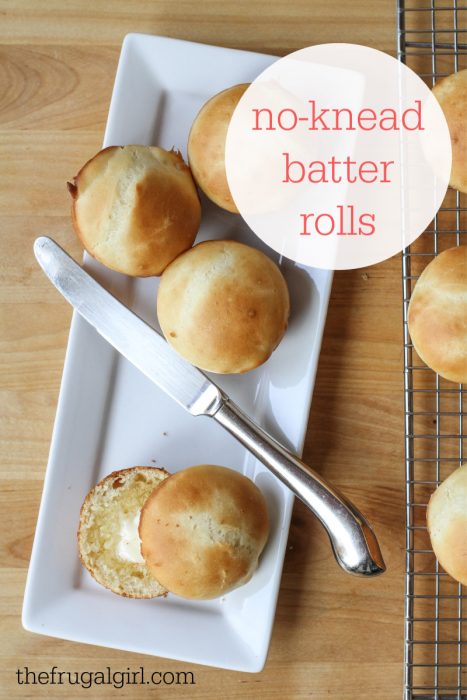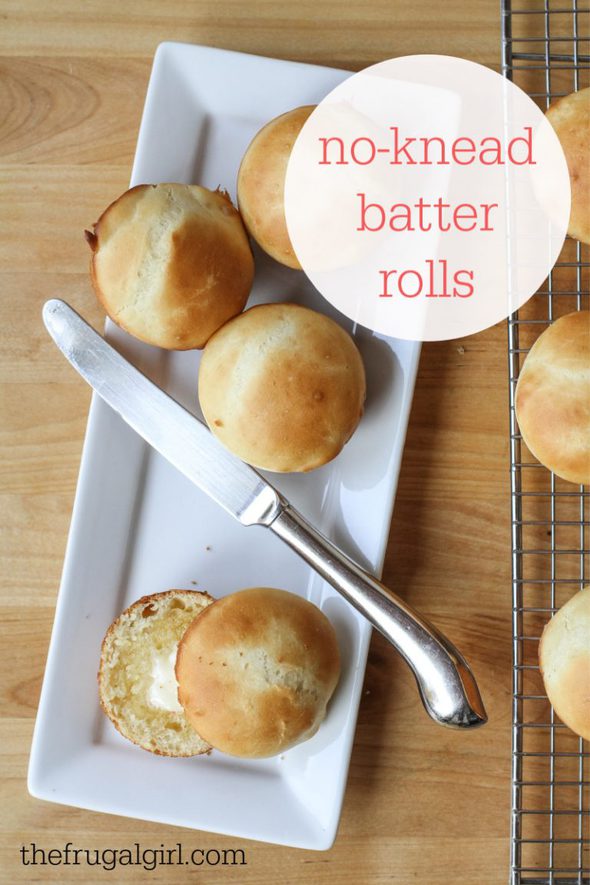 Weird.
I suppose it's possible that it's just hiding super well, skulking around in the shadows of the archives, but I kind of doubt it.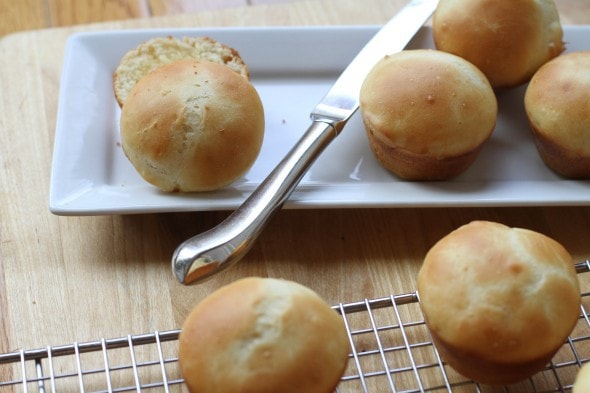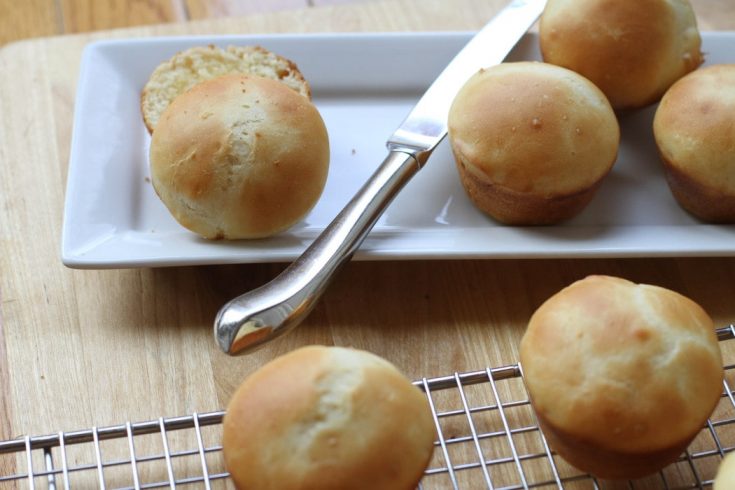 Anyway, I thought this should be rectified, so I mixed up a batch on two separate days for photographing purposes, and my kids were highly gratified.
Like the English Muffin bread batter, this soft dough/batter just needs to be mixed well (a stand mixer is super helpful), and then left to rise…no kneading necessary!
And the resulting rolls are soft and delicious.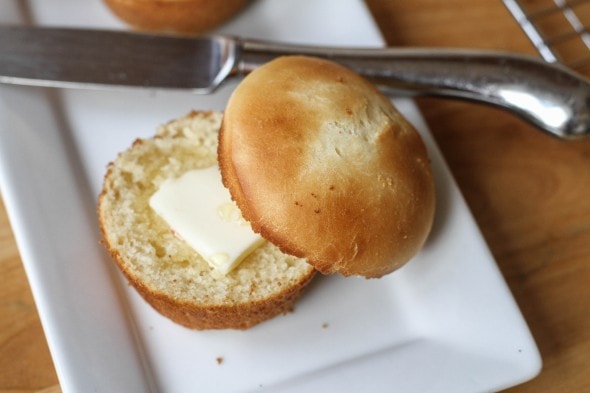 You can't make them into fancy shapes like you can with regular roll dough, but if you're content with a muffin-tin-shaped roll and want something quick and easy, these are the ticket.
So.
First, you combine the yeast and flour in your mixer bowl.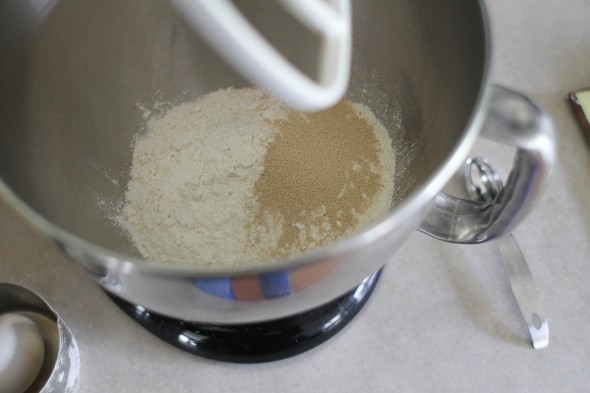 Next, heat the milk, butter, sugar, and salt to 120 ° F. I just do this right in the measuring cup for pouring ease and to save a dish.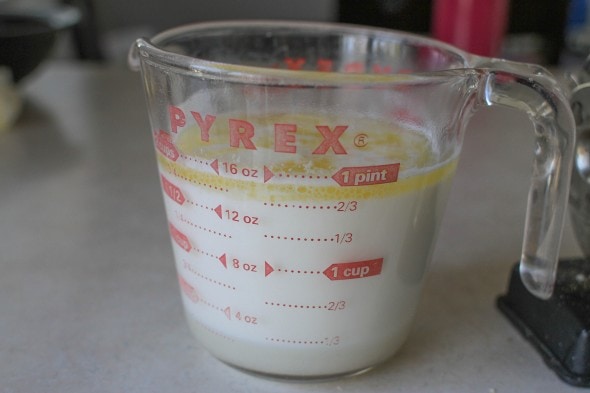 Pour the liquids into the flour mixture and mix on low speed. Add an egg, and beat for about 3 minutes. The dough is definitely more like batter at this point.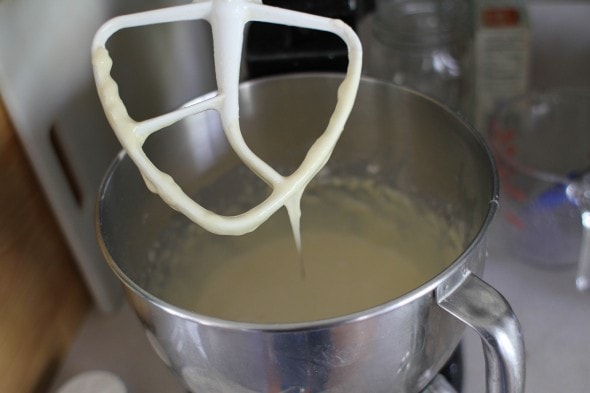 Then stir in the remaining flour and beat the dough on low speed for two minutes. The dough will still be more on the batter-ish side of things, which is as it should be.
Worry not!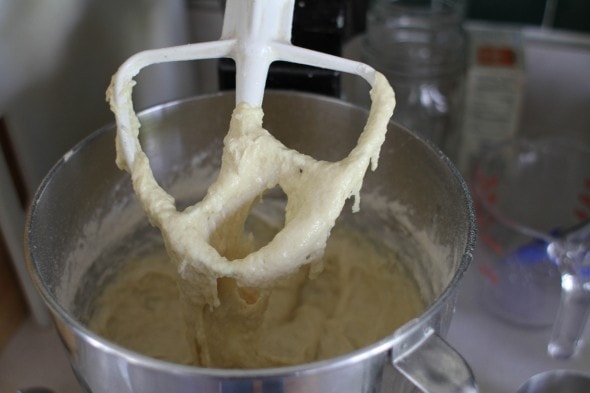 Scrape the dough from the beater, cover the bowl with a wet tea towel, and let it rise for an hour.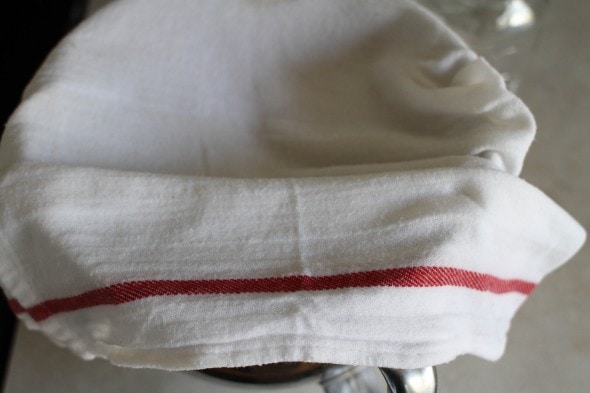 Prepare your muffin tins by greasing the cups with butter. Alternatively, you can use cooking spray or whatever is your grease of choice.
But butter tastes best.
Obviously.
The recipe makes about 1.5 dozen rolls, so you'll want to grease a pan and a half.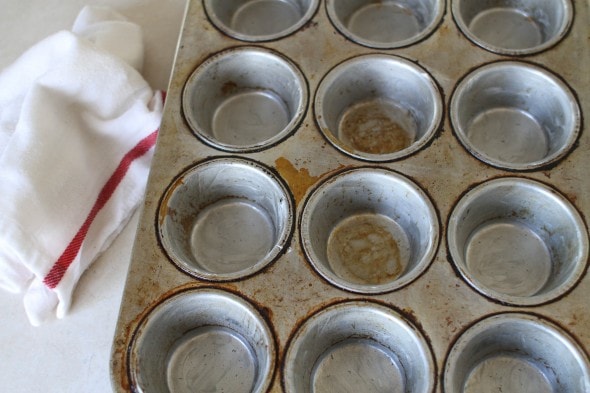 (Do you like how I faithfully slave over my muffin tin to keep it pristine and shiny?? Impressive, I know.)
Your risen dough will still be pretty goopy, but will be a little more stretchy after its rise.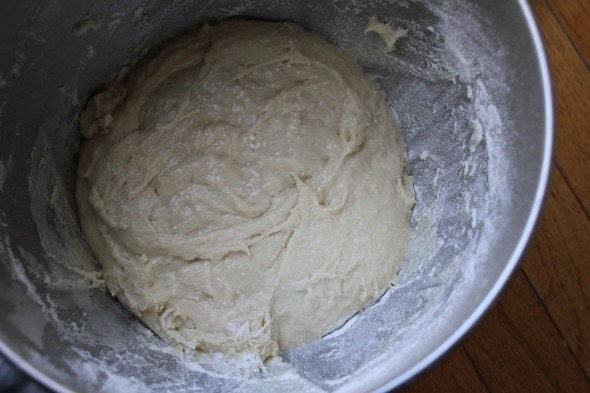 Use a metal spoon to stir the dough down a bit, and then scoop the dough into the greased cups. Your muffin cups will probably be a little sloppy looking, which is ok.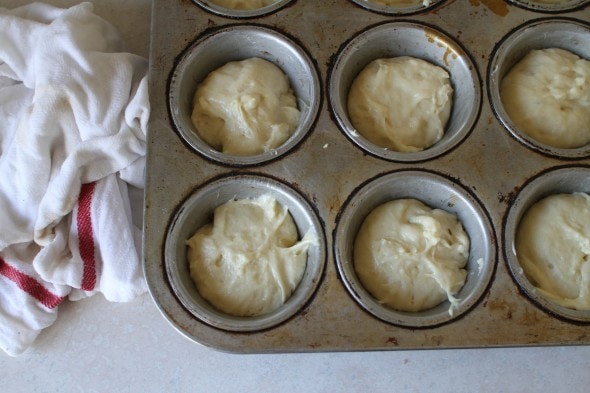 Cover the tins with a wet tea towel and leave them to rise for about 30 minutes, at which point the cups should look pretty full.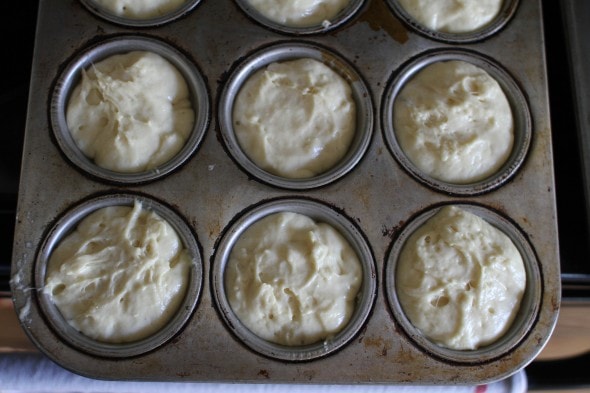 You want the oven to be already hot by the time the rolls are done rising, so start the preheating process when the rolls are about 10 minutes from the end of their rising time.
(A hot oven helps your rolls to rise and brown properly.)
Your rolls should be done baking in about 12-15 minutes, but since pans and ovens vary, just keep an eye on them.
Once the rolls are done, remove them from the pan (this should be easy if you greased well) and place them on a wire rack.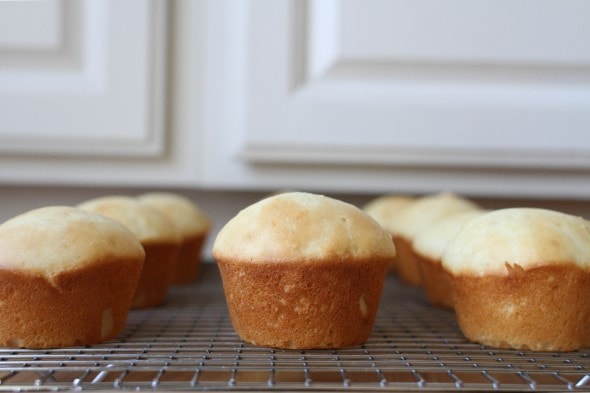 These are at their most fabulous if you eat them right away, hot from the oven.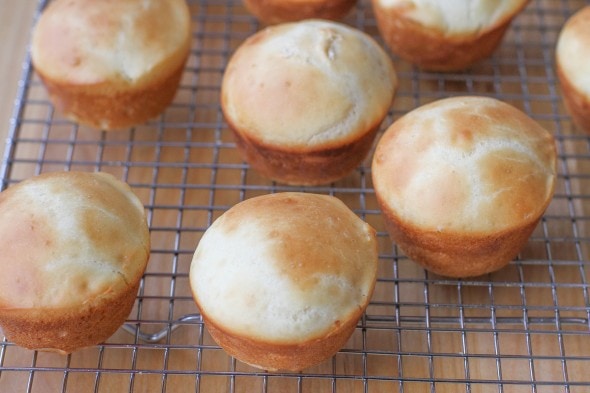 But no one here has ever complained about eating the few that are leftover. 😉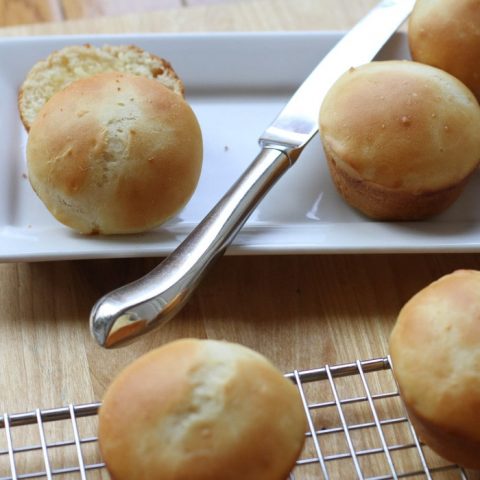 No-Knead Batter Rolls
Additional Time:
2 hours
2 seconds
Total Time:
2 hours
30 minutes
2 seconds
Afraid of kneading? This recipe is for you!
Ingredients
3 1/4 cups all purpose flour (Gold Medal unbleached is my favorite)
1 pkg. (2 1/4 teaspoons) active dry yeast
1 1/2 cups milk
1/4 cup (4 tablespoons) butter
1/4 cup sugar
1 teaspoon salt (I use a slightly heaping teaspoon)
1 egg
Instructions
In a large mixer bowl, combine 2 cups of the flour and the yeast.
Combine milk, butter, sugar, and salt, and heat to 120° F.
Add liquids to dry ingredients in mixer bowl; beat to combine. Add egg and beat 3 minutes at high speed.
At low speed, beat in the remaining flour to make a soft dough; beat on low for two minutes.
Use a rubber spatula to scrape dough off beaters, then cover bowl with a wet tea towel and let dough rise for 1 hour.
Grease 18 muffin cups with butter. Use a metal spoon to stir dough down, then spoon dough evenly into 18 muffin cups.
Cover pans with wet tea towel; let rise 30 minutes.
Bake in a preheated 400°F oven until lightly browned, about 12-15 minutes. Remove rolls from pan and place on wire rack to cool (or serve immediately!)
Recommended Products
As an Amazon Associate and member of other affiliate programs, I earn from qualifying purchases.
Nutrition Information
Yield

18
Serving Size

1 roll
Amount Per Serving
Calories

130
Total Fat

3g
Saturated Fat

2g
Trans Fat

0g
Unsaturated Fat

1g
Cholesterol

19mg
Sodium

153mg
Carbohydrates

21g
Fiber

1g
Sugar

3g
Protein

3g