I've made quite a few loaves of this bread since moving into my rental, and after I mentioned it several times, you guys asked if I had shared the recipe.
And oddly, I had not!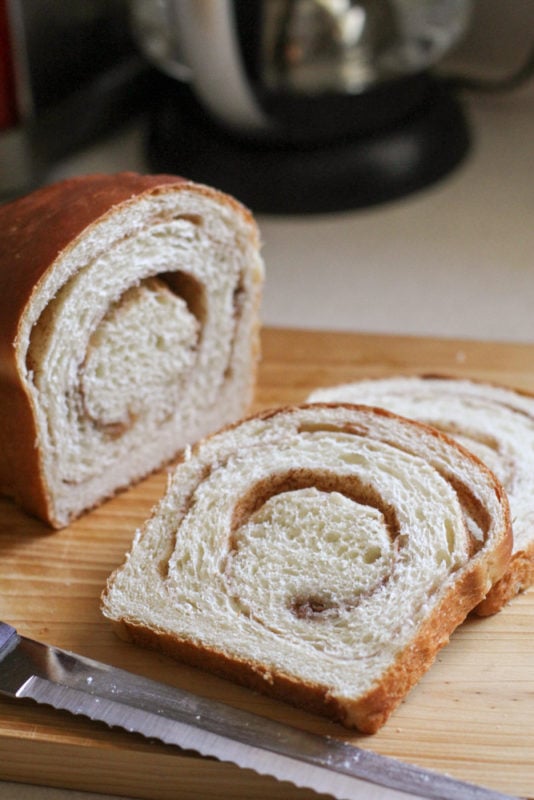 It's basically a modified version of the egg bread dough I posted some years back, but I thought it would be easier to give it its own post rather than trying to add the modifications into the egg bread recipe post.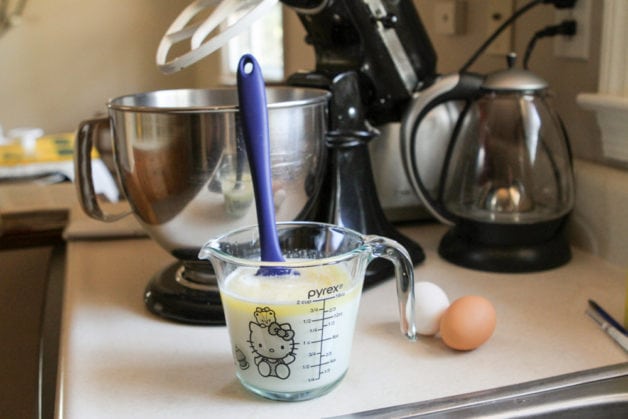 This makes a lovely little thank you gift, or, "I'm thinking of you." gift, or, "I'm sorry you're having a rough time." gift.
And it also is a lovely thing to make just if you want to eat it yourself. 😉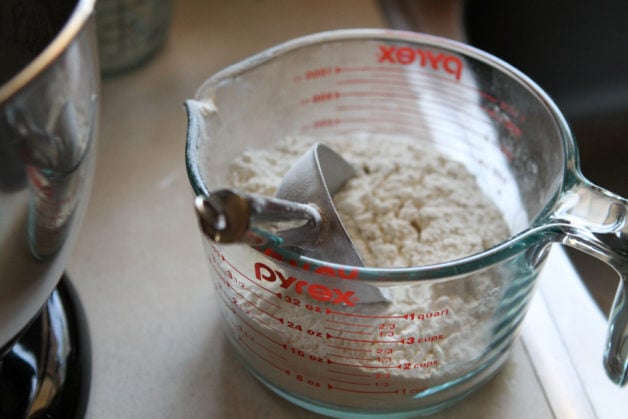 To make this, start by mixing 2 cups of flour plus the yeast in a mixer bowl.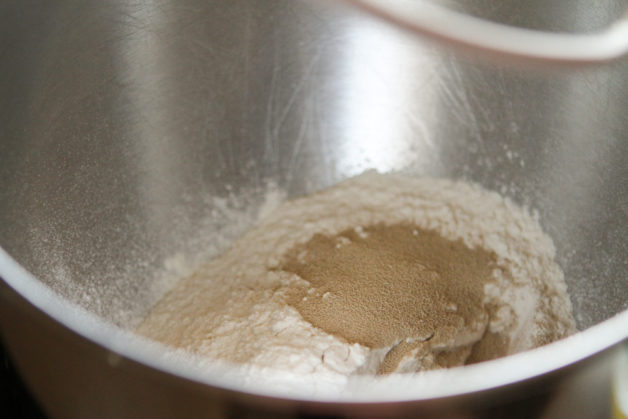 Heat up the milk, sugar, salt, and butter together until the butter melts and the mixture reaches 120-130° F. I just heat this mixture straight in the measuring cup; saves a dish!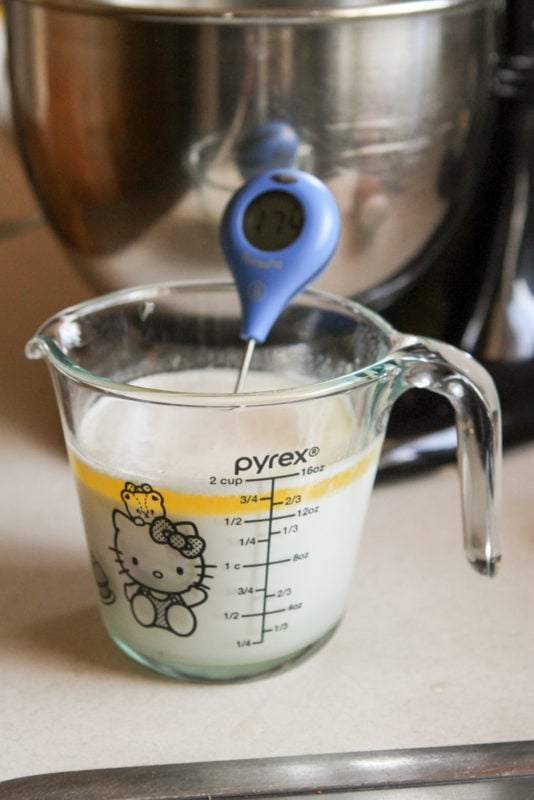 With the mixer running, pour in the warm milk mixture. Then add the eggs. Beat on low speed until combined, about 30 seconds.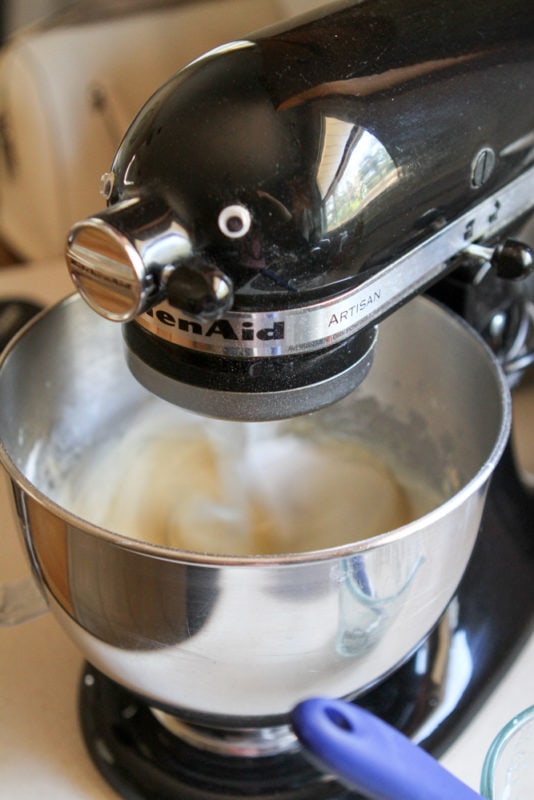 Beat on high speed for three minutes, and then mix in enough flour to make a soft but kneadable dough.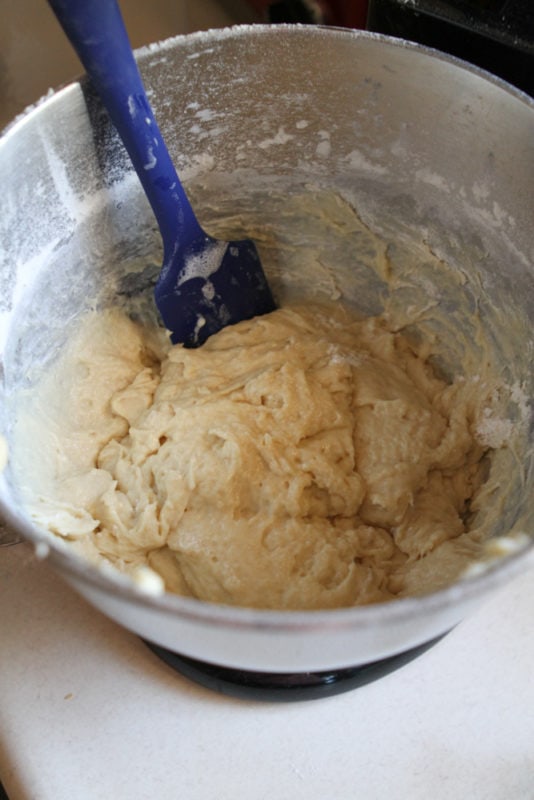 Turn the dough out onto a floured surface.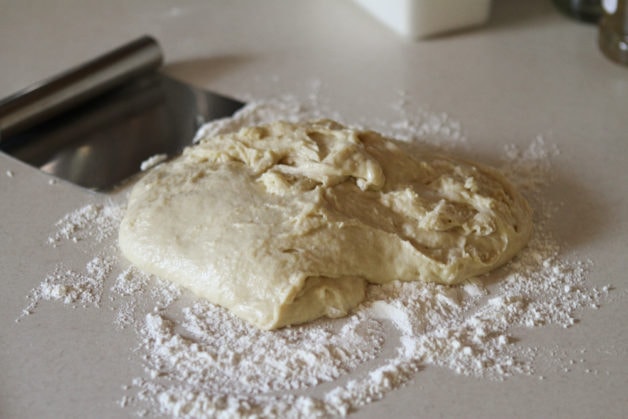 Knead for 5-7 minutes, adding flour as necessary, until the dough is smooth and elastic.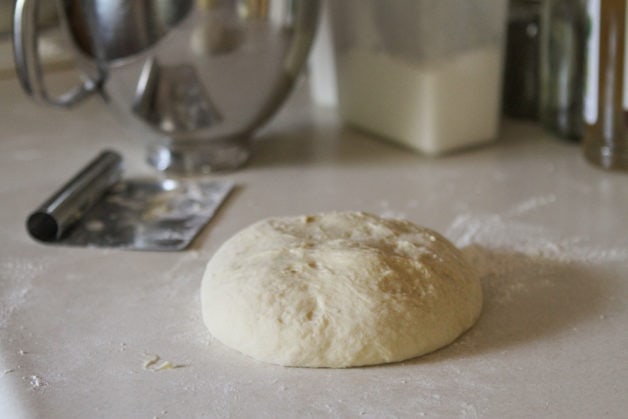 Note: if you usually knead your dough in the mixer with the dough hook, feel free to do that instead. It'll be fine! I just learned to make dough with hand-kneading and I guess I'm stuck in my ways. 😉
Put the dough back into the mixing bowl (I don't even bother washing it out), cover the bowl with a wet tea towel, and let the dough rise in a warm place until it's doubled, about an hour.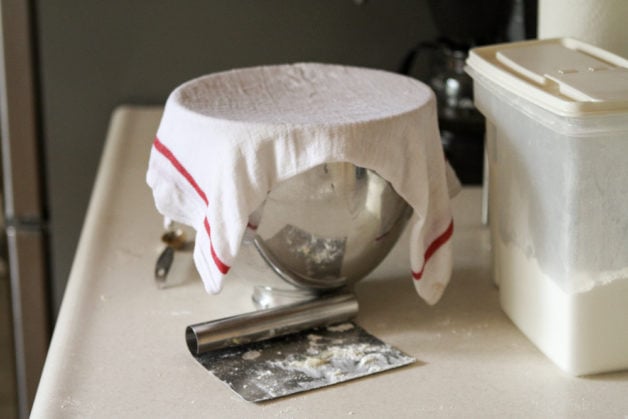 The amount of time this will take depends on the temperature of your house; it'll be faster in the summer than the winter!
Turn the risen dough back out onto the floured counter, divide in half, and roll each half into a 12×7 inch rectangle.
Time to turn this into some cinnamon bread! Mix the cinnamon and sugar together in a bowl.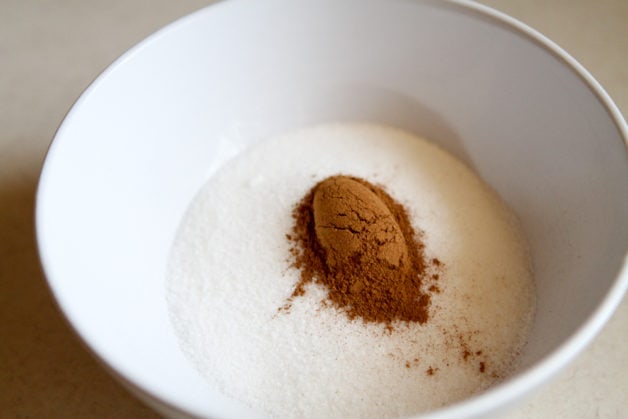 Brush each dough rectangle with water, and then sprinkle with cinnamon sugar.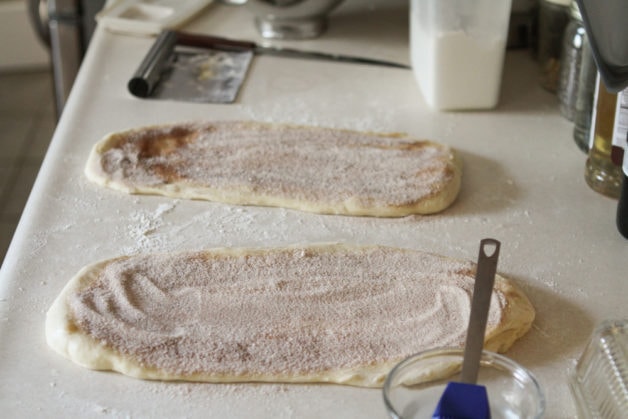 Roll up, starting from the short end, and place each loaf into a greased 8×4 inch loaf pan.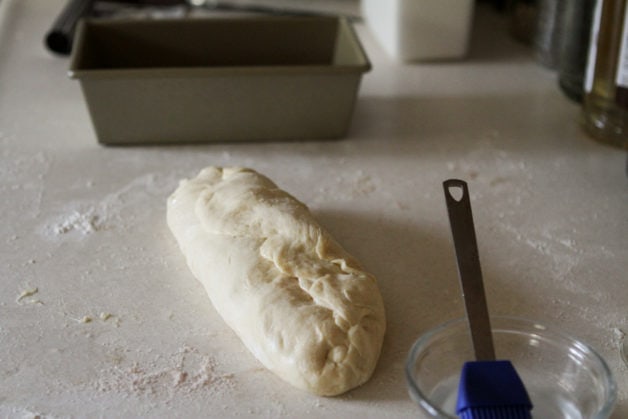 Cover with a wet tea towel again, and let rise until doubled, about 30-45 minutes.
Preheat your oven (always let it fully preheat for yeast bread!) to 350° F. Bake loaves in the preheated hot oven for 25-30 minutes; remove loaves from pans, and let cool on a wire rack.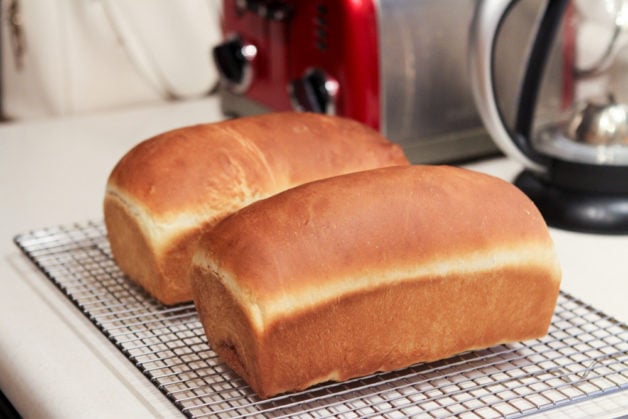 I really, really love these cooling racks because the wires are so nice and close together; they don't leave indentations on fresh yeast bread.
I always want to eat the bread right away, but it is much easier to slice if you let it cool for a little while first.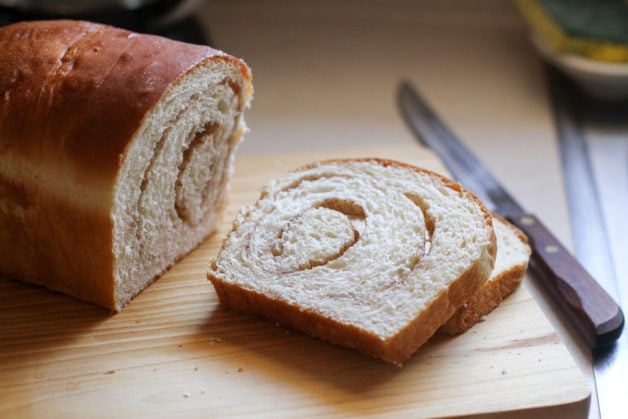 This is good toasted, or you can microwave individual slices and butter them.
I'm sure it would make good French toast too, but I have never tried that; my girls always eat the bread as-is!
Scroll down for the printable recipe.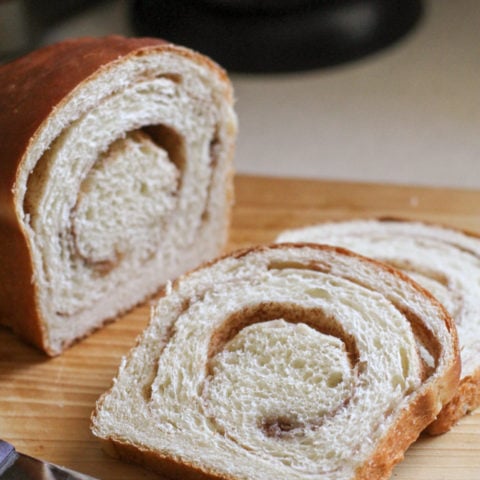 Homemade Cinnamon Swirl Egg Bread
Additional Time:
1 hour
30 minutes
Total Time:
2 hours
15 minutes
An egg bread dough swirled with cinnamon and sugar; so tasty served warm with butter!
Ingredients
Dough
4¾ cups all-purpose flour (up to 5¼ cups may be necessary)
2¼ teaspoons (1 pkg.) dry active yeast
1⅓ cups milk
6 tablespoons sugar
4 tablespoons butter
1 teaspoon salt
2 eggs
Cinnamon Sugar filling
1/2 cup sugar
2 teaspoons cinnamon
Instructions
Combine 2 cups flour and yeast in the mixer bowl.
Combine milk, sugar, butter, and salt in a microwave-safe container and microwave until warm and butter is melted (120° to 130° F). Add to flour mixture in bowl, along with eggs.
Beat with an electric mixer on low speed until combined, then beat on high speed for 3 minutes. Stir in as much of the additional flour as necessary to make a soft but kneadable dough.
Turn dough out onto a lightly floured countertop and knead for 5-7 minutes or until smooth and elastic. Put dough back into mixing bowl, cover with a wet tea towel, and let rise for an hour, or until doubled.
Turn dough out onto lightly floured countertop again; divide in half and roll each half into a 12x7 inch rectangle.
Combine cinnamon and sugar in a bowl. Brush each dough rectangle with water to moisten, then sprinkle cinnamon sugar evenly over each rectangle.
Roll up from short end, pinching seam ends (brush with water if you need help sealing seams). Place each loaf into a greased 8x4 inch loaf pan. Cover loaves with wet tea towel and let rise in warm place until doubled, about 30-45 minutes.
Preheat oven to 350° F; bake loaves for 25-30 minutes. Remove loaves from pans and let cool on a wire rack.
Notes
I like Gold Medal Unbleached or King Arthur All-Purpose flour.
This bread is a great way to use slightly soured milk; the sourness is not at all apparent in the finished bread.
To make dairy-free use a non-dairy milk and a non-dairy butter substitute.
Nutrition Information
Yield

32
Serving Size

1
Amount Per Serving
Calories

112
Total Fat

2g
Saturated Fat

1g
Trans Fat

0g
Unsaturated Fat

1g
Cholesterol

16mg
Sodium

87mg
Carbohydrates

20g
Fiber

1g
Sugar

6g
Protein

3g