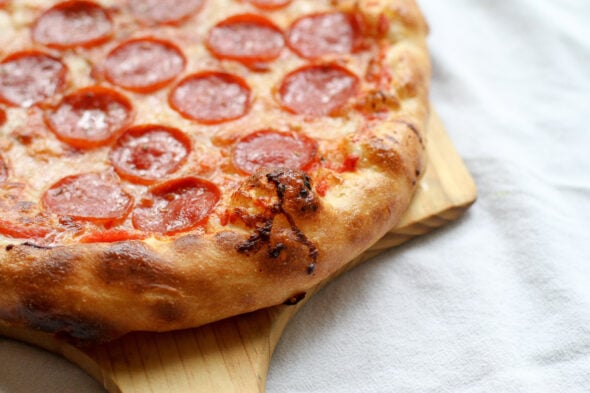 In the comments recently, Karen asked:
What kind of tomato sauce do you buy for your pizza?
And once I shared that I use a no-cook sauce, Becca asked:
Do you drain the tomatoes before blending or do you keep the liquid in? Is there a certain brand that works best or one that's cheapest? Do you ever need to add anything to thicken the sauce? Have you ever tried it with fresh tomatoes?
I almost answered this in Monday's Q&A post, but then I thought that it would be a pain to find and link to in the future. So, I'm giving it its own post, even though this will be short.
I got this idea from a Cook's Country recipe for grilled pizza, and it's been my go-to for a fresh-tasting pizza sauce ever since. I've modified it a little, but the basic idea is the same.
It's super easy, uses pantry ingredients, costs almost nothing, and takes about 5 minutes to blend up. Lots of good features there!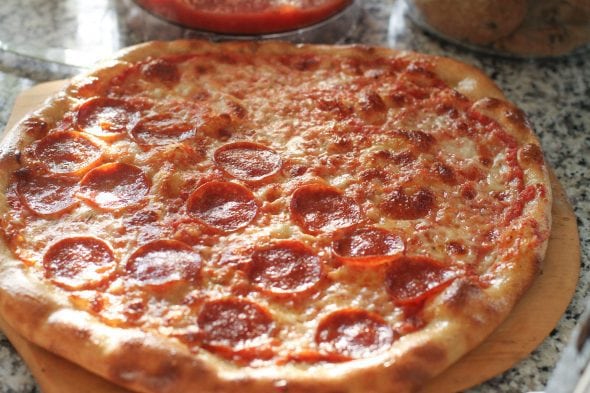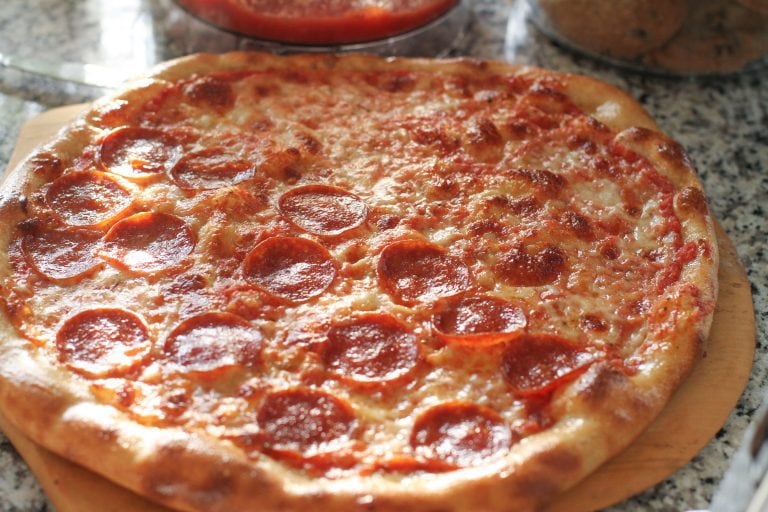 Do you drain the canned tomatoes first?
Yep, I do drain the tomatoes first and that usually turns out a sauce that is not too watery.
Does the brand of tomatoes matter?
Not in my experience! I've made this plenty of times with store-brand diced tomatoes (usually from Aldi!) and it's been just fine.
Can you use fresh tomatoes?
I have never used fresh tomatoes for this sauce because that would definitely change the 5-minute time frame. It's way quicker to open a can of tomatoes than it is to prep fresh tomatoes.
Also, using canned tomatoes means that you can make this sauce any time of year.
Can you freeze this sauce?
I have tried freezing it before*, and the sauce got more watery once it thawed. So, I don't recommend freezing.
*this is an example of the low-stakes "try it and see" method I recommend!
This sauce is so fast to make, though, it's not a big deal to make a batch every time you need it.
Also, it doesn't make a ton, so you probably won't have tons of leftovers to worry about preserving.
Scroll down for the printable recipe!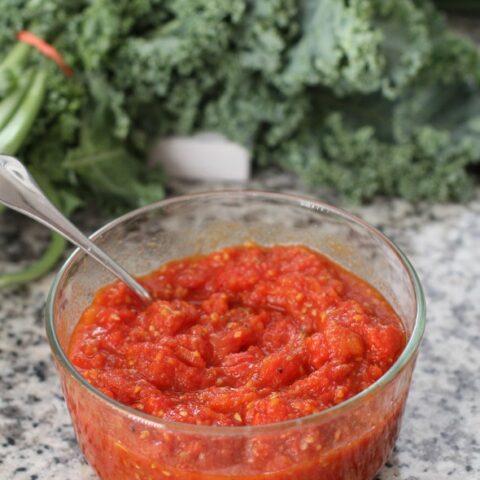 No-Cook Tomato Sauce for Pizza
Blend canned tomatoes with a handful of other ingredients, and you've got a fresh sauce for pizza!
Ingredients
14 ounce can diced tomatoes, drained
1 teaspoon dried oregano
1/2 teaspoon sugar
1/4 teaspoon salt
1/4 teaspoon red pepper flakes
Instructions
Combine all ingredients in a food processor and pulse until sauce is smooth.
Taste and add more salt and sugar if necessary.
Notes
This is usually enough for two of my homemade pizzas.
The amount of salt you need will vary depending on the brand of tomatoes you buy; definitely do a taste test and adjust as necessary!
Nutrition Information
Yield

12
Serving Size

1
Amount Per Serving
Calories

6
Total Fat

0g
Saturated Fat

0g
Trans Fat

0g
Unsaturated Fat

0g
Cholesterol

0mg
Sodium

82mg
Carbohydrates

1g
Fiber

1g
Sugar

1g
Protein

0g