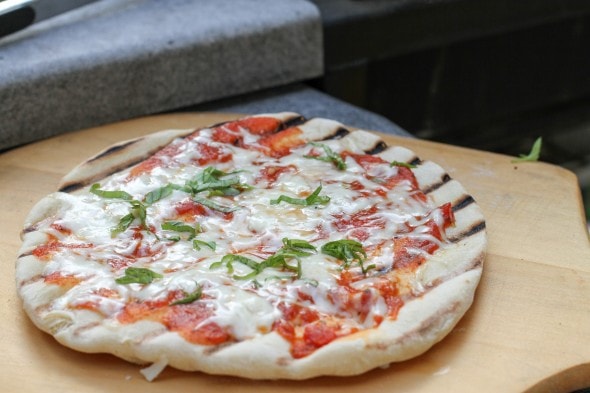 Grilled pizza is perfect for summer cooking, because you can skip the oven altogether! Most pizzas require such a hot oven temperature that I hate to make them in the summertime, but this recipe keeps the super-hot temperatures outside.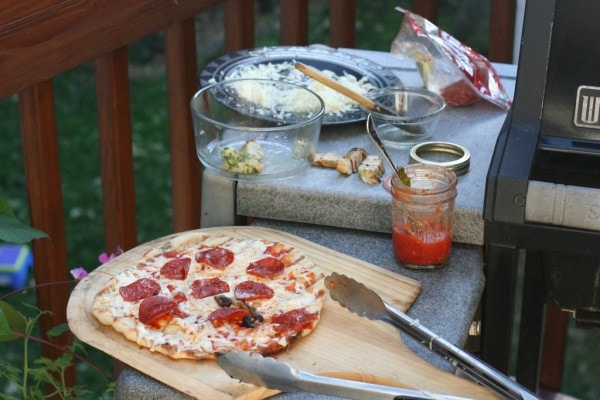 What follows is a combination of a Cuisine recipe and a Cook's Illustrated recipe, although I did a few things differently than both recipes. The end result is a pizza that's somewhat akin to a thin-crust pizza, although the crust is a bit thicker.
I use a gas grill for this recipe, although I imagine it could be made on a charcoal grill as well. I just have no experience with that. 😉
For a more printer-friendly version with fewer pictures, go here.
Grilled Pizza
Dough
2 tablespoons extra-virgin olive oil
1 cup water, room temperature
2 cups all purpose flour, plus more for work surface
2 teaspoons sugar
1 1/4 teaspoons salt
1 teaspoon instant yeast
Topping
1 1/2 pounds medium plum tomatoes (5 to 6), cored, seeded, and cut into 1/2-inch dice
3/4 teaspoon table salt
6 ounces mozzarella cheese , shredded (about 2 cups)
1 1/2 ounces Parmesan cheese , finely grated (about 3/4 cup)
1 recipe Spicy Garlic Oil (see bottom of this post for the recipe) or a thick tomato sauce
1/2 cup chopped fresh basil
You can top your pizza with other things too…bacon, mushrooms, chopped cooked sausage, and so on.
(For food processor directions, see the very bottom of the recipe.)
For the dough, mix the water and oil together. Combine 1 1/2 cups of flour plus the rest of the dry ingredients in mixer bowl.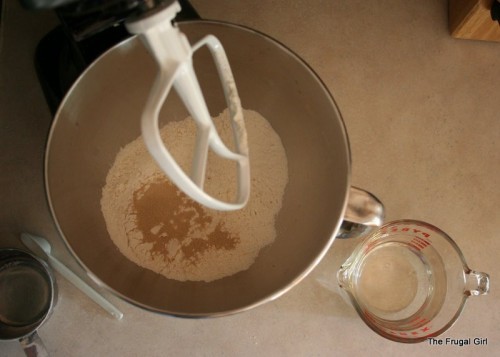 Add water/oil mixture and mix on low speed until combined. Beat on high speed for 3 minutes, at which point it should look like this:
Add more flour, a few tablespoons at a time until the dough is thick enough to be easily kneaded. Turn it out onto a floured surface…
and knead for 3-5 minutes.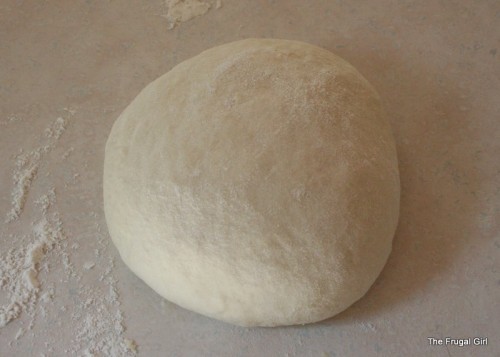 Cover with a wet towel and let rise for 1 hour.
While the dough is rising, mix the tomatoes and salt together in a bowl; after about a half hour there should be a decent amount of liquid in the bowl, which you should drain off.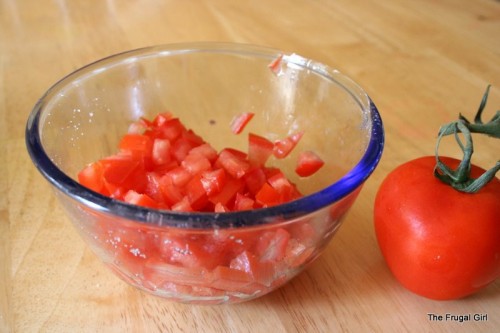 Mix cheeses together and make garlic oil (if you're using tomato sauce, you don't need to make the garlic oil).
Punch the dough down, turn it out onto a floured surface, and divide into four pieces. Form each piece into a ball, placed on floured counter and press with hand to flatten.
Let the balls rest for 10-15 minutes. This will relax the dough and make it easier to roll out. While the dough is resting, turn the grill on high heat.
After the dough has rested, roll each ball out into an 8-9 inch round that is about 1/8 inch thick.

Scrape the now-heated grill clean.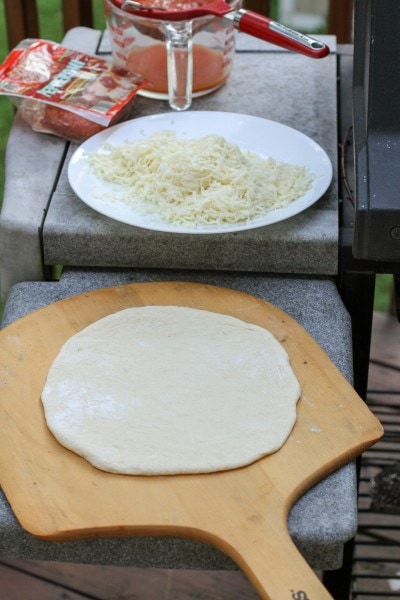 Put a round of dough onto pizza peel (or alternatively, you can use a floured rimless cookie sheet), and slide it onto the grill. If your grill is large enough and you feel so inclined, you can cook two at a time.
Cook the dough for about three minutes, checking the bottom to make sure it's not scorching.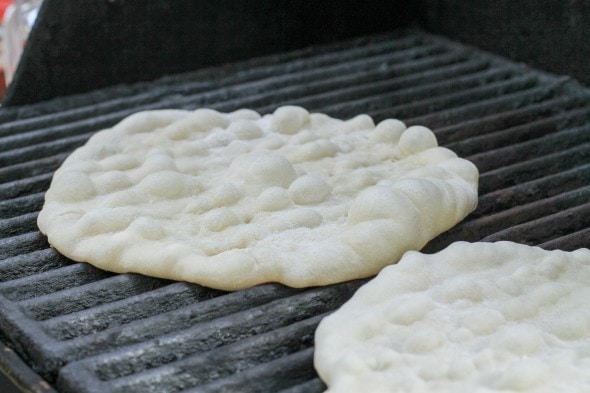 When the bottom is nicely brown, remove it to a cookie sheet or baking peel. With the cooked side up, brush with garlic oil or thick tomato sauce, and add toppings.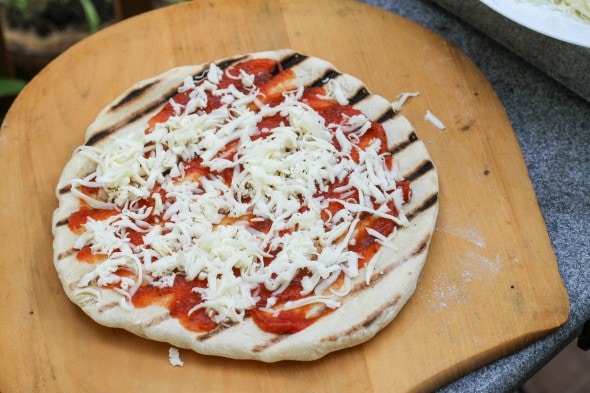 Place the pizza back on the grill, close the lid and cook for another 3 minutes or so, until the cheese is melted and the bottom crust is lightly browned. Top pizza with basil if you're using it. Cut into slices and serve promptly.
Repeat cooking process with remaining dough rounds.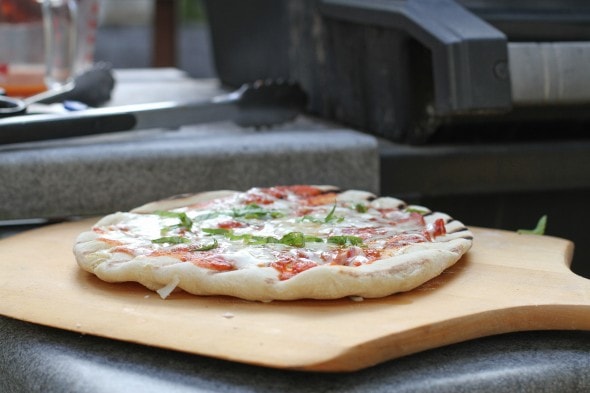 _______________
I like to make the dough in the mixer (I usually get frustrated with making it in my food processor), but for those of you who wish to do it this way, here are the instructions.

To make dough in food processor:
Combine dry ingredients in food processor fitted with metal blade. While the machine is running, add liquids slowly through the feed tube. Process until dough forms a ball, about 1 1/2 minutes. If dough does not form a ball, add flour 1 tablespoon at a time until ball forms. Transfer dough to a greased bowl, cover with a wet tea towel, and let rise 1 to 1 1/2 hours.
________________
Garlic Oil
4 medium cloves garlic, minced or pressed through garlic press (4 teaspoons)
1/2 teaspoon red pepper flakes(I used way less than this)
1/3 cup extra virgin olive oil
Cook all ingredients in small saucepan over medium heat, stirring occasionally, until garlic starts to sizzle, 2 to 3 minutes. Transfer to small bowl.