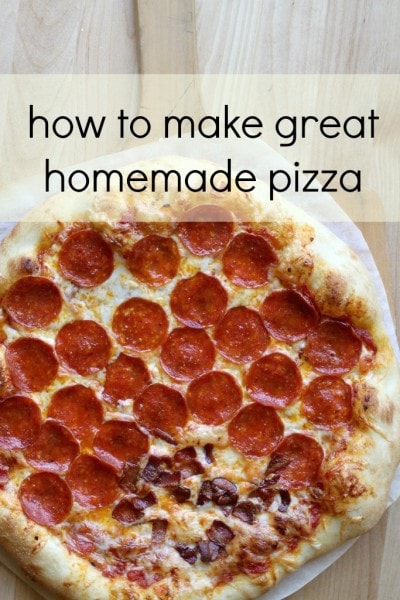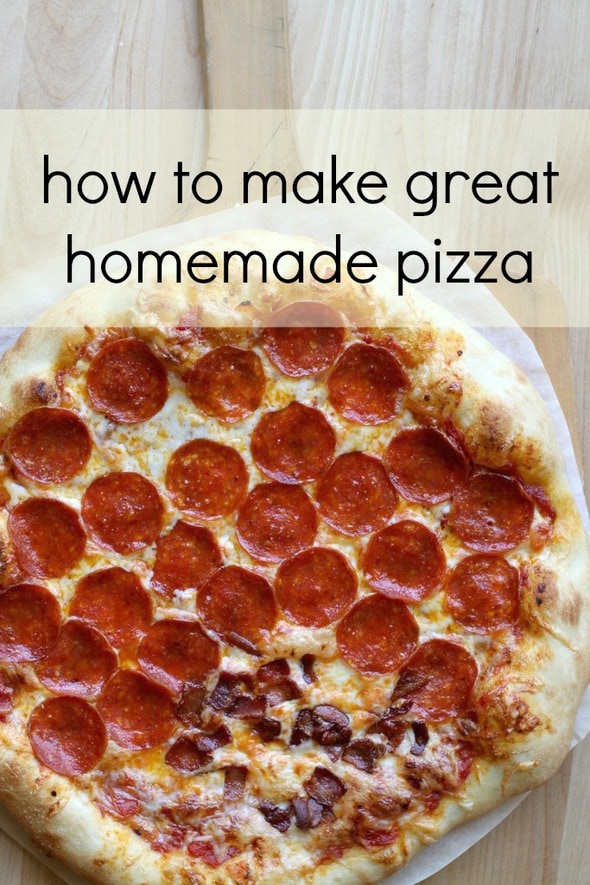 If you're like me, you've made your share of homemade pizzas that were just kind of…meh. Not horrible, but not great.
I followed recipes, and I bought a pizza stone, but my pizzas were still just not that awesome.
Then, as so often happens, Cook's Illustrated came to the rescue.
(And as I so often say, no, they didn't pay me to say that. I just think they're totally fantastic.)
It turns out, I was using my pizza stone all wrong. I wasn't preheating the stone in the oven, I wasn't turning my oven up high enough, and I wasn't sliding my pizza onto the hot stone, using a pizza peel.
Plus, I was using the wrong kind of flour in my pizza dough.
Things are much better when you do what Cook's Illustrated says.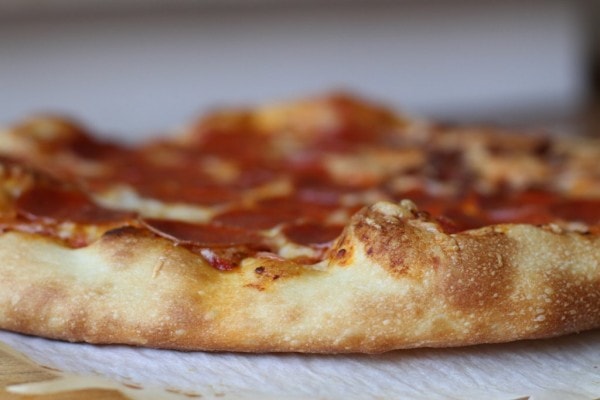 I've been making my pizzas this way for years now, but for some reason, I never got around to posting the method here. We're going to rectify that today, though.
The essential tools:
Baking Stone/Pizza Peel
Ok.
So, to make good pizza, you are going to need a baking stone and a pizza peel (a pizza peel is a paddle-shaped piece of wood that you use to slide the pizza onto the hot stone).
A baking sheet or metal pizza pan will not produce the same results, so I highly recommend springing for a real pizza stone.
I got a stone and peel set at Bed, Bath, and Beyond (using one of their 20% off coupons, of course), but Cook's recommends this Bialetti 4-Piece Pizza Stone Set
, which comes with a stone, a peel, a pizza cutter, and a chrome serving rack, all for $30.
Or if you want something bigger and want to buy a pizza peel separately, their favorite was this Old Stone Oven 14-Inch by 16-Inch Baking Stone
, which is awesomely large. I can see how the size of that would be quite an advantage, especially if you're using it to make something that's not round, like calzones.
Bread Flour
Normally I swear by Gold Medal All-Purpose unbleached flour, but pizza dough is just not the same with that flour (it sends your pizza directly over to the "meh" end of things.)
So, when I'm making pizza, I pay for the King Arthur bread flour. It's totally worth it.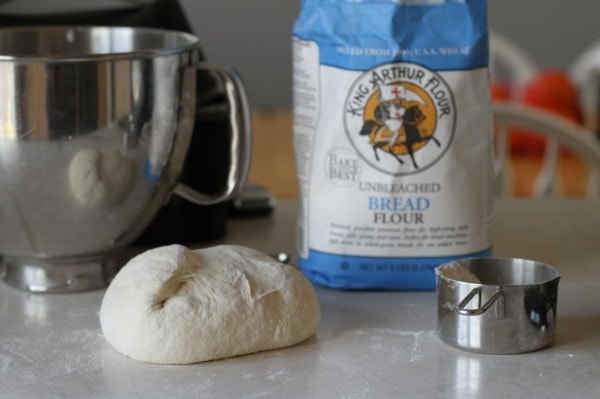 Parchment Paper
This will go underneath your pizza and will help it to slide neatly from the pizza peel to the hot baking stone.
You can just dust the pizza peel with cornmeal, but that's not very foolproof and can lead to amoeba-shaped pizzas.
A (very, very) Hot Oven
Pizza bakes up the best in a ridiculously hot oven, so it's no wonder that my 350° pizzas were sort of lackluster. You'll need to heat your pizza stone in a 500° F oven for at least 30 minutes before you slide the pizza onto the stone.
When you're used to baking things at 350°, 500° can seem a little scary, but it really does make your pizza better.
Alrighty. Here's how to make the dough and put together your awesome pizza.
In a measuring cup, combine 1/2 cup of warm water and a package of yeast.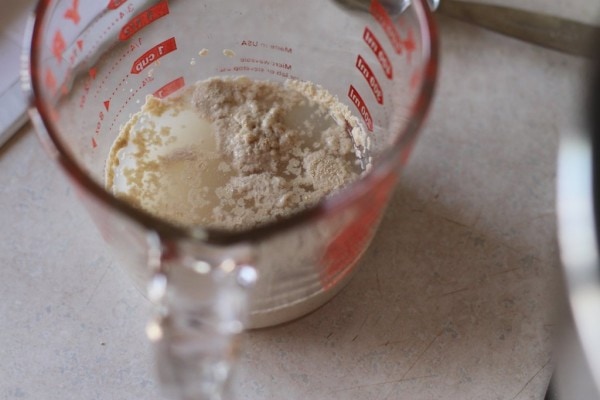 Meanwhile, in the bowl of a stand mixer, combine 2 cups of flour and 1 1/2 teaspoons of salt.
Then add 1 1/4 cups of warm water to the yeast/water mixture.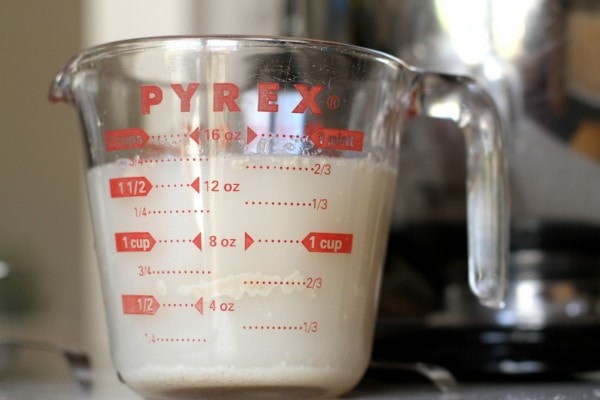 Pour this into the mixer bowl, add the olive oil, and let the mixer run for several minutes.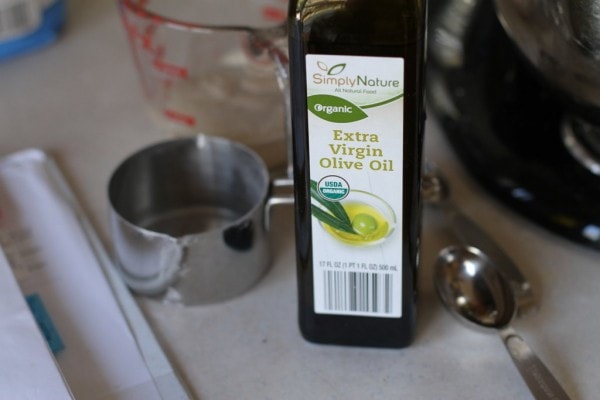 Then stir in the rest of the flour, and turn the dough out onto a floured counter to knead it for a minute or two.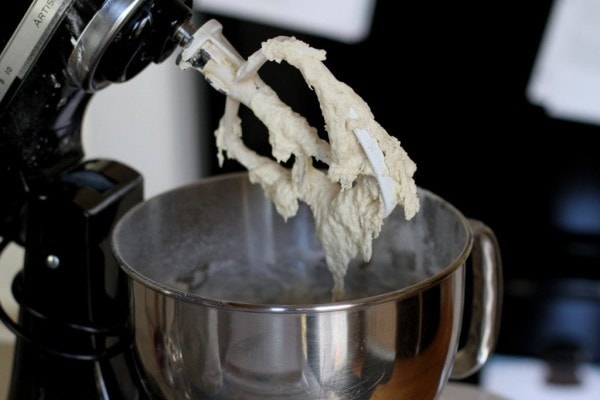 At which point it should look like this.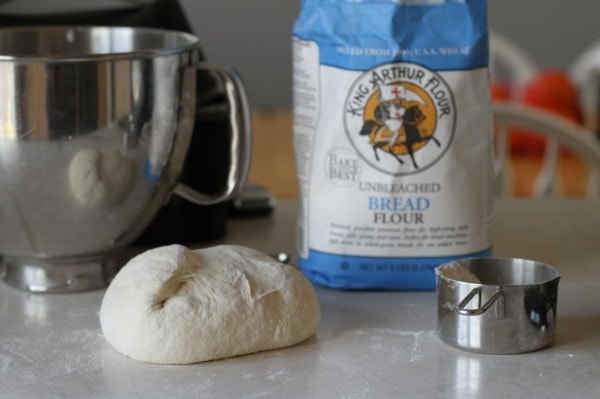 Put the dough back into the mixer bowl, cover it with a wet tea towel, and let it rise for an hour.
About 30 minutes before the dough is done rising, put your pizza stone in the oven and turn it to 500 °.
Once the dough is done rising, turn it out onto a floured surface and divide it in half. Or you can do like I do and make a big pizza with 2/3 of the dough, and a smaller pizza (or breadsticks) with the other third.
To make a nice round pizza, shape each portion into a neat ball, and let the ball sit on the counter for a few minutes. This will help the gluten relax and will make shaping the pizza a little easier.
Roll the dough out into a round shape (I do a combination of rolling with a rolling pin and pressing with my fingers.) I like to keep the edges a little bit on the thicker end of things, but do as you like.
Place the dough on a piece of parchment paper on your pizza peel and brush the edges of the dough with olive oil.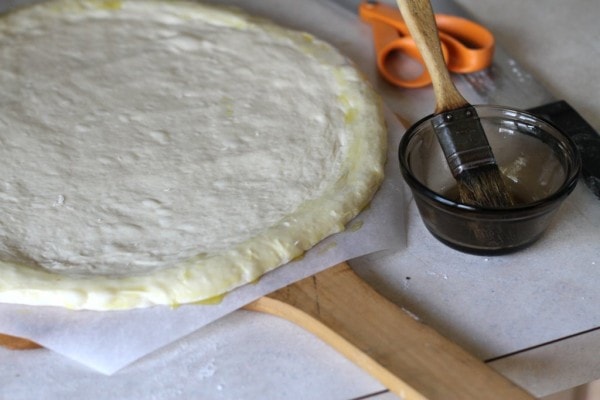 Spread tomato sauce over the dough. The amount is sort of up to you, but don't go crazy with the sauce or your pizza slices will be a little messy.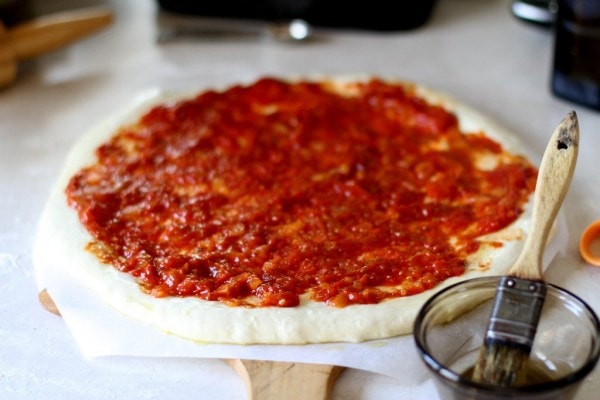 Sprinkle the pizza with cheese, and add any other toppings you so desire.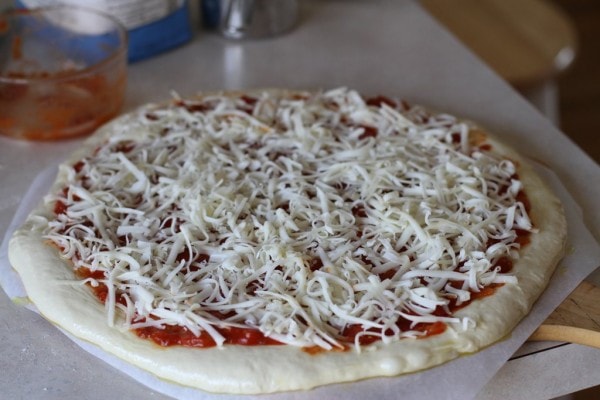 Open your oven door, and using a bit of a flicking motion, slide the pizza off of the pizza peel and onto the hot stone.
Bake for 8-12 minutes, or until the crust and cheese are nicely browned.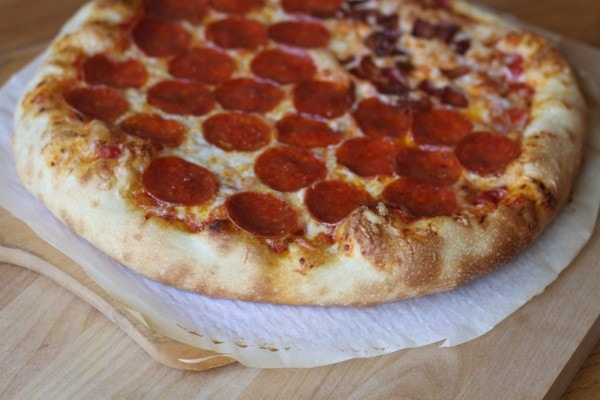 With the rest of the pizza dough, I often make breadsticks, or I make half into a pizza and half into breadsticks. For breadsticks, I just leave the dough plain, and after it's baked, I brush it with melted butter, and then sprinkle it with garlic salt and Parmesan cheese.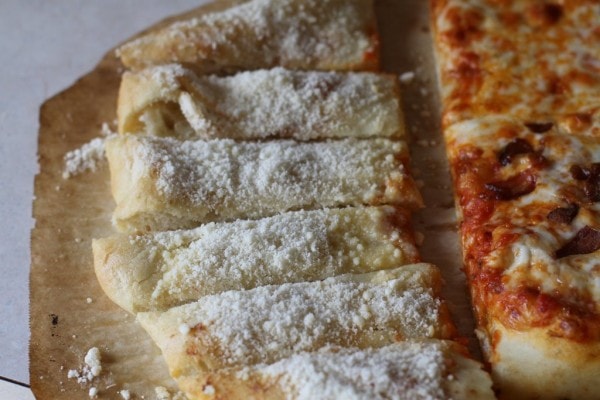 So, now there's nothing standing between you and awesome pizza. Go make some!
Basic Pizza
1/2 cup warm water (about 110 °)
1 envelope (2 1/4 tsp.) instant yeast
1 1/4 cups water, at room temperature
2 tbsp. extra-virgin olive oil
4 cups (22 oz.) bread flour, plus more for dusting
1 1/2 tsp. salt
For pizza:
olive oil
tomato sauce
mozzarella cheese
desired toppings
Combine warm water and yeast in a 2 cup measuring cup. In the bowl of a stand mixer, combine 2 cups of bread flour and 1 1/2 teaspoons salt.
Add 1 1/4 cups water to yeast/water mixture, and add to the flour mixture along with the olive oil. Beat on medium speed for 3 minutes, and then stir in a much of the remaining flour as you can. Turn dough out onto floured surface and knead for several minutes. Place dough back in bowl, cover with a wet tea towel, and let rise until doubled, about 1-1 1/2 hours.
Place pizza stone in oven and heat at 500° for at least 30 minutes.
Punch dough down and divide in half. Shape each half into a neat ball, and let rest on the counter for 5 minutes. Roll each half into a pizza round and place on parchment paper. Brush edges of crust with olive oil. Spread tomato sauce over dough, sprinkle with cheese, and add toppings.
Slide pizza peel under parchment paper and transfer pizza to preheated stone, using a flicking motion. Bake for 8-12 minutes, or until crust and cheese are browned.