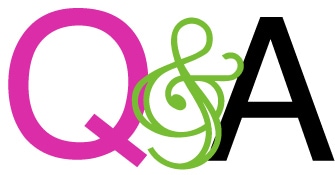 Every Monday, I answer a few of the questions that my readers send me. If you have a question you'd like me to answer in a future Q&A post, just leave me a comment here or email me (thefrugalgirl [at] gmail [dot] com) and put Q&A in the subject line. I look forward to hearing from you!
Two quick ones today because my life is busy right now.
My husband and I have tons of books, some we need and some we don't. I am hoping to sell the latter online. Do you find Craig's List, Amazon, Ebay or (?) easier to use?
-Anna
I actually prefer to sell my books on half.com, an Ebay company. I've written about my love for half.com before, so go check that post out. Half.com is WAY easier to use than Craig's List or Ebay because you don't have to take pictures or make a listing from scratch…just enter the ISBN, choose the appropriate condition and price, and your book is ready for sale.

I noticed you make cd covers for your family photography sessions and I have to know how you did that?!??! I only give my clients a cd with edited pics but I don't have a clever cover!!
-Lauren
It's actually super easy! I use Picasa (a free photo editing program) to crop a photo to a square shape, and then I use the text tool to add a title and date.
I print the photos on 8.5×11 paper, choose the 5×7 option, click "shrink to fit, and then I can fit two square photos onto one piece of paper. The finished photos need a bit of cropping to fit inside a CD case, so just make sure you don't put your text too close to the edge of the photo.
And that's it! Easy and cheap.
By the way, if you're giving photos as a Christmas gift, this can make the presentation a whole lot more gift-worthy.
_____________________________
Today's 365 post: I love my white Goodwill plate.
Joshua's 365 post: Wanna guess?