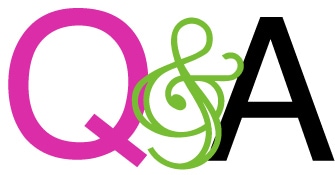 Every Monday, I answer a few of the questions that my readers send me. If you have a question you'd like me to answer in a future Q&A post, just leave me a comment here or email me (thefrugalgirl [at] gmail [dot] com) and put Q&A in the subject line. I look forward to hearing from you!
Do you make or buy your laundry detergent? I am considering making my own detergent using washing soda and borax. I have read articles saying things such as you spend 2cents per load by making your own and it lasts longer than buying. Just wondering if it does anything strange to clothes (smell, extreme color fade, etc.). Thanks, Ashley
I did try making my own two summers ago, but my experience was less than fabulous. For some reason, my clothes started to smell like stinky feet, and I wasn't too fond of that. I don't know if I did something wrong (I've since heard that I should have used Fels Naptha soap), but I've been kind of scared off from trying again. I currently buy Costco's private label laundry detergent because Consumer Reports rated it as highly effective. I'm thinking of giving Aldi's detergent a try as well, though I need to look and see if it's cheaper than the Costco variety.
I have just recently become a stay at home mom and I have found your blog inspiring. I want to continue to be a stay at home mom and for that to happen I will have to save save save!
So my question for you is how do you be frugal with your family about hair care? hair cuts? coloring hair to cover grays? and just personal maintenance in general?
-Jessica
First, I think it's so awesome that you're trying to find ways to save so that you can stay home with your kids. Go you!
Haircuts
To save money on haircuts, I cut my son's hair, and I also cut Sonia and Zoe's hair. Boy hair is pretty easy to do, and Sonia and Zoe both have hair that is thin enough for me to cut.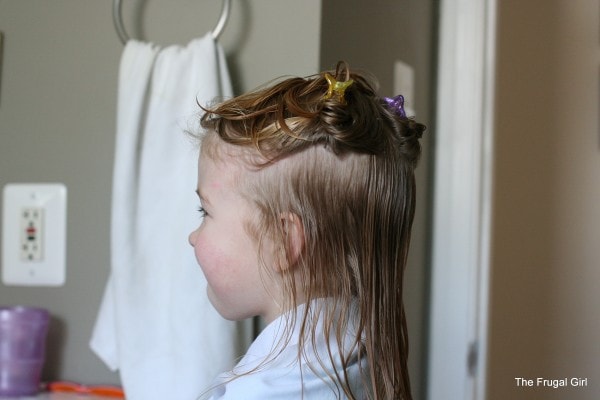 Lisey, on the other hand, has a head full of very thick, straight hair, and I feel like I'm out of my league when it comes to cutting her hair. Thick hair is hard just because there's so much of it, and straight hair is not as forgiving as curly hair (curly or wavy hair masks cutting mistakes pretty well!).
So, I don't cut Lisey's hair, and I also don't cut my own hair because I'm pretty sure I'd screw it up. So, Lisey and I get our haircuts at the home salon of a friend. She can give Lisey and me both a haircut for $25 total, and since we only get our haircut maybe twice a year, we only spend $50 each year on our hair.
I also don't cut my husband's hair, though I did for a while. I'm pretty slow at cutting his hair, and I find it to be kind of stressful (if I mess up Joshua's hair, it's no big deal, but it is a big deal if I give my husband a rotten haircut. He has to go to work, after all!). He has very, very straight hair, so errors are super noticeable. Because of this, I feel like it's worth it to pay for a haircut for him, and we'll probably keep doing that unless we find ourselves in a bad financial position at some point down the road.
Hair Products
For hair care products, watch sales, match coupons up with sales, experiment with cheaper brands (I've found that pretty much any brand of shampoo works fine), and try using less (ignore the lather, rinse, and repeat directions!).
Hair Color
I don't color my hair often, (I did get highlights last summer for the first time in my entire life!), but if I did, I'd probably look into learning how to do it myself at home. Haircolor is awfully expensive, especially if you want to be faithful about maintaining root coverage. Maybe some of my readers will have some tips on home hair color for you.
I don't really do a ton of other personal maintenance….manicures are pretty pointless for me because I use my hands so much, the manicure doesn't last for even a day. I paint my own toenails when I want my feet to look a little nicer, and I pluck my own eyebrows. I don't think it's necessarily bad to spend money on those sorts of services, but I'm not THAT particular about my appearance. I'd rather save my money and spend it on camera equipment! 😉
You find great things from Goodwill and I'm guessing that some days you find better things than on other days. I am curious how often to stop at Goodwill to look around and if there is anything you WON'T purchase from Goodwill. Also, do you shop at any other thrift stores besides Goodwill?
I shop at Goodwill usually once a week.
There are plenty of days where we leave Goodwill empty-handed, but then there are days where I find several good bargains…we just never know what we might find! Since our Goodwill is conveniently located, I don't really mind it when we leave with nothing.
I don't have any particular category of items I won't buy at Goodwill, but I do try to make sure that what I buy is either in very good shape or can be easily modified to be in good shape. Unlike some diehard thrifters, I shop at stores that stock new goods, and I am not opposed to buying items at other stores when I can't find them at Goodwill. For example, I couldn't find snow boots for Joshua at Goodwill despite repeated attempts, so I bought him a pair at Aldi.
I don't do a lot of other thrift store shopping only because the other stores in my area are not nearly as convenient as my Goodwill! I almost always have my 4 kids with me, so taking an extra trip to another thrift store isn't too appealing to me.
New readers, if you want to hear more of my Goodwill ramblings and see some of the things we've found there, a browse through the Goodwill category is just the thing for you. 🙂