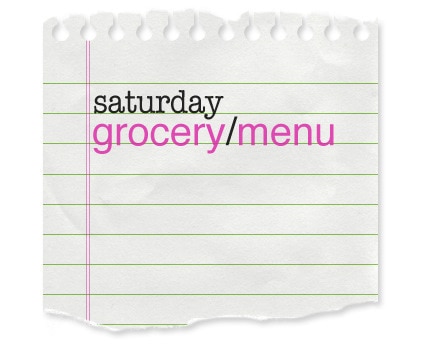 If you follow me on Facebook, you know that I put off grocery shopping until mid-afternoon this week, and so all six of us headed out to shop together after Mr. FG came home.
Since this wasn't at all close to our normal routine, and since we got home a lot later than usual, my kids ran out to play instead of staying in to put stuffed animals in with the groceries. So, I have a boring picture: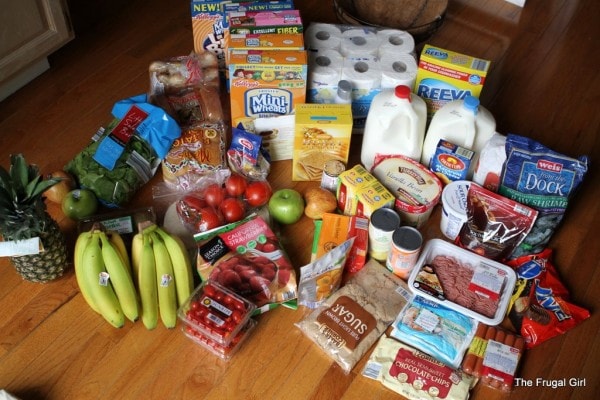 Earlier in the week I stopped at some local markets and an organic store, and I bought this stuff: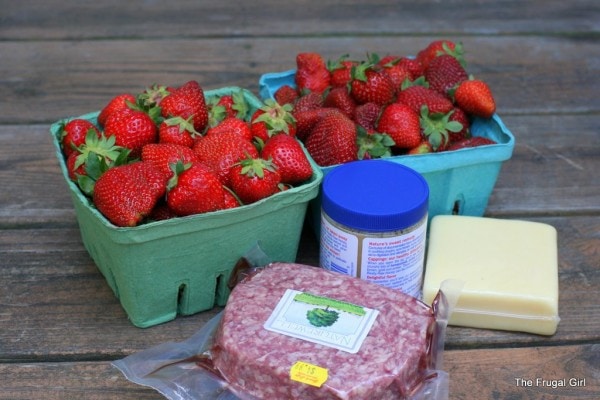 I spent $55.64 at Aldi and $49.40 at Aldi. So, my total would be $105.04 were it not for the local food that I bought.
That small pile of groceries cost $26 (!), so my total for the week is $131.04.
Hmm. Maybe this local food thing is going to require an increase in my grocery budget. Then again, local food should get a little cheaper as the growing season progresses around here, so maybe I can still swing this on $100 a week.
Here's what we're eating this week:

Saturday
Today is a very busy day, so the kids are having BBQ beef sandwiches from the freezer, and Mr. FG and I are having some purchased sushi. Yum.
Sunday (we're having company, so we're not having breakfast for dinner this week!)
Grilled hot dogs and hamburgers
chips and dip
a salad that our guests are bringing
maybe a fruit salad
Monday
Fruit salad
carrot sticks
Tuesday
Grilled, marinated chicken
green salad
Wednesday
Tacos
Tortilla chips and salsa
Thursday
Chicken Tortellini Salad
french bread
Friday
Asian-glazed Tilapia
green beans
I'm off to start my busy day…this morning we're participating in our community yard sale, then at 11:00 we're going to a birthday party for one of my nephews, and at 5:00 I have a photo session at a local park.
Oh, speaking of yard sales, I forgot to tell you yesterday that Garage Sales Tracker is giving away an iPhone. I wrote about it yesterday on my review blog, and neglected to share the link.
Have a lovely weekend!