Every Monday, I answer a few of the questions that my readers send me. If you have a question you'd like me to answer in a future Q&A post, just leave me a comment here or email me (thefrugalgirl [at] gmail [dot] com) and put Q&A in the subject line. I look forward to hearing from you!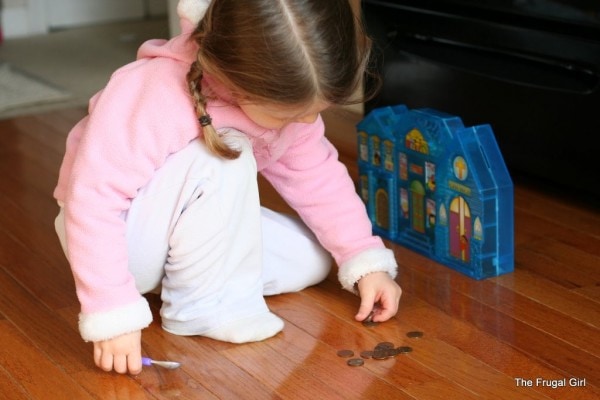 Your entry on your family size and being green got me thinking about the topic of kids and money, and I would love to hear how you're raising your children to be responsible with finances. What do you do about allowances? Do they get an allowance? How old were they when they started, how much do they get, and do they have to earn them? tithe on them? save from them?
-Sally
Our kids do get an allowance (we started this around the age of 3), and at this point, it's not tied to a specific job or chore (though they certainly do chores and jobs around here!). We do sometimes pay them to do jobs that are over and above their normal assigned chores.
Our kids all have banks with three sections in them…one is a church, one is a store, and one is a bank. When they get their allowance, it gets divided up between these categories. 10% goes into the church, 40% goes into the bank, and 50% goes into the store. We take the church money with us on Sundays, of course, and the money in the bank section is for very long-term savings, like for a car or for college.
The store money is theirs to do with as they please, and it's very interesting to watch how differently they each handle their store money. Joshua is a natural-born spender, so his store money section is usually empty or nearly empty. Lisey, on the other hand, is a born saver, and so though she has no more income-earning opportunities than Joshua, she's usually got a nice pile of cash going in her store. Sonia is somewhere in between, and when she's low on money, it's usually because she's spent it buying things for someone else. Zoe doesn't really do much shopping yet, so it's hard to tell what her money personality is.
This simple system we use with our kids teaches them some very valuable lessons. They're learning:
to give away some of their money
to save for future expenses
that they can't buy everything they want. When they're out of spending money, they're out of spending money, as we operate on a cash-only basis around here (no loans from Mommy and Daddy!). This has been a little bit painful for them on a few occasions, but we hope that these experiences will stick with them and will keep them from poor financial habits later on.
We've been grateful to already see that some of these basic financial concepts are sinking in, even with the spendiest of our children!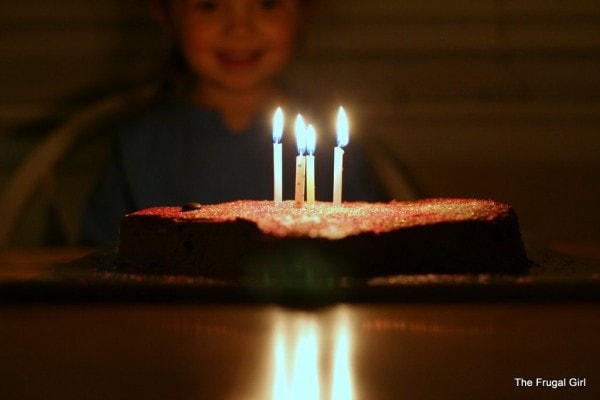 My daughter will be 2 in June and I want to have a frugal birthday but still invite a lot of family and have tons of fun. Do you have any suggestions on how to do it? Since she is so little, should I just keep invitees to a minimum? This year, I only invited very close family and friends because I thought she could get overwhelmed if I had a lot of people and I still managed to spend quite a bit.
-Liza
First off, I should say that I don't think that there is a right way and a wrong way to do children's birthday parties, and what works for one family may not work for another. That said, we have chosen to keep things simple and low-key for our children's birthdays. I find that enormous gatherings are a lot of stress, a lot of expense, and are not that much fun for small children.
Zoe just turned 4, and for her birthday, we just had a small birthday dinner with the six of us. We made a birthday cake for her, gave her presents, and after the birthday dinner, we all went out to the pet store and bought her two goldfish (that was one of her presents). We all had a fun time together, and I did have to lose my mind planning a huge party.
Our older children usually invite one friend over for their birthdays, and they often have a sleepover with that friend. It might seem sort of boring to have one friend instead of a houseful of friends, but my kids enjoy having the one-on-one time time with a friend without being distracted by the presence of many friends. Also, because only one person is being added to our household, I'm able to do more fun activities for the birthday celebration. It's easy to take the kids swimming, or to do a craft or baking project (I'd be loathe to attempt that sort of thing with a bunch of guests).
If you do decide to invite a number of people over, I'd suggest trying to keep things simple in order to cut down on the cost. Have a kid-friendly menu (at our house, the birthday person picks the menu, even if it's an odd menu choice!) and don't worry about trying to impress the adults with the party fare (since her party is in June, maybe you could have a hot dog and hamburger cookout). Don't feel like you need to purchase piles of birthday decorations, or do elaborate party favor bags (I don't usually do traditional party favor bags…we usually make or bake something together, and the finished product is the party favor).
Probably my best advice is to keep in mind that it doesn't take a lot to make a two-year-old happy. And along with that, remember that a stressed and financially strapped Mommy is no fun for a two-year-old!
____________________________________________
Readers, as always, feel free to chime in if you've got some advice to add to mine.