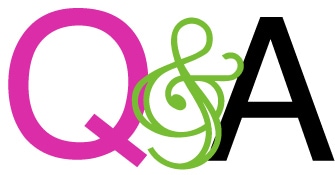 Every Monday, I answer a few of the questions that my readers send me. If you have a question you'd like me to answer in a future Q&A post, just leave me a comment here or email me (thefrugalgirl [at] gmail [dot] com) and put Q&A in the subject line. I look forward to hearing from you!
Hello, dear readers!
I am pleased to report that I am feeling almost 100% normal. Oh yes.
I have once again been reminded that it's only after being very sick that you can really, truly appreciate the delicious wonderfulness of a body that is not achy and feverish. I pretty much feel like I could take on the world right now, I feel so happy! (and that's despite the cough that is still lingering on)
The girls are all back to their usual happy, hopping-around-the-house selves, but Joshua still seems a little quiet and tired today. Mr. FG is about the same as Joshua…it seems they got a milder version of the bug than the girls and I did.
Today I'm pouring my newfound energy into restoring some order (and clean laundry!) to our house, so that's why I'm a little late getting this post up. And it's why this post may be a little shorter than usual.
I have read that baked goods freeze well. Based on your experience what is the best way to wrap breads, biscuits, etc…in order to avoid freezer burn? In addition, what items do you bake and then freeze?
-Grace@Life2Seriously
I usually put mine into plastic bags, squeeze the air out, and shut them up tight. The kind of bag I use all depends on what I have around. Sometimes I use cereal bags (chip clips or clothespins keep them shut), sometimes I use Ziploc, and sometimes I use regular plastic bags with twist ties.
I don't really love to use plastic products, but I haven't found anything else that works for storing or freezing baked goods. I do re-use my bags until they're not usable. To make this simple, I don't even wash them between uses unless they're sticky….I just shake the crumbs out, make sure the bag is dry, and use it again.
I've frozen almost every type of baked good there is, and as long as its sealed up tight against air and it isn't allowed to languish in the freezer for eons, it's been just fine.
I noticed in your pictures that you have hardwood floors, i do too, but i want to know how do you keep them so clean and shiny, mine is so scratched up. i mop them with murphys oil soap. but it doesn't help. just would like to know.
-Julie
I do have hardwood floors in my kitchen and dining room (there used to be carpet in the dining room, which is a really stupid idea when the dining room is the only place to eat). They're pre-finished hardwoods from Home Depot and they came with a really shiny finish on them. I like them pretty well, but if I had to do it over again, I'd look for flooring without grooves between the boards. The amount of kitchen junk that ends up in the grooves is quite amazing.
I don't do much to maintain my floors…they get swept several times a day, but I wash them on a shockingly infrequent basis. And when I do wash them, I usually just use hot water without any soap.
Your floors may just have a more matte finish on them than mine do, and in that case, no soap will change that. I think matte-finish, weathered floors have a certain beauty to them, though, so I wouldn't stress over it too much!
I would love to see how other couponers organize their coupons-especially all of the Sunday inserts…..any great links you have found or great ways to accomplish this?
-Jeanette
I don't consider myself to be a couponer per se (I wrote a post about that and sparked much controversy in the comments!), but I keep my coupons in an index card file. When I get coupon inserts, I clip the ones I want, put them into the appropriate categories, and then recycle the rest of the insert.
For a serious coupon-user, this system might not work, but for me, an occasional coupon-user, it's perfect.
I know I've got some readers who are avid couponers, though, so I'm sure they'll be along to share their methods with you!
Today's 365 post: Blue Eyes