Hello, everyone!
Today, we're meeting Rachel. She's been reading here since 2009, but she's actually never left a comment. She's making up for it today, though! I think you'll enjoy getting to know her, and I think you will be quite impressed with the cakes her husband makes.
Here's Rachel:
1. Tell us a little about yourself
My name is Rachel and I live in a suburb of Dallas, Texas.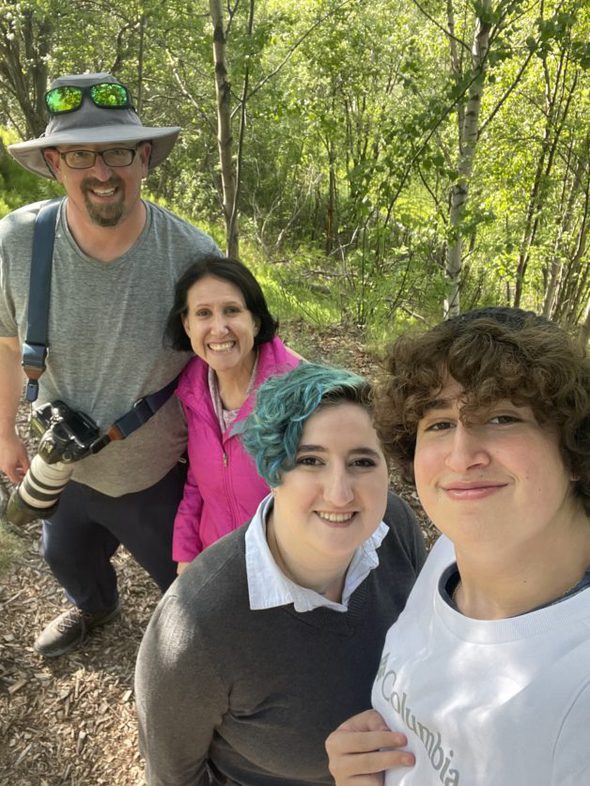 My beautiful family. I'm NOT the one with blue hair.
My amazing husband and I have been married for almost 22 years and we have a 19-year-old daughter and a 17-year-old son.
My daughter just recently moved into a university residence hall, and my son has a busy life with school, work, and social activities, so I'm getting adjusted to a quieter household. The seasons of my life are definitely shifting!
I work full-time at a company that I've been at for 27 years – I'm fortunate that I love my job and my colleagues. I also enjoy volunteering for the community, writing, and scrapbooking. I'm in search of some new fulfilling hobbies since retirement isn't THAT far off!
2. How long have you been reading The Frugal Girl?
I discovered The Frugal Girl eons ago. I'm tempted to say 2009… is that possible?
We moved from California to Texas in 2007 and when we did, my husband stopped working to earn his PhD. Not only did we not have his salary, but we were determined to cash flow his education, which we successfully accomplished. Although I was working, money was quite tight.
As the years have gone by, and our income has increased, I've ceased following practically every money-saving blog, except for The Frugal Girl. It's my favorite blog – not just my favorite frugal blog… it's my FAVORITE BLOG.
I appreciate Kristen's cheerfulness, practical tips, and sunny outlook on life. You can say that I came for the frugality and stayed for the positivity! I also appreciate how consistently she posts – I always start my day by reading her delightful blog which inspires me and sets me in the right mindset.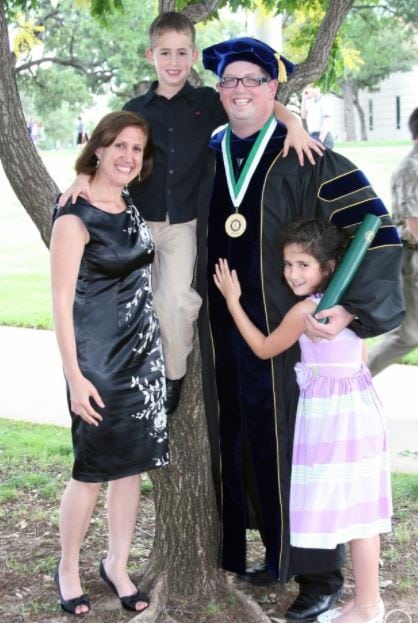 My husband's PhD graduation – where did our babies go? Now one has blue hair…
3. How did you get interested in saving money?
I have always been naturally frugal. This was not modeled for me growing up, rather it's just an innate personality trait that I'm super happy to possess. Being a frugal girl in a non-frugal family has created many laughs and jokes over the years, but I can take it!
I enjoy stretching a dollar and most importantly, I enjoy intentionally spending money.
I kept a budget when I was young, and I still keep one today so that I can be deliberate with where our money goes. I never wake up at the end of the year and wonder, "what on earth did we spend our paychecks on?" Since I plan and budget for items that are high priorities for me and my family, this yields guilt-free spending.
For instance, I put a decent amount in our travel budget each year because that's a priority. I also put a decent amount into our food budget because we enjoy eating a variety of cuisines. But I put very little into our clothing budget, and when I do shop, I largely shop second-hand.
Several years ago, we went to a local tourist spot, Medieval Times. While there, they dressed us up in Medieval clothing and had us pose for a (rather cheesy) photo. It was fun to take, but I declined to buy it and said to my family: "you know what the shingle on my retirement house will say? I didn't buy the souvenir photo!" And thus, a new catchphrase was born.
I now say that often and with great predictability… "you know what the shingle on my retirement house will say? I didn't buy the shoes… I didn't buy the gadget."
One of the best presents my husband ever gave me was my very own homemade shingle!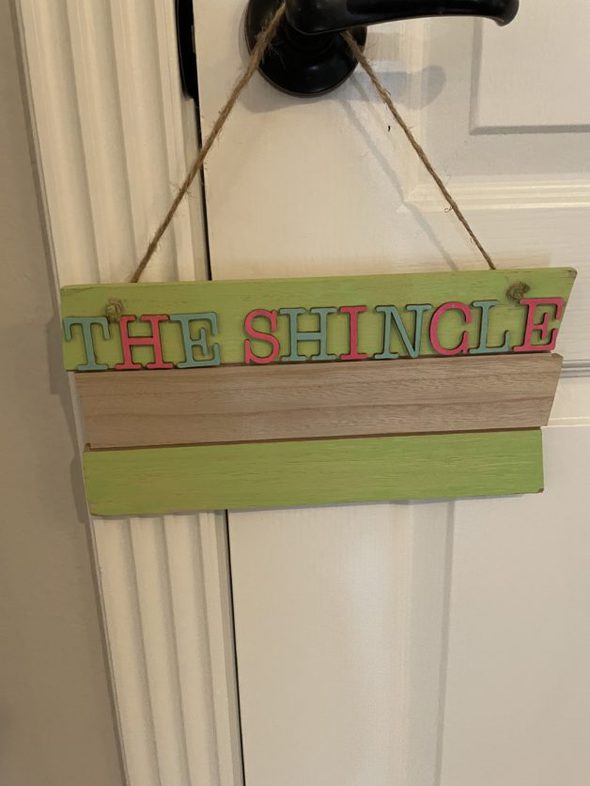 The shingle my husband made me. Such a thoughtful gift!
Just to be clear, if the souvenir picture had been important to me, I would have gladly budgeted for and bought it. But it would have been an impulse purchase at the time that wasn't in the least bit important to me in the long run.
4. What's the "why" behind your money-saving efforts?
I discovered one of the secrets to happiness a long time ago: generosity.
At different points of my life, I've been able to be generous with my time, talents, and treasures – rarely all three at the same time. And it's often taken some creativity to achieve.
When we were young and newly married (and quite broke), my husband and I wanted to start a college scholarship in my beloved grandfather's name. Is this something that we could even do? We weren't the Rockefellers after all!
We called the Alumni Center of my alma mater and they happily worked with us to create it – we funded it a little bit each year until it was endowed. How happy that made my grandma and my mom to know that my grandfather's memory would live on in perpetuity.
Once, our school had a pajama drive to collect new PJs. I had a budget in mind and when we went to the store, I was delighted to find a terrific 50% off sale.
We were able to buy out the whole display of toddler pajamas – I still remember that exhilarating feeling. No designer purse could fill my heart like that – I truly got an endorphin rush!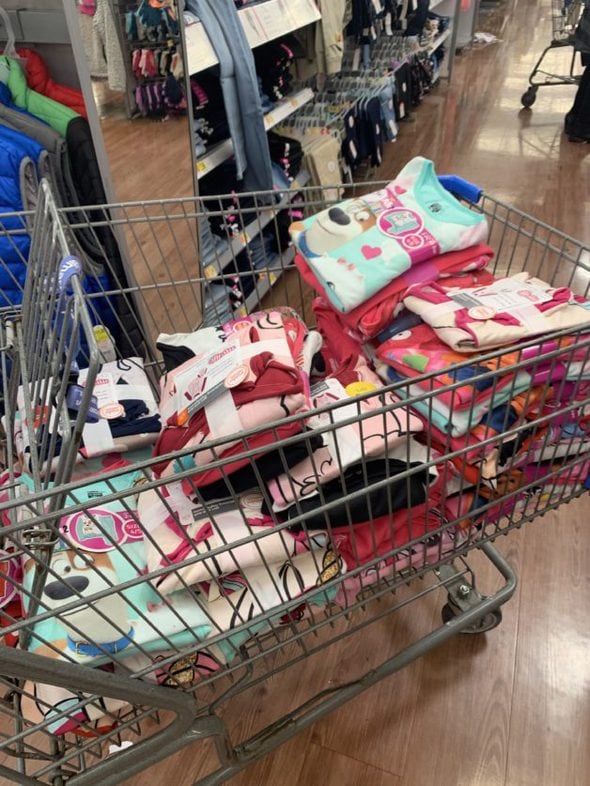 It was such a great feeling to buy ALL the toddler pajamas to donate.
I also keep a budget for random acts of kindness. Remember when Kristen's daughter made those adorable knit critters?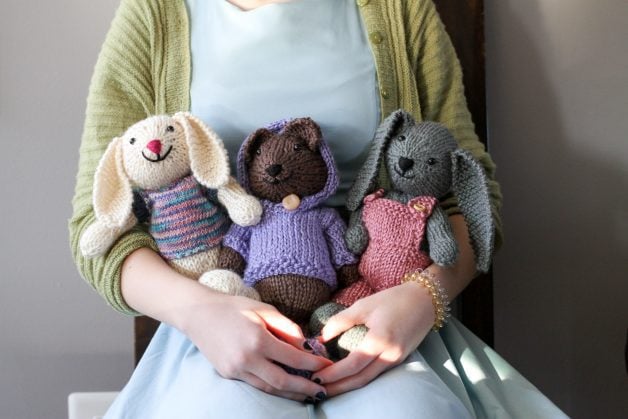 I emailed and told her that I'd buy one for her to donate to anyone she would like. It was a win/win/win – Sonia and Kristen were happy, I was happy, and the recipient was happy. It was a creative use of my hard-earned money that made me feel extraordinarily fulfilled.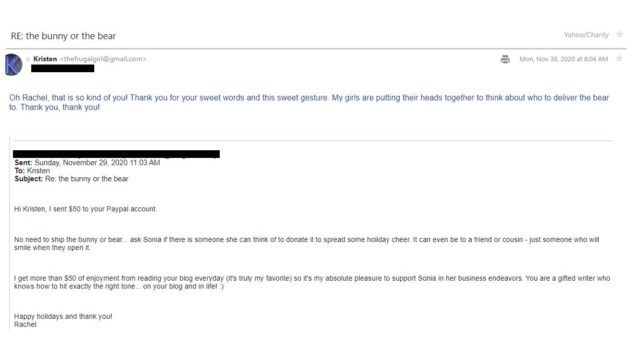 It was a great feeling to buy Sonia's knit critter to donate.
5. What's your best frugal win?
My husband and I don't give each other expensive material gifts for our anniversary. Instead, we write one another letters and we have never missed a single year. My most treasured possession in the world is the book of letters we've exchanged.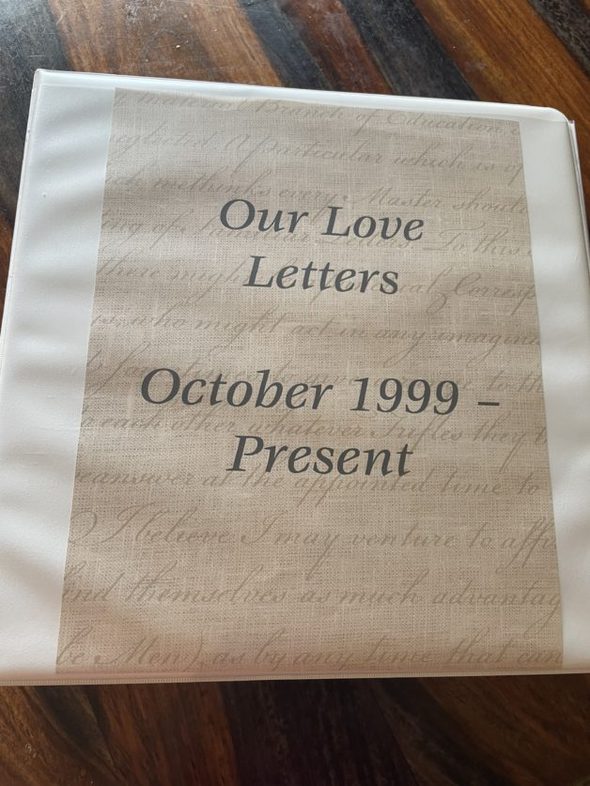 Almost 22 years of love letters.
In an age of texts and emails, I have a book of love letters!
We also give each other fun memory boxes with items that highlight our memories from the prior year – they are imaginative and just oodles of fun to put together.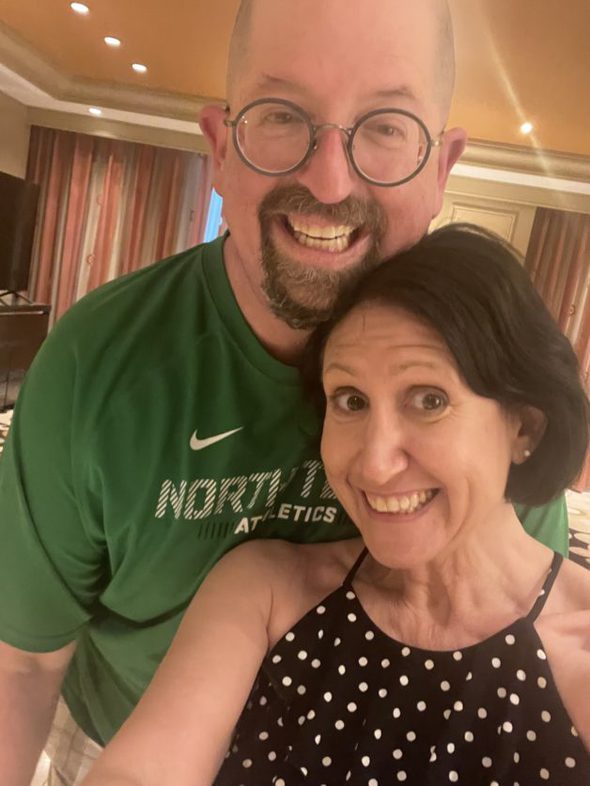 Me and my love, Jason.
Since we were married on October 30, we also carve the number of years of marriage in a pumpkin.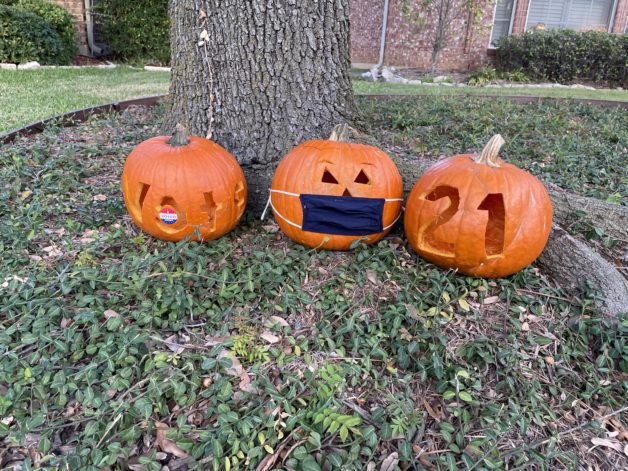 Last year's pumpkins. The "vote" pumpkin and masked pumpkin were very 2020.
We have some fun traditions with our kids for their birthdays as well. I write them a letter each year – it's a way for me to express my love and pride but also to be their historian and document their highs, lows, and new experiences.
My husband bakes them each a clever and creative cake – these would cost hundreds of dollars to buy from a posh bakery and his talent is impressive!
We do give our kids material gifts – when they were babies, we would literally wrap toys they already had, because the fun was in the unwrapping, but that doesn't quite fly with teenagers!
6. What's a dumb money mistake you've made?
I'm not as good about food waste as Kristen is – she inspires me do to better and I consistently hear her in the back of my mind every time I clean out the fridge.
I'm sure I would not be pleased to add up the amount of money I've thrown out over the years – not to mention the waste of resources and energy it took to bring that food from the field to my home.
7. What's one thing you splurge on?
I do splurge on travel – I prioritize buying memories and experiences, rather than things.
I also have a really good camera since I love to take photos and scrapbook. There's frugality inherent in everything though, as I'm always looking for good travel deals and how to stretch our dollars.
On a recent trip that involved wildlife, we rented a big fancy lens from a local camera shop, which was a fraction of the cost of buying a new one.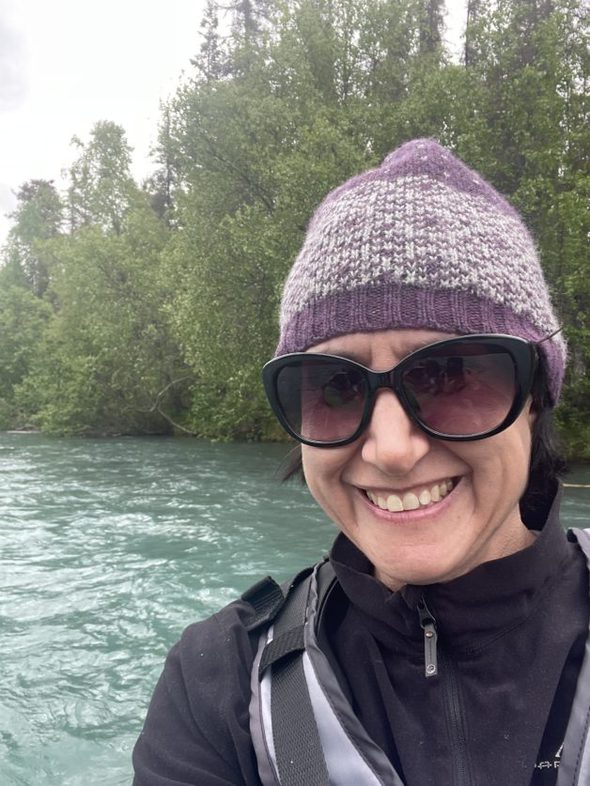 This photo makes me look more outdoorsy than I am. I was fishing with my family on vacation and by fishing, I mean watching.
You can see the big fancy rented camera lens in the first photo of my family.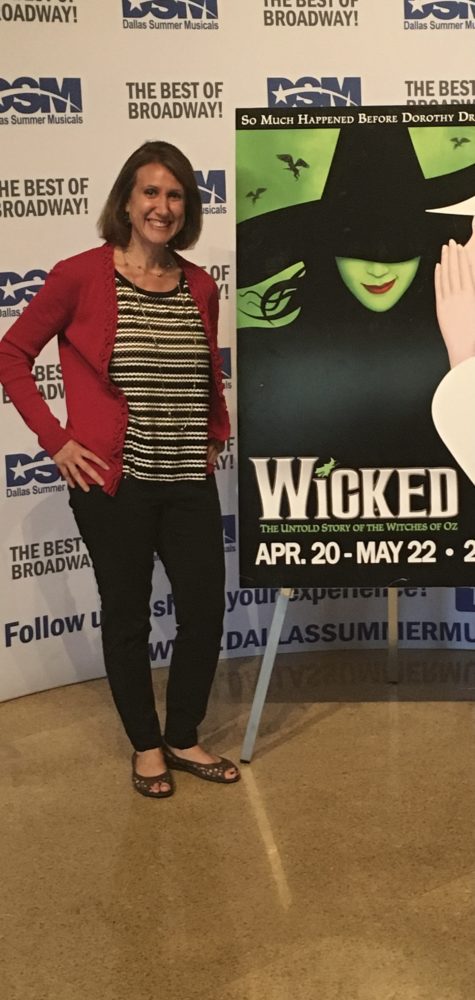 I also splurge on live theatre. I love musicals and am over the moon that live theater is making its return.
I'm more of an indoor girl, so theater is more my speed.
8. What's one thing you aren't remotely tempted to splurge on?
I'm not even a bit tempted by designer clothes, make-up, purses, etc. I don't appreciate shoes either, designer or not. Just ask my sisters and friends about my beat-up Crocs that I swear will survive an apocalypse.
I also don't spend money on fine wine or gourmet chocolate. I'm just as happy with a $3.99 bottle of Moscato from Aldi than I ever would be with an expensive Napa Valley wine. Similarly, I am just as happy with a Hershey bar as I would be with imported European chocolates.
I don't have a temptation to buy a luxury car – I'm a Honda kind of girl and we drive our cars for ages. I don't get bent out of shape (pun intended) with scratches and dents either. I have the same philosophy about cars and luggage: they are designed to protect the contents inside!
I also don't spend a lot of money on household furnishings. I read Marie Kondo's book The Life-Changing Magic of Tidying Up and have since learned to decorate with items I already have that spark joy.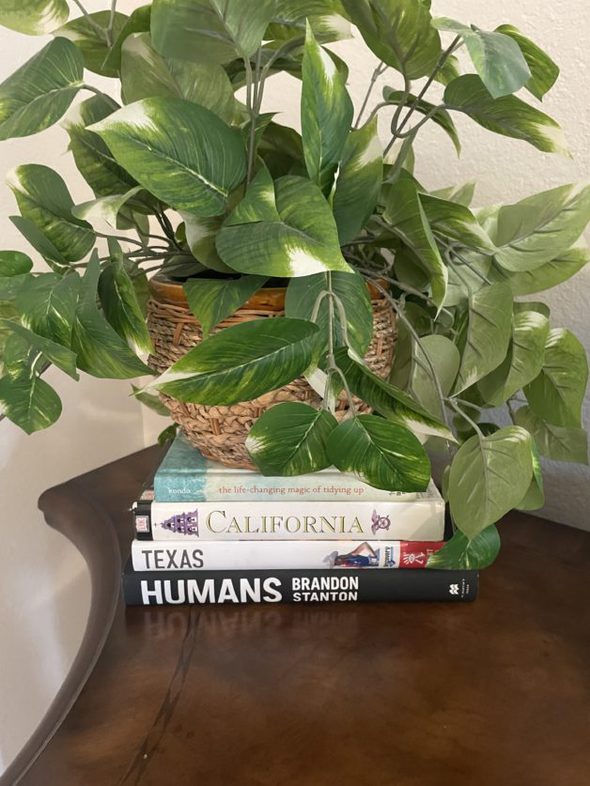 Decorating with Marie Kondo's book, inspired by Marie Kondo's book. I get so much joy out of Brandon Stanton's Humans of NY blog as well.
9. If $1000 was dropped into your lap today, what would you do with it?
I would likely put some into savings and give some of it away. And maybe treat myself to a facial.
10. Share a frugal tip with other Frugal Girl readers
I don't think I have a novel frugal tip that these awesome readers haven't thought about. So, I'll pivot the question a bit. I truly enjoy Kristen's blog for the positivity and the emphasis on contentment.
I notice things more when Kristen points them out in her Thankful Thursdays and Kristen Prompted posts. I notice the sunsets more when I walk, notice the feel of my family's hands in mine, and how much I appreciate sunlight and warmth.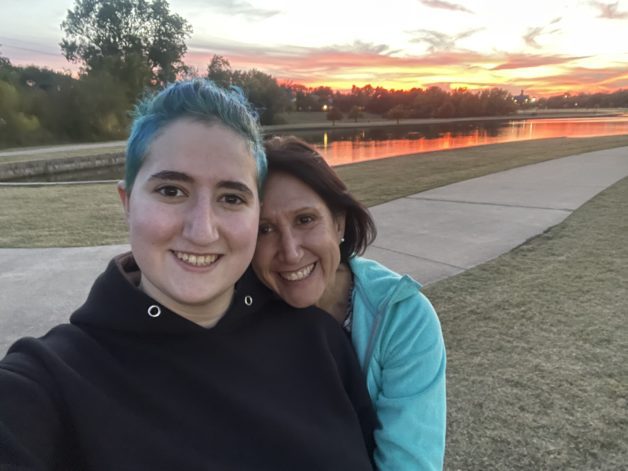 Appreciating the sunset on a walk
I have dealt quite a bit with Imposter Syndrome over the years. If you're not familiar with Imposter Syndrome, it's where people (usually women) feel as though they aren't good enough and that they will be found out any minute that they don't belong or fit in, that they will be exposed for not being that great of a worker, mother, etc. Perhaps you know the feeling.
In talking through it with a friend, it was suggested that I give this feeling a name, so I did: Issy (the I-S stands for Imposter Syndrome). Now, whenever I get that feeling that I'm not good enough, I tell myself "That's just Issy sitting on my shoulder talking" and I quickly come up with three reasons why what's she's telling me can't possibly be true.
I was also encouraged to give a name to the opposite feeling… to imagine a cheerleader sitting on my other shoulder, enthusiastically telling me that I can do it, and filling me with positivity, hope, and optimism. I named her Kristen. 😊
__________
Rachel, I have to tell you, when I got your email and read what you'd written, I teared up at the last part. I feel very honored that your encouraging shoulder angel is named after me! Thank you so much for sharing this with me.
A few questions/comments from me:
Your daughter looks so much like your husband, especially in the family photo!
It seems like you and your husband are still head over heels for each other. Want to share any marriage advice?
What's your very favorite musical?
Readers, the floor is now yours!