1. Tell us a little about yourself
Hi all! My name is Morgan and I am a 34 year old single pet parent living in Portland, Oregon.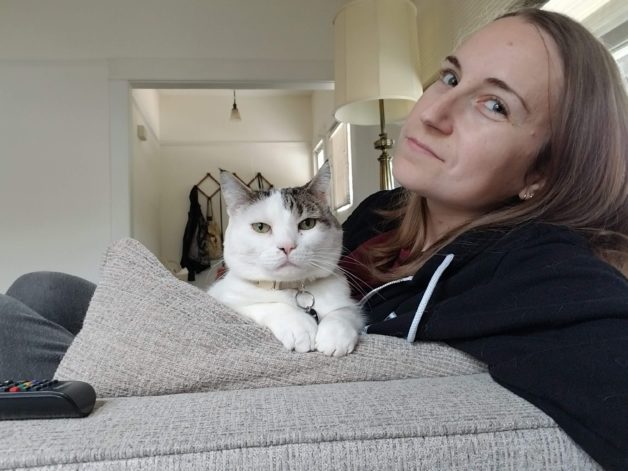 I live in my 112 year old house with my cohort of senior pets: a 14 year old mix named Holden, 12 year old 3 legged pittie named Jethro, and 12 year old cat named Charleston.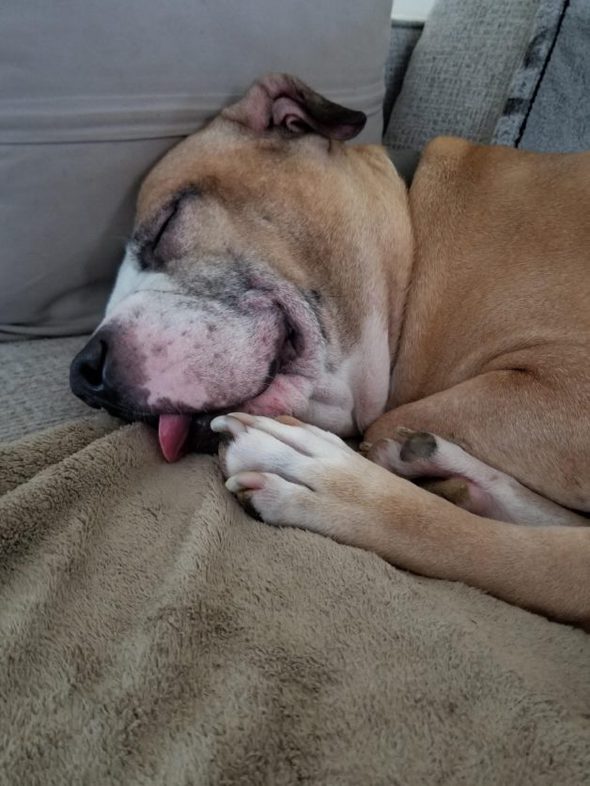 I worked in animal welfare for over a decade and you tend to wind up with the special needs ones in that line of work, so all of mine are special in some way (and I wouldn't have it any other way). They definitely keep me sane.
I bought my house during the pandemic and put in a full garden immediately. I had never grown a garden before but it's been so fun learning and growing my own food!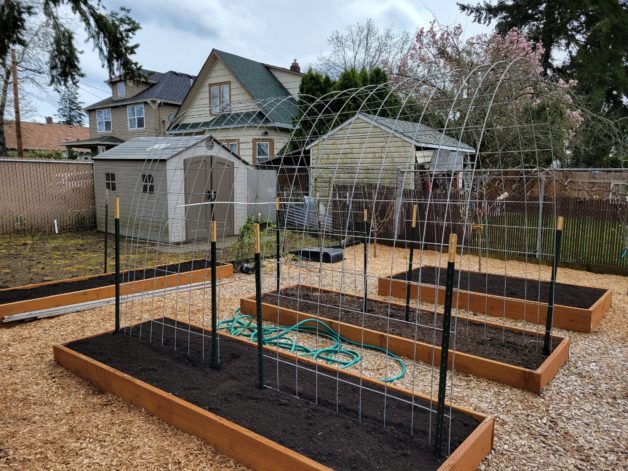 I am definitely a homebody and an introvert so staying home, reading, cooking, gardening and hanging out with my animals is how I spend most of my time.
2. How long have you been reading The Frugal Girl?
I would say about 10 years? I'm not sure how I found the blog but I have been a loyal daily reader ever since!
3. How did you get interested in saving money?
I did not grow up in a frugal household. My parents were/are very well off and no one ever really talked about spending money or saving money at all.
After I graduated college and took my first job working in animal welfare, at a non profit, I was responsible for my own living expenses and it was a real learning curve. I lived with my then boyfriend who was a medical student so we were barely able to afford rent and necessities.
I was however determined not to ask for help so I dove head first into learning about frugality and how best to manage our money. I got laid off at one point and we were receiving SNAP benefits so I had to be even more cautious.
But I was able to keep us well fed and everything managed without asking my family for help (I know they would have stepped in in a heartbeat, but I was too stubborn to ask).
4. What's the "why" behind your money-saving efforts?
I am one of those millennials that all the memes make fun of for living my life for my pets. It's only partially true hah.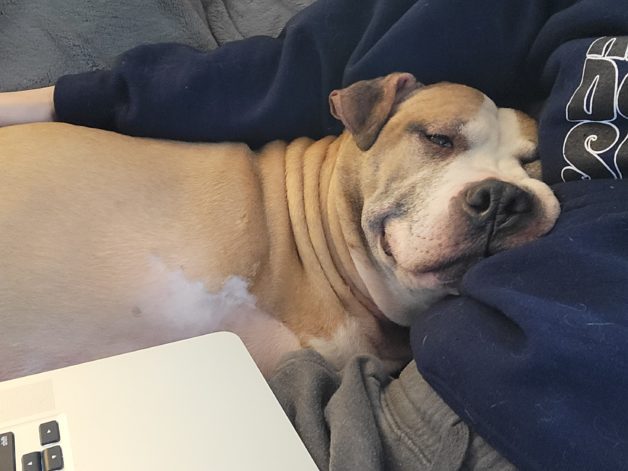 I do want to provide a safe and comfortable home to the animals in my care, as they deserve to receive all the comforts they lacked before.
Additionally, I have an autoimmune disease that will affect me for the rest of my life. I try to save when and where I can so that should there be a time when I can't work I won't have to panic. Having a home of my own is very stressful but also a huge comfort to me in that I can just BE.
My furry family and I are safe and comfortable and I do what I can to ensure that continues going forward.
5. What's your best frugal win?
My garden! Last summer was the first time I had had a garden ever and it worked!
I threw everything at the garden and it was so successful, I am still so pleased with myself. I grew so much produce that I was able to preserve it to use throughout the year. It has definitely saved me on my grocery costs this year (which is especially beneficial as we watch the rising cost of food).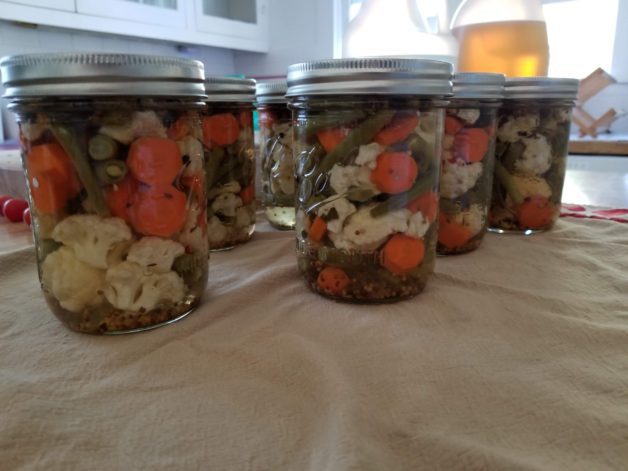 I also saved seeds and have begun planting again for this season. My neighborhood Buy Nothing group has been so helpful and people have shared so much of their time and knowledge helping me learn in the garden.
6. What's a dumb money mistake you've made?
Oof, where to start?
I love clothes. I grew up with an unlimited budget and my Mom would buy us entirely new wardrobes each season so I just assumed that was normal.
I have a budget now but it is really a challenge for me to stick to it. I have to be particularly mindful because it's so easy for me to just spend money that really shouldn't be spent.
Relearning habits and being more intentional has taken a lot of time and effort and it's still a challenge, but I keep working at it.
7. What's one thing you splurge on?
As mentioned, sometimes clothes. That being said, I don't splurge on clothes often anymore (pats self on back).
So I would have to say my animals, Jethro in particular lately.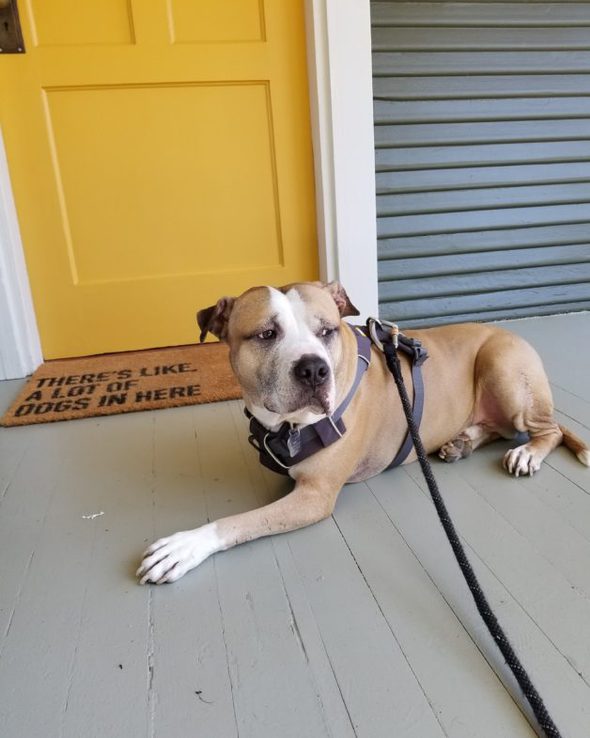 My 3 legged dog used to have 4 legs but due to bone cancer last year the leg had to be amputated. I hope none of you have had to have a pet's limb amputated because let me tell you, not cheap.
But my pets are my whole heart and soul so I will gladly spend the money on them.
8. What's one thing you aren't remotely tempted to splurge on?
New technology. I keep my phones until they literally die. My hand-me-down TV was my parents' until they moved and upgraded. I don't have an Ipad or any other fancy gadgets; I just don't care for them.
9. If $1000 was dropped into your lap today, what would you do with it?
Probably put it into savings or pay off a medical bill.
10. What's the easiest/hardest part of being frugal?
The most difficult thing about frugality is that it's a learned skill for me. I didn't grow up with examples of frugality so I had to learn it all on my own, and rather abruptly. I'm definitely still working on it. I'd say the easiest part is that I enjoy making a game out of it.
For example, I did the Three Rivers Challenge for January and February. The challenge is to use up food items in your home as opposed to buying groceries. I spent a total of like $26 on fresh food for those two months and it was a challenge! But it was also really fun for me to get creative with what I had on hand and clearing up space.
11. Is there anything unique about frugal living in your area?
Portland is BIG on thrifting. There are thrift stores everywhere and everyone loves thrifting (or so it seems). It definitely is helpful for furnishing a house as you can find literally anything.
I'd also say that in summer time you can get so much fresh local produce. Portland LOVES their farmers markets. So it's great to be able to get in season produce year round at a reasonable price.
___________
Morgan, it was so lovely to get to know you better. I loved the picture of you with your cat; Charleston looks so aloof (as a good cat should. 😉 )
Also, I am terribly impressed with your tidy gardening setup. I would never have guessed that you are a first-timer!
And: I love your yellow door. Such a fun pop of color.
Two questions: Have you always lived in Portland? And…do you read The NonConsumer Advocate blog? Katy lives in Portland too!
Readers, the floor is yours.