Today, we're meeting a bright and colorful reader who also happens to be a blogger. Jodie runs a fashion blog for 50+ women, called Jodie's Touch of Style.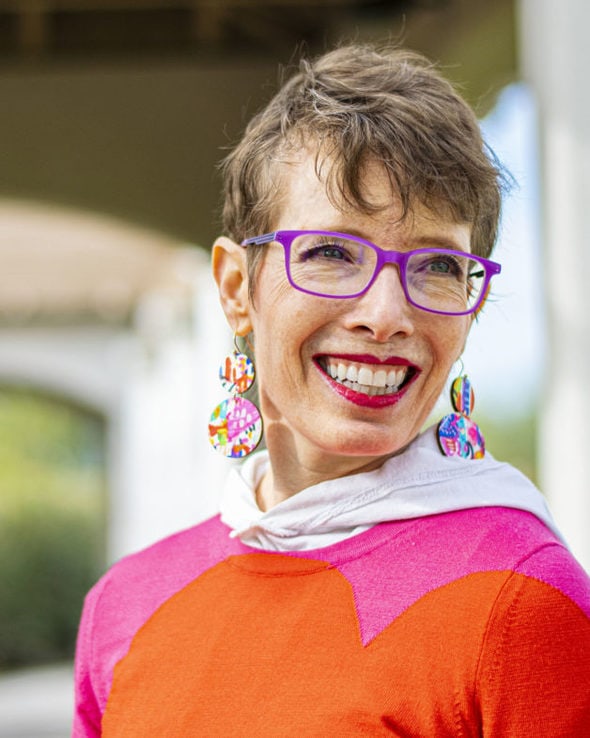 1. Tell us a little about yourself
I'm a retired cosmetic dentist living in Sun City, Arizona with my husband.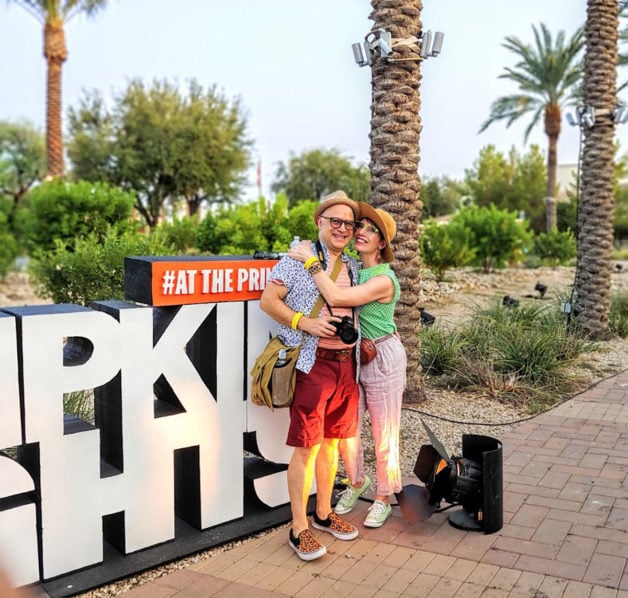 After I sold my practice 7 years ago in Colorado, I started a lifestyle/fashion blog with my mom and stepmom to showcase how it's never too late to look great.
Here in Arizona, I still have my mom with me on the blog, but my stepmom stayed in Denver, so I have my friend, Lesley as the third model.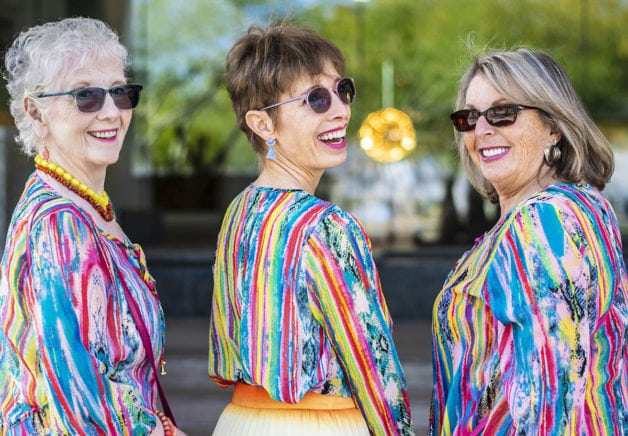 I love the fact that I can showcase women in different decades, with different body shapes and different styles. All three of us on the blog are thrifty and love to shop secondhand (or the sales).
Lately I've been learning more about sustainable fashion and have changed my thinking about "purging" my closet.
Since so many of our items could be repurposed or recycled somehow, that has been my focus lately.
For example, I pulled out a top that I just don't wear much here in Arizona because it's long sleeved. I cut off the sleeves to make it short sleeve instead of giving it away.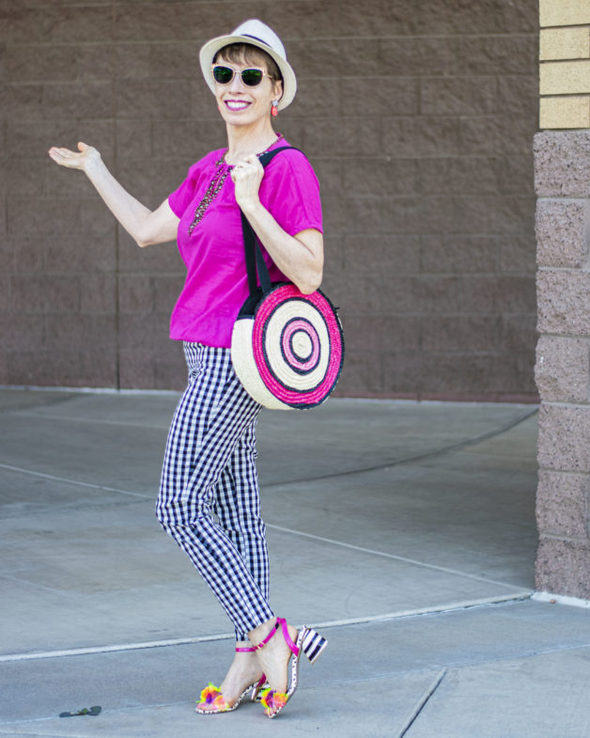 My husband and I live in a retirement community with our two rescued kitties!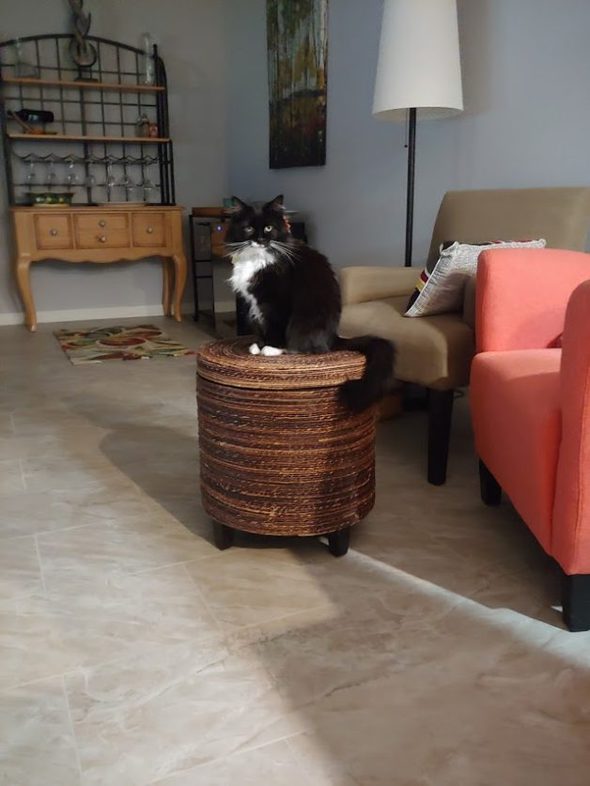 Both cats are now over 15 years old, and we love them to death.
Unfortunately, they don't love each other so I can't show you a photo of the two of them together.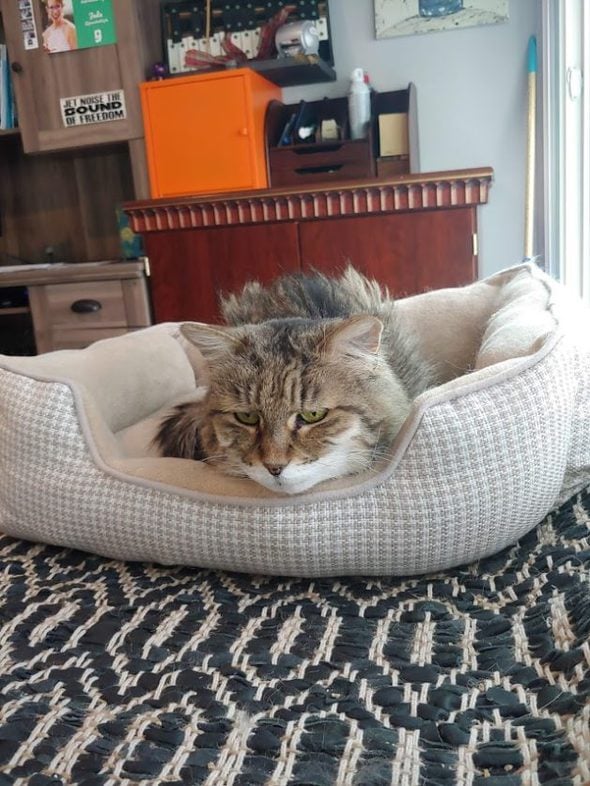 2. How long have you been reading The Frugal Girl?
I'm a new reader to The Frugal Girl after my friend Sarah was interviewed on your site. I'm always looking for new ways to save money, so it's been a great addition to my reading!
(Here's Sarah's interview; she and Jodie both live in Arizona.)
3. How did you get interested in saving money?
I always say that the nut doesn't fall far from the tree, haha. My mom has always been very thrifty and that was passed down in my DNA!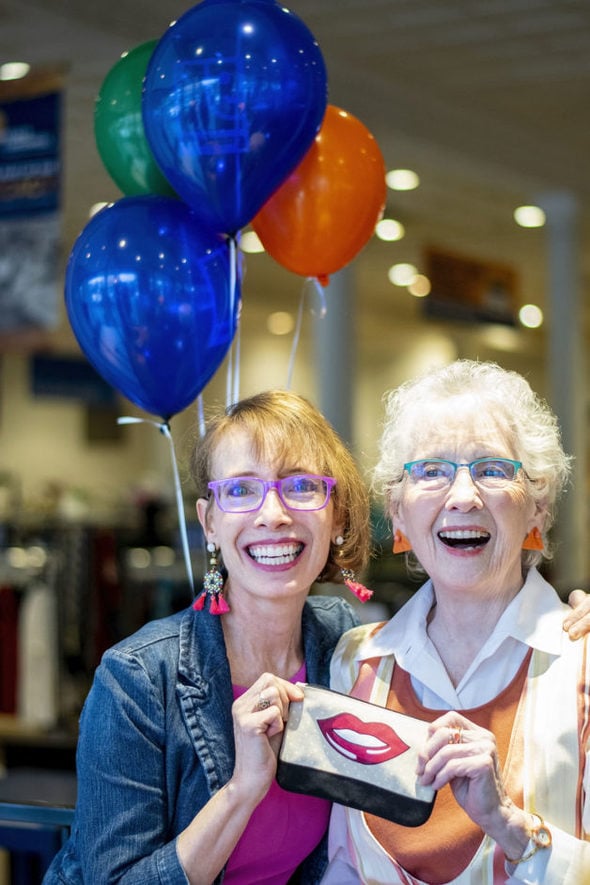 This led to the thought that I could retire early (before age 50) was a huge incentive to concentrate on saving money and living within my means.
4. What's the "why" behind your money-saving efforts?
Right now, the "why" behind our money saving efforts is because we are retired. The idea of staying retired is a huge incentive.
5. What's your best frugal win?
I know it seems funny but the property taxes here in our retirement community are such a bargain that our joke is we do a happy dance when we have to pay them.
Not that anyone loves to pay taxes of any kind, but they are so much less expensive here than when we lived in Denver, CO. It goes to show that relocating can be a great frugal move.
One of my fashion frugal wins is when I picked up a pair of sandals at Goodwill for $6. When I got home and researched the brand, I found they were a $200 pair of shoes.
6. What's a dumb money mistake you've made?
Luckily I don't have many, but when I first got out of dental school, I had a huge credit card balance. And the purchases were not anything important. I had to work hard including delivering the New York Times paper on Sunday mornings to get it paid off.
I could have kicked myself for buying all those inconsequential items after the fact, but I learned my lesson.
My fashion money mistake was an expensive sweater jacket. I still have it because I can't get rid of it knowing how much I spent on it. I like it but it's certainly not a "wow" piece.
7. What's one thing you splurge on?
At the present time, our food is our biggest splurge. We are on a nutrient dense diet for some health issues and buying quality food really adds up.
Before we started this way of eating, our splurge was still food.
The only difference was we would LOVE to go out to a nice restaurant almost weekly.
8. What's one thing you aren't remotely tempted to splurge on?
High end fashion. Even when I go thrifting, I concentrate more on the pieces I like and the colors I want as opposed to looking for certain brands!!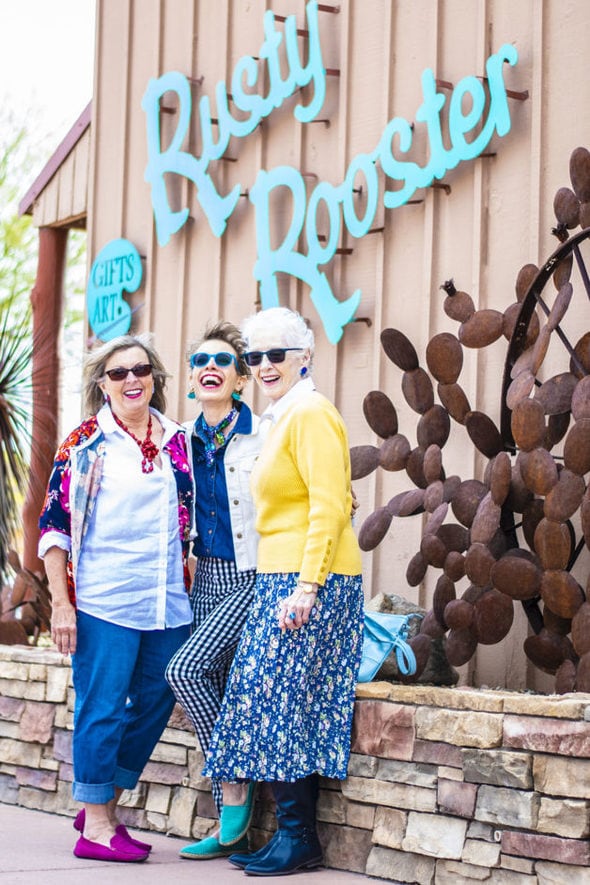 9. If $1000 was dropped into your lap today, what would you do with it?
I wouldn't mind a wonderful vacation about now!! We used to take many short weekend trips when we were working, and that's something I miss.
10. Share a frugal tip with other Frugal Girl readers
Since I am a fashion blogger, my tip is clothing/style related. While I love thrift and secondhand stores, free is always better. My tip is to have a clothing swap.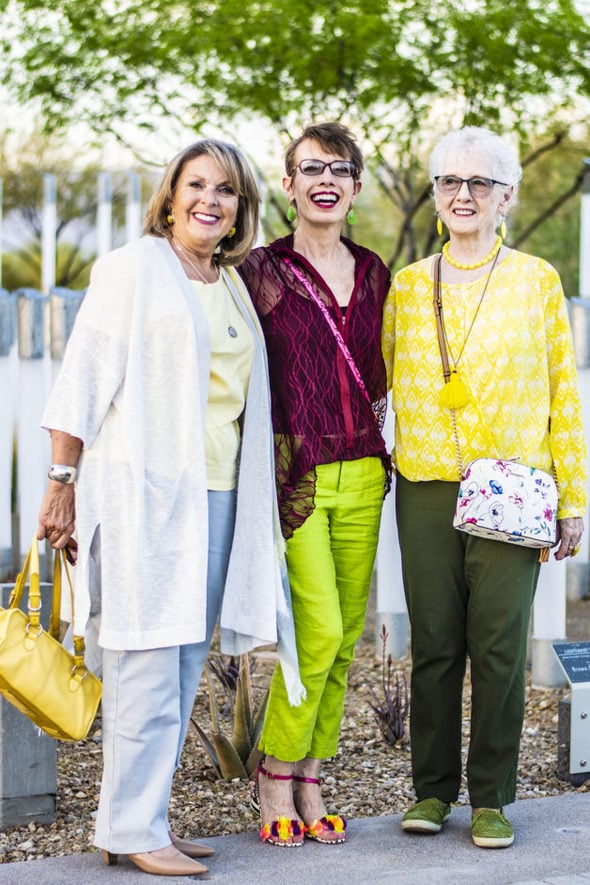 If you don't know what a clothing swap is, here's how it works:
Everyone who comes brings a certain number of pieces (which can be accessories or purses too). Then everyone goes through all the pieces and takes home the same number of items.
It's also a fun way to get ideas of how to style the pieces because everyone can suggest ideas of how they would wear it.
___________________
Jodie, thanks so much for sharing with all of us. It was so fun to see your love for color, and I really like your big smile. (as a fellow big-smiler myself!)
Got questions or comments for Jodie? She'll be by to check out the comments section!
Jodie, I'll start with a question: who takes photos for you? I always find myself putting off doing fashion posts because I have to get someone else to take the pictures!