On Tuesdays and Thursdays, I post a picture and just a few words.
Yesterday, Sonia decided she was going to make a stuffed walrus by hand out of fabric from the rag bag (which, as you may remember, hangs on my laundry room wall.)
But when she came to me completely stuck on the first part, I suggested she try her hand at sewing something simpler first.
Like a beanbag.
So then Zoe wanted to make one too.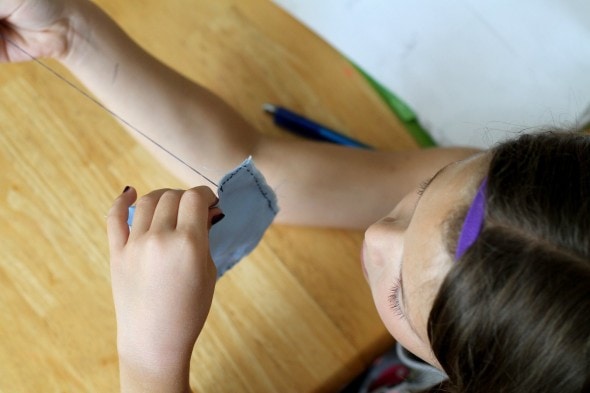 We used some expired rice (I had no beans), thread I already had, and scraps from the rag bag, so this is pretty cheap entertainment.
I could have whipped up two beanbags on my machine in no time, but I opted to let them hand sew these because at least 50% of the joy comes in the making process, and besides, needle skills are handy to have.
(Say, when a button pops off of a piece of clothing.)
I did use my machine to zig-zag the edges (to prevent fraying) and the zig-zagging also closed in any gaps in the hand-stitching, which is important because rice is a leetle more prone to escaping than beans.
________________________________
Joshua's 52 Project post: Caecilian