An embarrassingly long time ago, a pair of Sonia's jeans developed a zipper problem.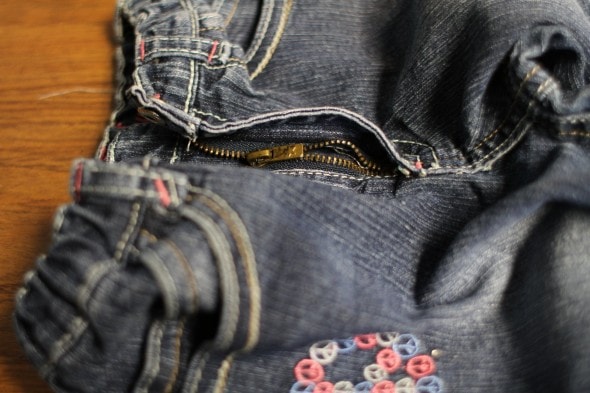 Or maybe they were Zoe's? I don't really know.
The thing is, they sat in my mending pile so long, everyone here has grown out of them.
I couldn't really hand down or donate the jeans in their broken condition, though, so I kind of wanted to fix 'em.
Plus, I thought it would be good to learn how to fix a broken zipper, so I gave it a shot.
(Learning new skills on an item you don't care about is perfect. No stress.)
I knew Pinterest had a few tutorials on this, so I poked through those to figure out what to do.
The basic idea is that you snip between the teeth near the bottom of the zipper, to free one side of the pull.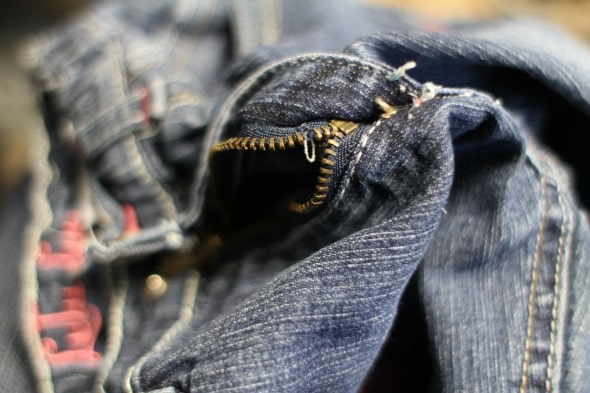 Then you can rethread the zipper on properly, sort of like you would on a jacket, where one side of the zipper is free.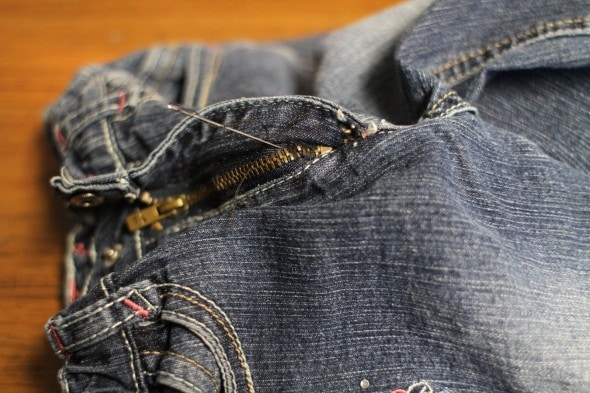 You can't stop there, though, or every time you zip down the zipper, it'll come apart.
So, you take a needle and thread and whip stitch right across where you cut the zipper, in effect making a new zipper stop.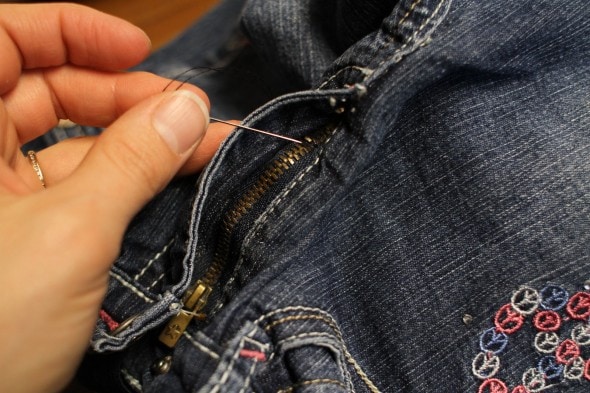 The newly repaired zipper will only be able to open as far as your new stop, which is is why when you cut the zipper, you want to get as close to the bottom of the original zipper as possible.
My zipper was now lined up, but the teeth were still having trouble engaging.
Boo.
I did a little more reading and discovered that the pull was probably bent out of shape.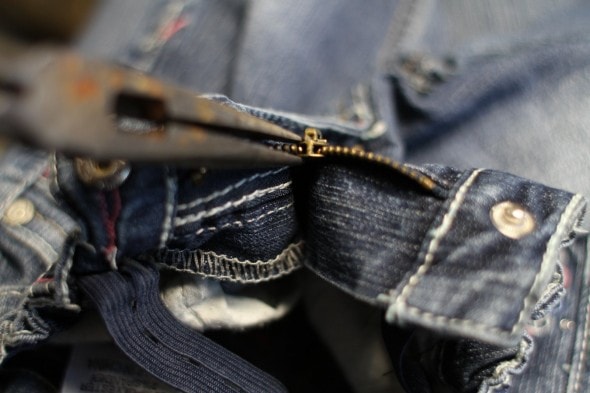 Apparently when this happens, it's really best to replace the pull, but since these were outgrown jeans that I didn't want to pour money into, I decided to try using a pliers to squeeze it into shape..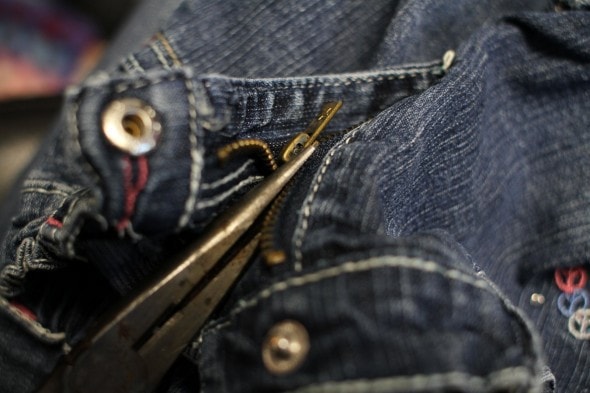 And once I did that, I was able to get the jeans zipped up properly!
I'm not sure how long the pull will stay in shape, but at least I figured out that that's where the problem lay.
So, there you have it. You really can repair a zipper quickly and easily and you don't have to replace it with a brand new one.
(Related: If the metal button on your jeans pops off, that's also a quick and easy repair.)
(Want more practical frugal living tips? Subscribe and never miss a post.)
_____________________
Have you ever mended a broken zipper this way? Or do you have another favorite method?