Readers frequently ask me about how I handle outgrown toys.
What do I keep? What do I get rid of? Is there any point in keeping outgrown toys around? What about when grandchildren come along? Is it more frugal to keep toys rather than getting rid of them?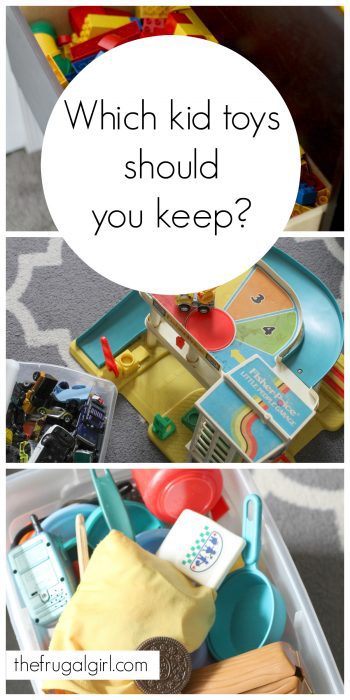 So. Here's how I've dealt with the outgrown toy situation.
(Which includes nearly 100% of our toys now that my youngest kid is 12!)
First: I totally am not a fan of keeping things unnecessarily.
If it's not going to get used and loved at least somewhat regularly, I'm not interested in storing it. So, I do tend to want to give away things my kids outgrow.
That way they can bring joy to another kid and I don't have to find a place for them here!
Secondly: I also am not a huge fan of getting rid of every toy once it's outgrown.
I have nieces and nephews, friends with small kids, and cousins with small kids, and possibly one day I will have grandkids who visit.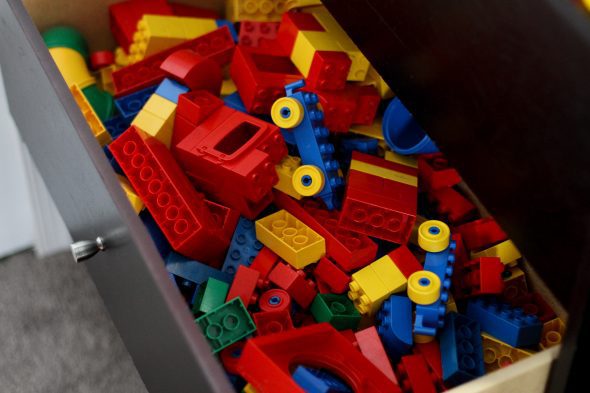 I know as a parent, it was always nice to go to a house that had toys for my kids to play with, and I do want to offer that to the parents and small kids in my life.
In light of that, I try to find some middle ground for outgrown toys.
I've generally gotten rid of toys that
take up tons of space (looking at you, Little Tikes workshop!)
are cheaply made
are duplicates (I only need to keep one kind of building toy)
And I've tried to keep ones that
are universally appealing
encourage creative, imaginative play (not unitaskers)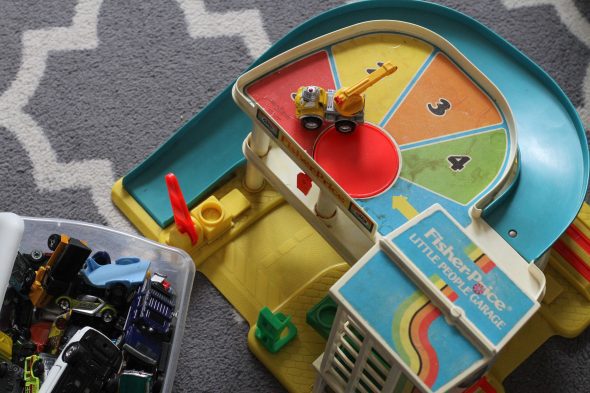 What toys did I keep?
What specifically do I have in the closet?
I kept:
Duplos
A bin of matchbox cars
the vintage Fisher-Price parking garage (bought on eBay when Joshua was small)
a bin of toy food/dishes
a small bin of My Little Ponies
a small bin of baby toys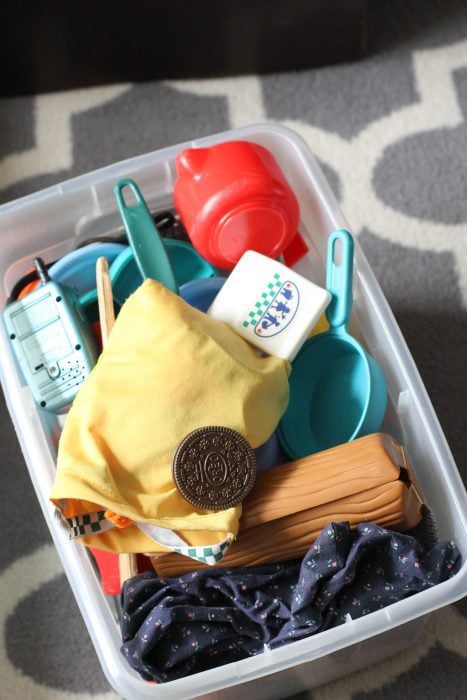 This pretty much covers any visitors I have that are 8 and under. And honestly, the Duplos, cars, and toy food still have some appeal past the age of 8. My girls played with Duplos forever!
I also kept some board books, mostly because I couldn't bear to get rid of them. So many memories of bedtime/naptime reading with my babies and toddlers.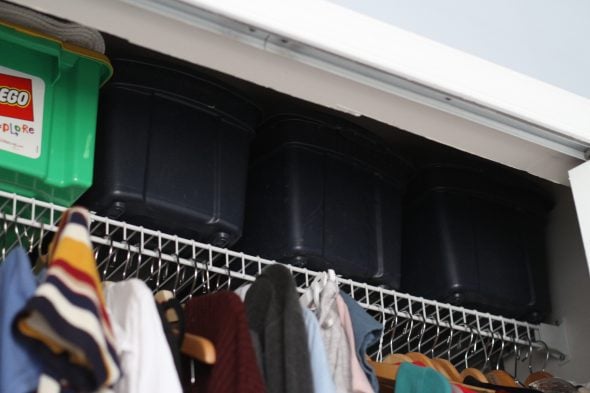 Most of these toys get stored on closet shelves, so they're up and out of the way when we're not using them.
What did I do with toys we didn't keep?
If they're valuable enough, like my girls' Calico Critters or our bin of Legos, we sell them.
But mostly, we've given our outgrown toys away either to younger cousins, or to freecyclers.
____________
I know some of you out there have older kids too…so, how did you decide what to keep and what to get rid of?
P.S. Full disclosure: we also have an elephant in the proverbial room, and it's a bunch of stuffed animals. Man, my kids have a hard time getting rid of these, largely because they have names! and personalities! And usually other people don't want second-hand stuffed animals anyway. So we do have a huge bin of those and I suppose they'll just stay with us for now.