Geez, I've started this sentence over like five times and it still feels awkward.
Ok.
This is the Christmas tree stand that soon-to-be-ex and I purchased the first Christmas after we got married.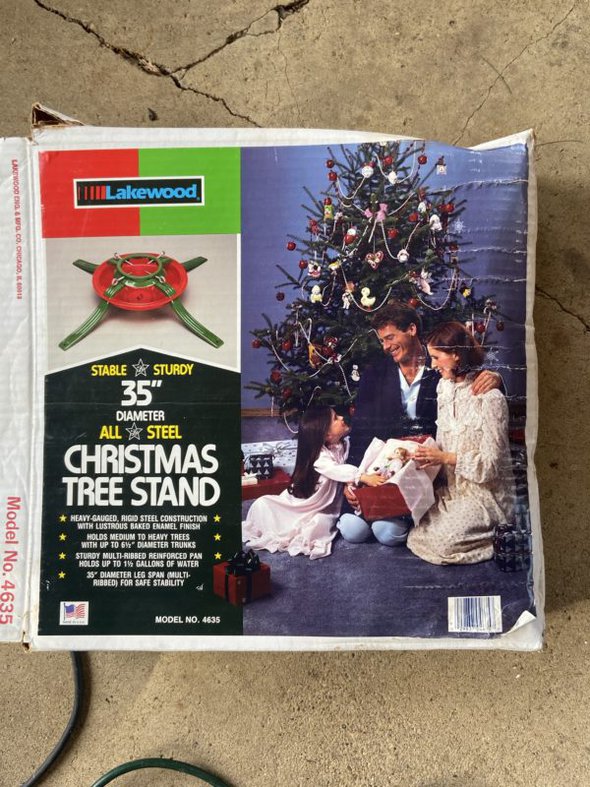 It's a Wal-Mart purchase, circa 1997, and I can remember thinking even back then that this picture looked out of date!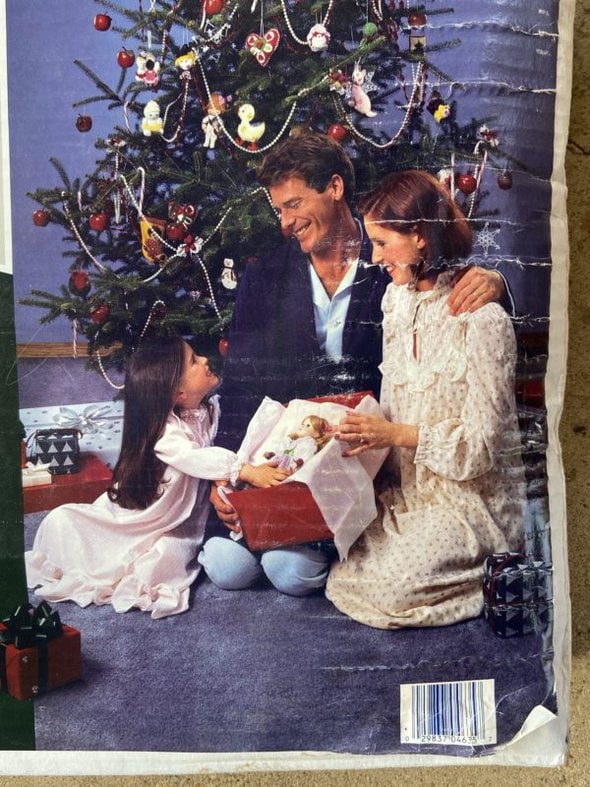 Anyway, it's been in use every Christmas since then.
Oh, wait. Not the year we did Lisey's Cookie Monster tree! That was a fake tree (obviously. It's blue!) and it didn't need the stand.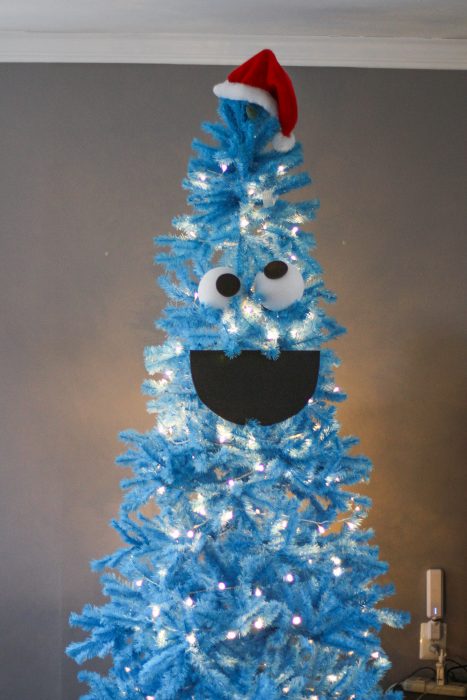 Anyway. For years now, the red finish on the original Christmas tree stand has been wearing off, and the metal underneath has been rusting.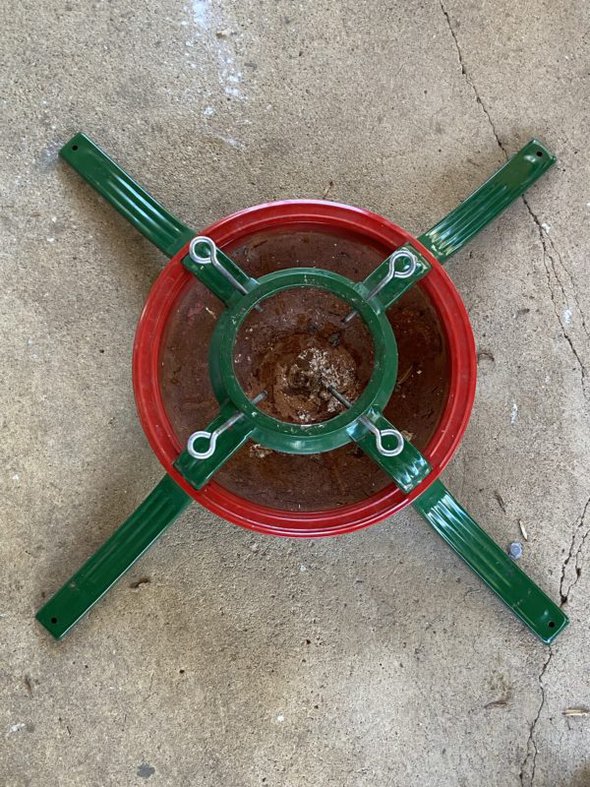 And for years now, I have been meaning to fix the rust issue. But the problem is, it really needed to be spray-painted, and it's never good weather for spray painting around Christmas!
So I kept putting it away and forgetting about it until the next Christmas.
UNTIL THIS YEAR.
On the advice of my dad, I bought a rust-removing jelly product.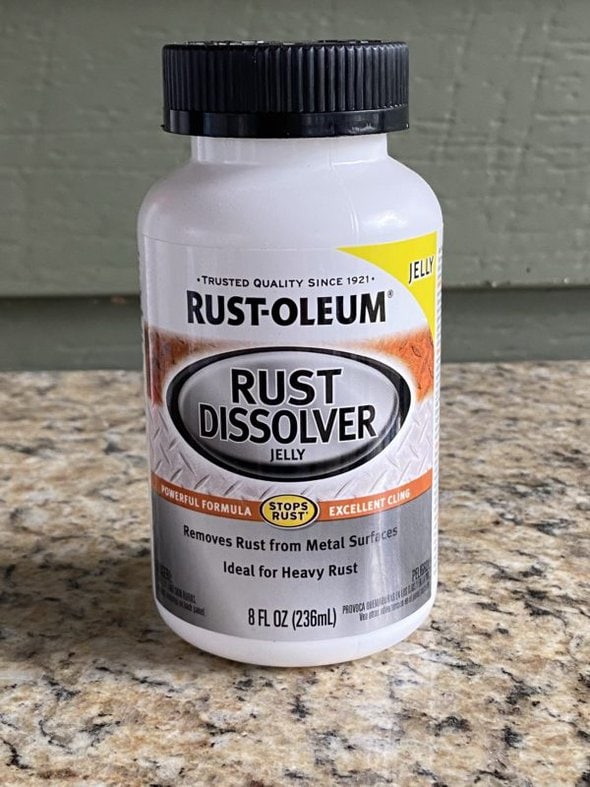 I brushed all the loose rust bits off.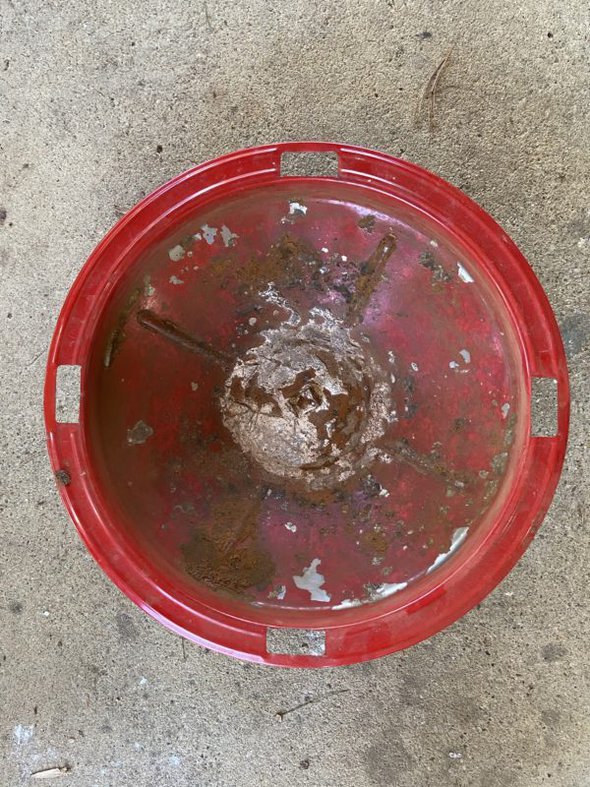 And then it took a couple of applications of the rust jelly to get the majority of the rust off.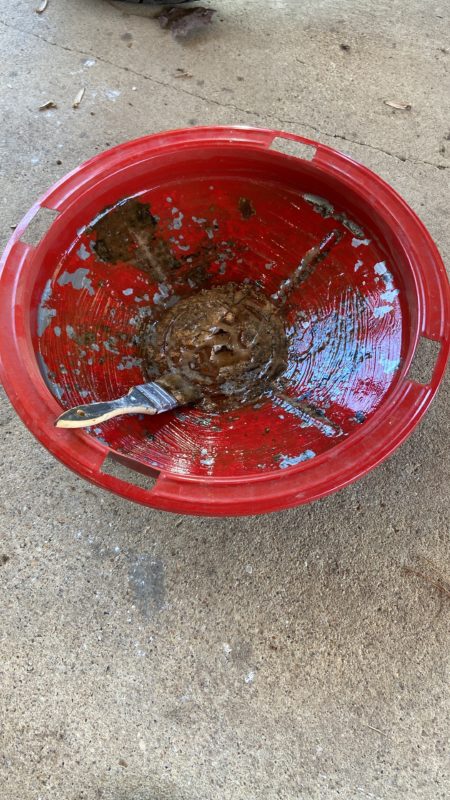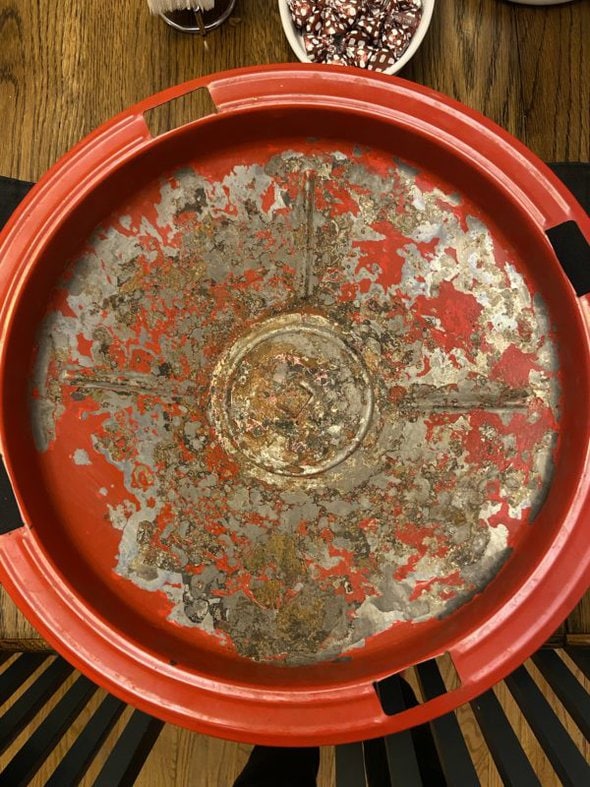 I had to use some paint thinner to get the built-up pine sap off, and then I hand sanded to get the last bits of rust off.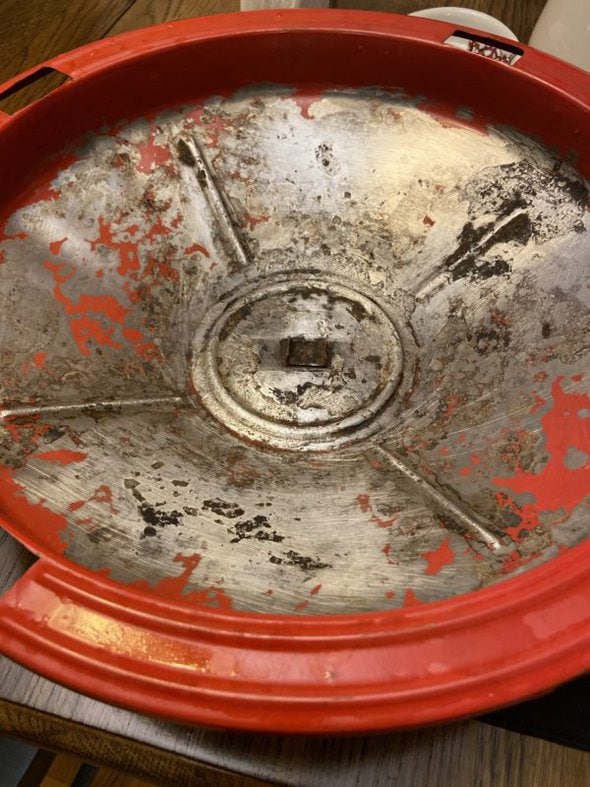 I showed it to my dad and he said, "Yep, you can go ahead and paint that!"
I started by spraying it with a rust-stop primer from Rustoleum.
And then I grabbed two red cans of spray paint from a bin that I'd gotten on the Buy Nothing group.
(Remember when I used some of that paint to rehab my mailbox flag?)
The gloss red pepper turned out to be too orange of a color, so I went with the farm implement can. I figure if it's tough enough for farm implements, it will probably be fine for a tree stand. 😉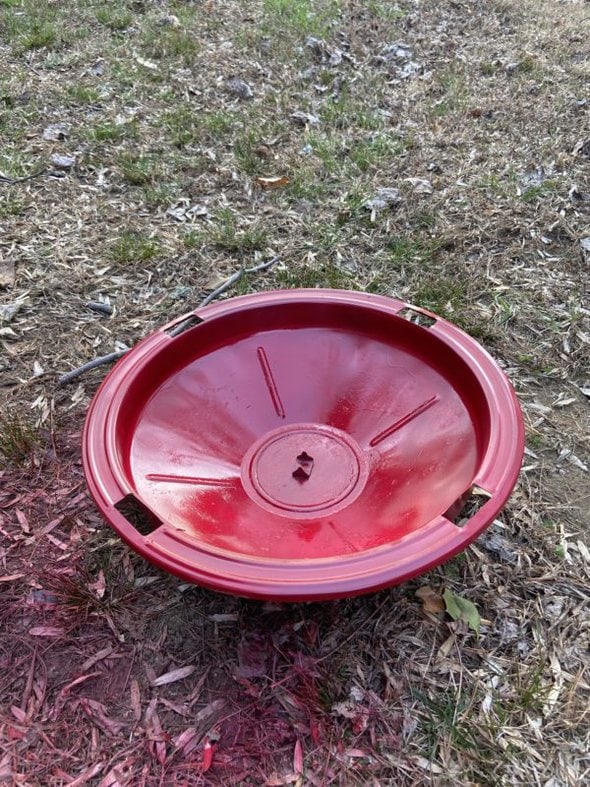 I did a bunch of thin coats, and I'm pleased to say the stand is looking quite refreshed now.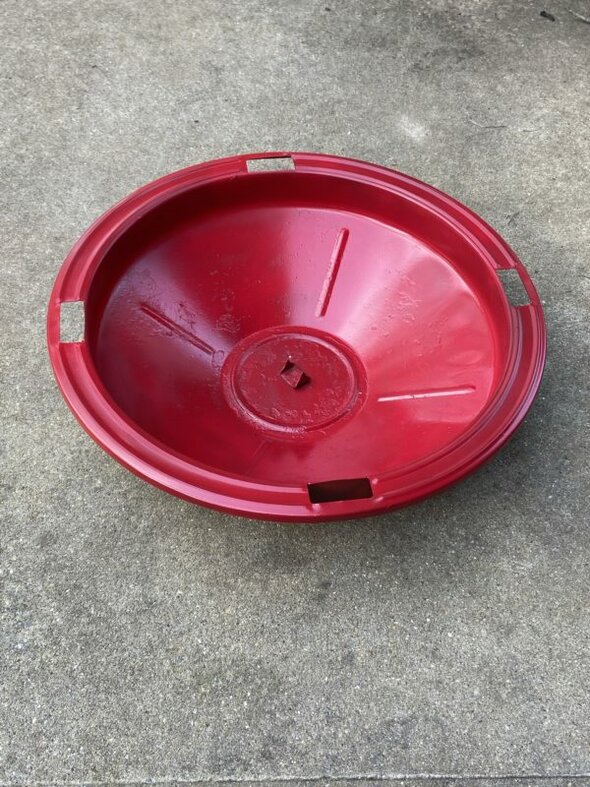 It has some scars, but I really do not care. The main point of this was to preserve the metal so that the stand doesn't rust through.
I cleaned the sap off of the green ring.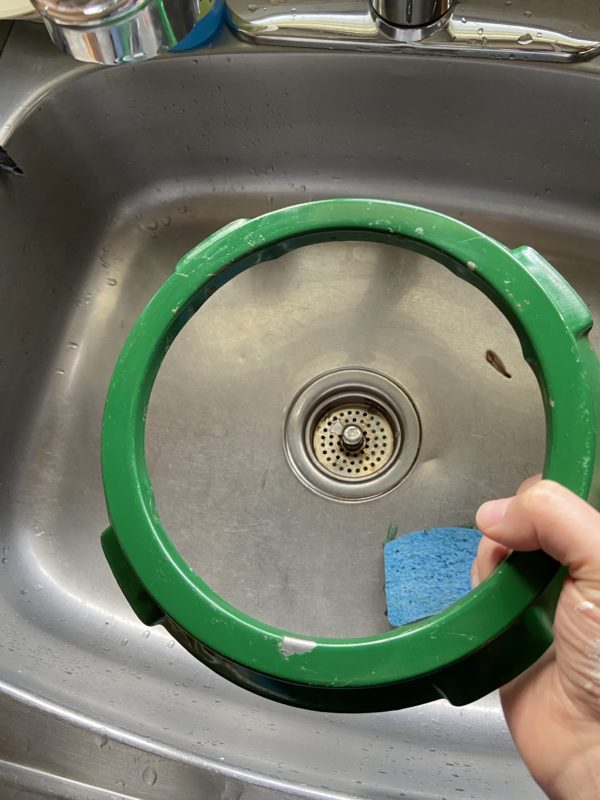 And I cleaned up the green legs too, but I did not bother painting them.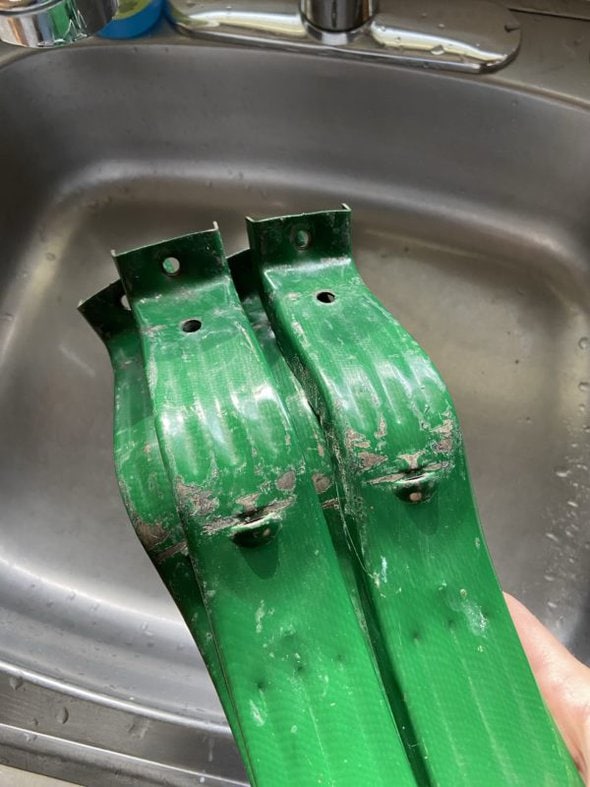 For one thing, I didn't have any free green paint, and for another thing, this part of the stand doesn't have to hold water.
So I'm really not worried about these pieces rusting.
I put everything neatly into the box, and now it's all set for next year.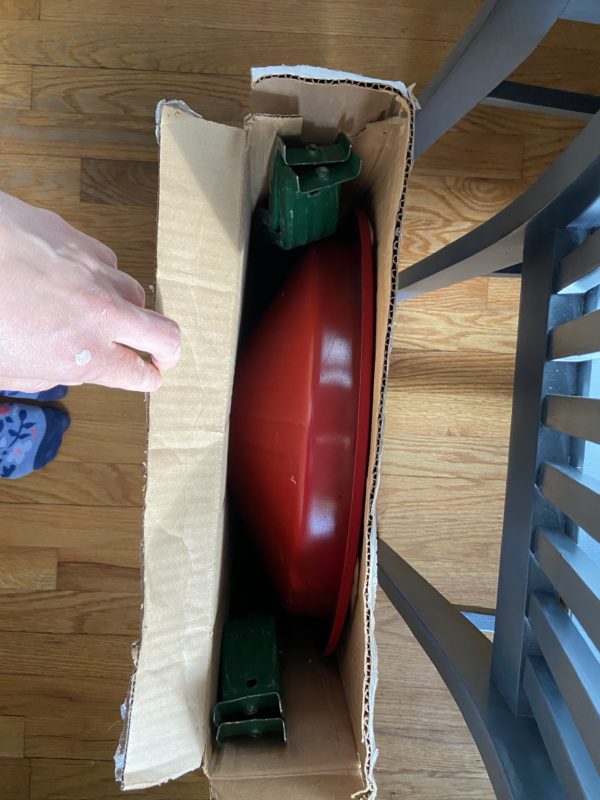 I know I could just go buy a new tree stand, but I really wanted to fix this one because it's definitely sturdier than some of the newer tree stands that I've seen.
And the can of rust remover and rust primer were definitely cheaper than a new tree stand would have been anyway.
So, I feel good about this project, especially because I happened to have free spray paint.
God bless the Buy Nothing group! 🙂