1. Lisey helped me change my oil
Despite my whole, "You don't need whiskers to do that" philosophy, I have never really done much work on my car. I usually just dropped the van off at a trusted mechanic for any maintenance needs.
But Lisey said, "Mom, let's change your oil together next time!"
And last week, my oil change light came on.
Sooo, Lisey picked up the supplies for me, and we jacked up my car (don't worry, we used jack stands!), drained the old oil, changed the filter, and filled it back up with new oil.
And as it turns out, it's not really rocket science. 😉
I think I could do it by myself next time, actually!
(In case you're new here, Lisey started working at Valvoline a few years ago, and she's been working on cars pretty much ever since. So she was more than capable of teaching me how to change my oil.)
2. I used leftover frying oil to grease my grill
The grates on the grill my dad rescued had a few rusty spots on them.
So, the first time I used it, I cleaned them as best I could, brushed the grates with oil saved from the last time I fried something, and then I heated the grill up to season the grates.
And then when I was smoking the chicken last week, I brushed the grates with oil again.
This is a pretty great use for leftover cooking oil!
3. I used dry buns to make a French toast casserole
I had bought a store-brand package of burger buns from Lidl and they were kinda dry to start with.
And a few days later, they'd gone way past the "kinda dry" stage.
So, I cut them up along with a few other bread odds and ends and made Pioneer Woman's overnight French toast casserole.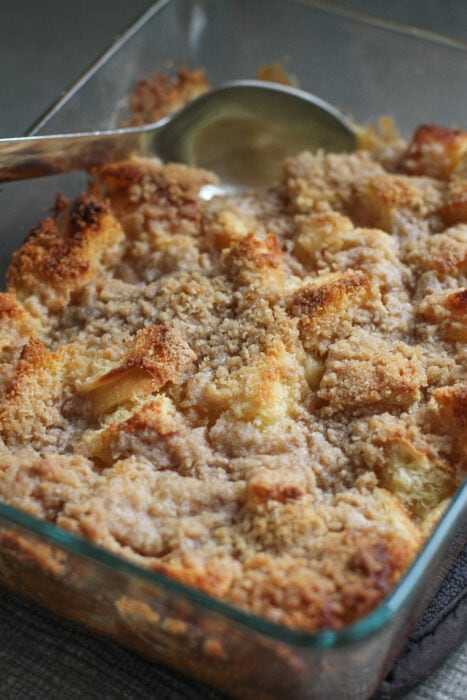 I haven't made that in so long! Definitely not since before I left my other house.
Look at me, getting back into my old grooves at my new place. 🙂
4. I renewed our rec center gym membership for a year
Right before Christmas, I signed the girls and me up for a 90-day membership at the local rec center. I did the 90-day one because I wasn't sure how much we'd all use it, and I didn't want to commit.
But Sonia and I have been regularly going to the yoga classes, and Lisey and Zoe have been using the weight room regularly, so I re-upped us for a year. It works out to be less than $60/month for all four of us, unlimited classes included, so that's a pretty good deal!
5. I…
used the heels of the bread to make a peanut butter sandwich for myself
made a batch of homemade yogurt
made one of my classic random-leftovers skillet meals for breakfast
Your turn! What frugal things have you been up to?