I mentioned a little while back that I'm working my way through The Overspent American
, which is basically about consumerism.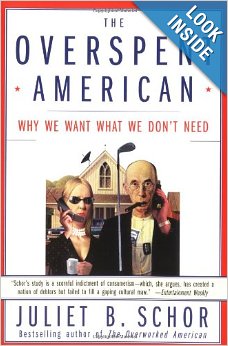 It was written back in '98, which means that some parts of it are a bit outdated (the giant cell phone on the cover photo might be your first clue), but if anything, the patterns Schor saw in the 90's are even more pronounced now.
We haven't gotten less consumer-y since then, in case you hadn't noticed. 😉
Anyway, I was reading a passage the other night about cultural expectations, and she said:
"Psychologically, it can be harder to hold the line on gift buying than on purchases for oneself. One reason is that within social classes, or lifestyle groups, there are real norms about gift giving. If the customary outlay for wedding gifts in your circle is $150, it may not be acceptable to spend $75. One of my acquaintances reports that she lost a friend by doing just that."
Whaaa??
Putting aside the fact that I think $150 would be a lot to spend now, let alone in 1998, I'm really disturbed at the idea that a friendship could be broken over something so dumb.
Because here's the thing…a gift is a gift, not a debt. It's not something that you owe to someone else, and when you get angry that someone else hasn't spent enough on you, I think you're treating it more like a debt than a gift. When you have to spend a certain dollar amount in order to avoid the wrath of a friend, that kind of sucks all the joy out of gift-giving.
And I think that's kind of sad, because gift-giving can be really, really fun when it's free of expectations.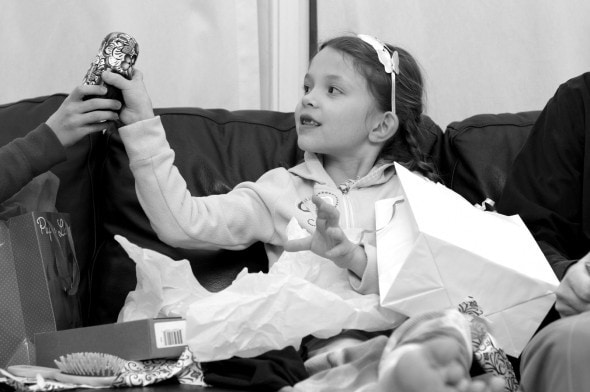 (Zoe is very fun to give presents to, in part because she has low expectations. It doesn't take much to really blow her hair back!)
I also think a reaction like this places way too much value on a dollar amount and not enough on other aspects of the relationship.
I mean, I do get that we want relationships to be reciprocal. If you are the only one pouring time and effort and energy (and money) into it, it's not much of a relationship.
But suppose you have a friend who is a gem in every way, but who gives you a gift that's less expensive than what you gave her. The lower dollar amount shouldn't negate the gem-like qualities she contributes to the relationship, you know?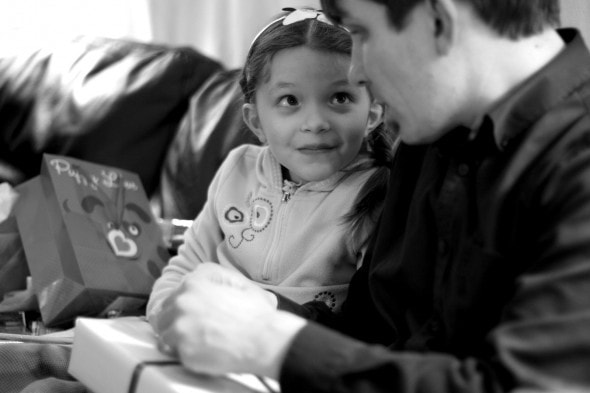 And what if someone really can't afford to keep up with your level of gift-giving? Is it right to expect them to spend beyond their means just to keep up with you?
Uh, no.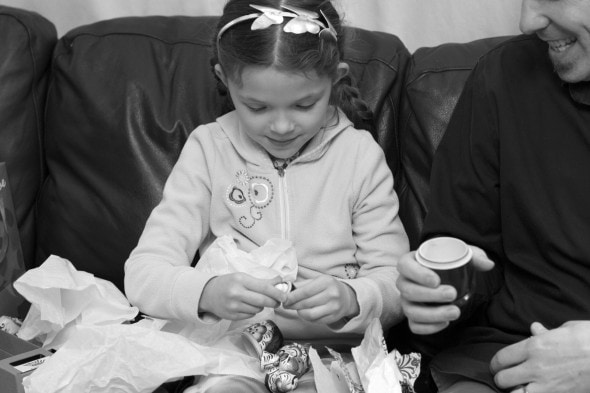 I think this story also bothered me because a dollar amount isn't the only thing that gives a gift value.
When Millicent shared her list of non-frugal reasons to be frugal, she pointed out that a homemade gift may cost only a little, but it can still be a really lovely item that's full of meaning. Often, this kind of gift requires a big time investment instead of a monetary investment, and I think it's a mistake to overlook that kind of value.
Also, I personally think that the key to effective gift-giving is to study your gift recipient. If you don't do that, then even an expensive present might not have much meaning.
I don't know…maybe I just don't move in the kind of circles where these high gift-giving expectations are common, and maybe I am the odd duck when it comes to how I look at money and gifts. Be that as it may, I think the whole thing is ridiculous and misguided, and I think a friendship that can be broken over a monetary difference in gifts is a friendship that is probably not worth having.
_____________
Ok. I think that's all the brain-dumping I need to do on the topic. Thanks for indulging me.
And please do share your thoughts! I always love to hear what you all think. Have you ever been in a relationship where gift-giving expectations were so clearly defined?
_____________
P.S. Simply Being Mum is hosting Food Waste Friday this week (go check out the lovely cake she decorated!).
P.P.S. My $1000 Target gift card giveaway is still open. You just need to leave a comment to enter-easy peasy!