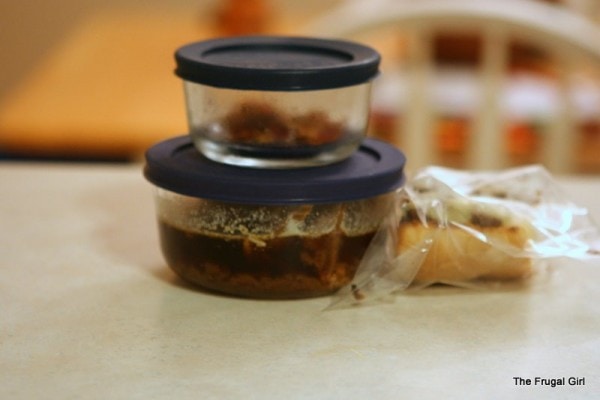 Please excuse the lame photo that is grainy, blurry, and slightly yellow. I had the fabulous idea to check my fridge for waste last night instead of this morning, and the picture-taking conditions were, uh, less than fabulous. And for some odd reason, it did not occur to me to switch to my faster lens. Duh.
Next week, maybe I will clean out my fridge on Thursday before it gets dark outside. Actually, next Thursday is Thanksgiving, so who knows if I will manage that.
Anyhoo, we have here a bit of bacon, half of a Beef Au Jus sandwich, and some cooked beef in broth (the fixings for Beef Au Jus sandwiches). The sandwich would probably not have been great left over, and there are only a few small pieces of bacon, but I'm really irritated with myself over wasting the beef, because beef isn't exactly cheap.
On the upside, we did manage to eat all of our vegetables. Oh, wait. I just remembered that I threw out a few cubes of cooked potato earlier in the week (they were left from the potato I cooked while making Deep Dish Pizza). So, we didn't exactly eat allll of our vegetables.
It has been f o r e v e r since I've had a no-waste photo, but I'm really, really going to try this week.
________________________________________________________
How did you do this week? If you blogged about your food waste, link us up by entering your info into the Mister Linky Widget below. Participants get a spot on my Food Waste blogroll for the upcoming week, so join us! You'll save money, reduce your trash output, and get a little publicity for your blog!