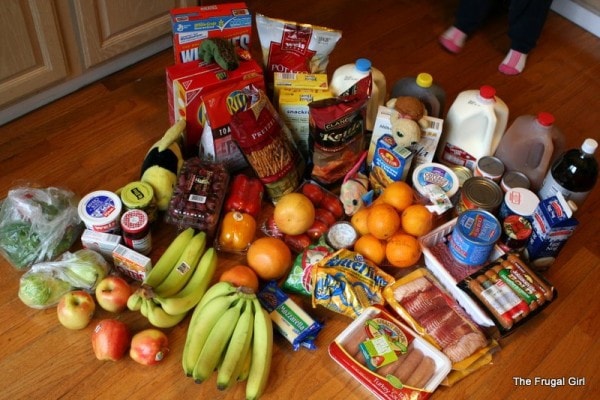 (I don't normally buy this many crackers, but they were on sale, I had coupons, and I also have a $10 rebate to send in. So, I bought extra now, which means I won't have to buy some in future weeks.)
This is my spending breakdown for the week:
Aldi-$39.21
Weis-$58.57
Local store-$19.44 (these purchases are not pictured and include a big chuck roast)
Total-$117.22
I have a little over $116 left in my envelope to cover this coming week's shopping trip, so that is awesome. I'd say the odds of me spending all of that are pretty low, especially since I have a big chuck roast in the freezer, a pound of crab meat (we will probably get two dinners out of that splurg-ey puchase), and plenty of cereal (Chex were on an awesome sale last week…I got 6 boxes for less than $6).
Breakfast this week will be yogurt, oatmeal, muffins, cold cereal, and maybe some granola if I manage to find the time to make it.
Lunches will be yogurt smoothies or yogurt, bread/sandwiches, fruit, and leftovers when necessary.
And dinners are as follows:
Saturday
Sunday
Monday
Grilled Hamburgers
another Fuddrucker's buns experiment
potato chips
grilled vegetables
Tuesday
Wednesday
Baked Potato Soup
cheese bread
whatever veggies need to be used by then
Thursday
We'll be having our Thanksgiving meal with my family, and all I have to bring are basic dinner rolls. Easy peasy.
Friday
Fish Sandwiches on homemade buns
potato cubes