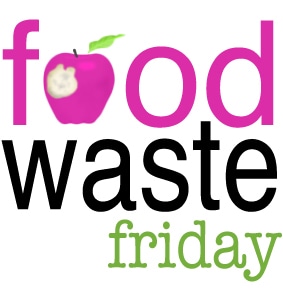 Every week, I post a picture of the food that has gone bad over the last seven days. Why do I do this? Because in March of 2008, I finally got fed up with the amount of food I was wasting, and I thought that showing my waste to other people would motivate me to use up my food instead of wasting it. Because this often embarrassing practice was so helpful for me, I invited other bloggers to join me in posting their food waste photos, and Food Waste Friday was born. If you're not a blogger but still want some food waste accountability, feel free to participate by leaving a comment.
This should be a significantly less controversial topic than yesterday's, which is a very good thing. We can all agree that food waste is bad, right? 🙂
(and though I've said as much in the comments yesterday, I apologize for any offense I caused anyone with my words, and if there's any particular part of that post that you'd like me to rethink or reconsider, feel free to email me and let me know. I'm certainly not infallible, and it's quite possible that my attitude needs correcting.)
On to the topic at hand!
I actually have no waste to report, thanks in part to you guys. I used up a couple of sprouting potatoes last night by making skillet-roasted potatoes (thanks for the Facebook suggestions, everyone!).
In other food waste news, I bought a package of pears from Aldi last week, and they're just not good. I've bought pears in the past and they've been delicious, but these ones are going straight from under-ripe to mushy/chalky, and I hate that. So, I'm probably going to cook them and puree them to make a pear version of applesauce, or I will slice and freeze them to use in smoothies.
________________________________________________
How did you do this week? If you blogged about your food waste, link us up by entering your info into the widget below. You'll save money, reduce your trash output, and get a little publicity for your blog! And if you don't blog, you can still share about your food waste by leaving a comment.
__________________________________
Today's 365 post: Oh, happy day! My canteen is here!
Joshua's 365 post: Am I in Hawaii? No…