Every week, I post a picture of the food that has gone bad over the last seven days. I started doing this in March of 2008 to help motivate myself to use up my food instead of wasting it and it's been very effective. Since it helped me so much, I invited other bloggers to join me in posting their food waste photos, and Food Waste Friday was born.
This week, the spotlight is on a lone orange.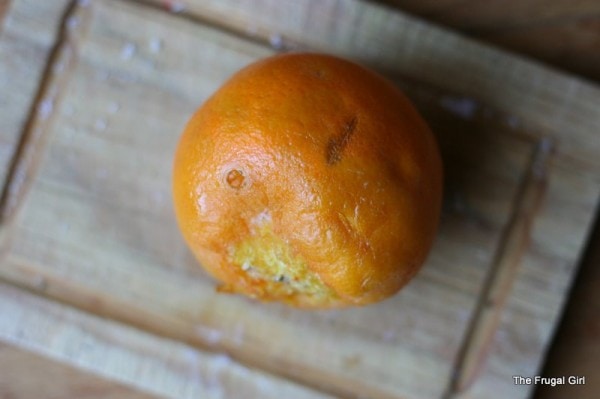 I'm not sure what happened to this one…all the others in the bag are/were fine but this one? It was not. It is squishy and sticky and inedible. So, into the compost it goes. But, do you know what is sort of amazing?
(sit down before I tell you, please.)
I had cilantro in the fridge this week, and none of it is in this photo. This is a minor miracle. Yay!
________________________________________________________
How did you do this week? If you blogged about your food waste, link us up by entering your info into the widget below. Participants get a spot on my Food Waste blogroll for the upcoming week* so join us! You'll save money, reduce your trash output, and get a little publicity for your blog!
*Since so many of you are participating now, I can't manage to keep up with the food waste blogroll (which is a GREAT problem to have! You guys rock!) So, this week is the last week I'll be doing the blogroll thing. However, participating in the linky widget should garner you some bloggy attention and hits, especially if you are lucky enough to be first in line (plus, it'll help you save money and food!), so I hope you will keep joining me.