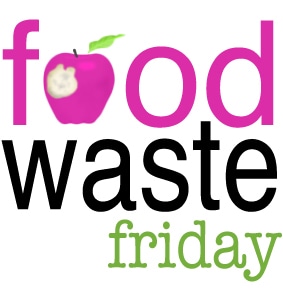 Every week, I post a picture of the food that has gone bad over the last seven days. Why do I do this? Because in March of 2008, I finally got fed up with the amount of food I was wasting, and I thought that showing my waste to other people would motivate me to use up my food instead of wasting it. Because this often embarrassing practice was so helpful for me, I invited other bloggers to join me in posting their food waste photos, and Food Waste Friday was born. If you're not a blogger but still want some food waste accountability, feel free to participate by leaving a comment.
Well, I had a much better week than last week, thankfully. Going a second week without grocery shopping definitely helped me to clean out my fridge and pantry, so I'm thinking this bi-weekly shopping thing is going to be good for my food waste.
The only thing in my fridge that might go to waste are some radishes…they're a little bit old and I'm not sure they're salvageable. Other than that, I'm good to go, and my fridge is delightfully empty.
On a separate note, a reader left a comment yesterday asking for suggestions about using up a box of Safeway brand Cheerios that weren't fit for consumption as breakfast cereal (sometimes off-brand cereal is like that!), and I know you guys will have some great suggestions to share in the comments.
I'm low on using-up-yucky-Cheerios ideas, but if the reader decides the cereal is not worth salvaging, I'd suggest taking it back to Safeway. Most stores have a money-back guarantee on their private label products and will refund the purchase price. The cereal will still be thrown away, yes, but at least when the product is returned, the shopper can get some money back. And hopefully Safeway tracks that kind of thing so they can learn which of their products need some reformulating.
________________________________________________
How did you do this week? If you blogged about your food waste, link us up by entering your info into the widget below. You'll save money, reduce your trash output, and get a little publicity for your blog! And if you don't blog, you can still share about your food waste by leaving a comment.
Today's 365 post: My children's favorite store