Every week, I post a picture of the food that has gone bad over the last seven days. I started doing this in March of 2008 to help motivate myself to use up my food instead of wasting it and it's been very effective. Since it helped me so much, I invited other bloggers to join me in posting their food waste photos, and Food Waste Friday was born.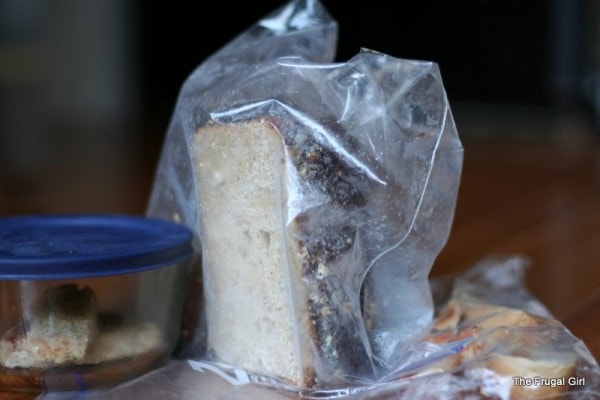 This week, I wasted some bread. I threw this in the freezer before we left for vacation, and by the time we got back it was really dry. I got it out of the freezer, intending to serve it for lunch and instead it sat in the cupboard until it grew mold. I know I should have made croutons or something, but I didn't. Because, you know, I'm not perfect. 😉
I also have a few end pieces of stromboli. I ate stromboli for lunch quite a few days, but by the time I got down to the ends, I had other leftovers to eat, and I kinda forgot about the stromboli.
The chicken might still be safe to eat, but the breading on it has gotten rather soggy now and I am just lacking in inspiration. I have other more appetizing leftovers to save from the food waste pile, so I'm giving up on these!
________________________________________________________
How did you do this week?If you blogged about your food waste, link us up by entering your info into the Mister Linky Widget below. Participants get a spot on my Food Waste blogroll for the upcoming week, so join us! You'll save money, reduce your trash output, and get a little publicity for your blog!