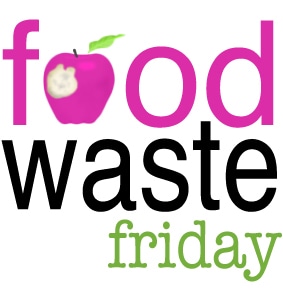 Every week, I post a picture of the food that has gone bad over the last seven days. Why do I do this? Because in March of 2008, I finally got fed up with the amount of food I was wasting, and I thought that showing my waste to other people would motivate me to use up my food instead of wasting it. Because this often embarrassing practice was so helpful for me, I invited other bloggers to join me in posting their food waste photos, and Food Waste Friday was born. If you're not a blogger but still want some food waste accountability, feel free to participate by leaving a comment.
Last week we didn't manage to have a Food Waste Friday due to an errant oak tree that landed on our power lines.
I'm back now, though, and I'm happy to say I have very little waste to report. Nothing in my fridge is rotten and the only food I threw away this week was a cup of almonds. I was sugaring them and accidentally burnt them to a crisp (the recipe even said "DO NOT BURN." Ahem.). Fortunately, I was using my very high quality All-Clad skillet
and it did not warp the way a lesser pan would have! Phew.
The nuts went into my compost bucket on Wednesday and I don't have a photo….I was just hurrying to get them out of my pan before the sugar mess hardened further and didn't think to grab my camera. 😉
_______________________________________________________
How did you do this week? If you blogged about your food waste, link us up by entering your info into the widget below. You'll save money, reduce your trash output, and get a little publicity for your blog! And if you don't blog, you can still share about your food waste by leaving a comment.
Today's 365 post: A Little Fall Biking