You know how not everyone quite understands how excited you get about a money win? Well, I always know you guys will understand. 😉
1. I got $99 of chicken for $8
Last night I stopped in at Safeway because I needed some chicken for dinner. I figured I'd look to see what might be on sale, and I spied some marked-down organic chicken tenderloins that had to be sold that day.
Amazingly, they were only about a dollar per package, and each package was a little over a pound.
So, I bought eight packages, and then they rang up for only $0.99 apiece. Even better.
I used some of the chicken for dinner and put the rest right into my chest freezer. Yay!
I do not consider this a $91 savings because I would not have ever spent that much on the chicken in the first place.
But it IS still a significant savings to get chicken tenderloins for $0.99/pound! I was thrilled.
2. I refreshed some romaine lettuce
This is so rewarding to do, I am almost excited when I accidentally let lettuce get wilty. 😉
I sliced it up,
put it into a bowl with cold water,
and left it for a few hours. It's hard to tell from the photos, but it grew so much bigger in the water.
I made this cranberry/orange green salad with the freshened lettuce, and we ate it last night with your dinner.
3. I oiled another dry knife
This is another thing that's so rewarding…I was excited when I saw that I had another abandoned-house knife that needed to be oiled!
I used my trusty bottle of Boos Block oil and now the knife looks way better.
4. I got two big bottles of Maui Moisture for almost free
Shortly before Christmas, I realized I did not have any wrapping paper. Whoops.
I stopped by CVS on my way home to pick up a roll, and while I was there, I got two Maui Moisture bottles. They were the sort that was extra big ("50% more free", the bottle says), and after all my coupons and discounts, I paid $5.91 for the wrapping paper + Maui Moisture.
AND I got another $4 of ExtraBucks sent to my account.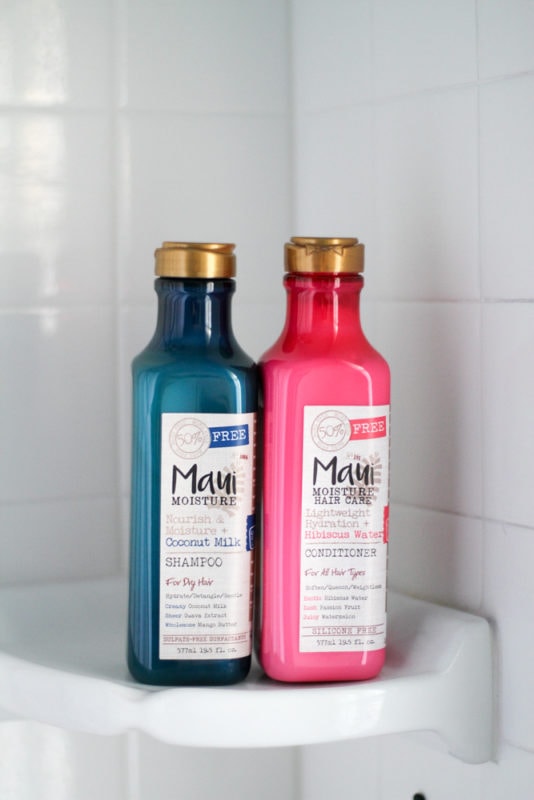 5. I did not buy this $2000 Snoopy fridge
You know how my friend Katy (of The Non-Consumer Advocate) is always saying that she did not buy a Lear Jet?
Well, my version is this: I did not buy this $1999.95 Snoopy fridge from Williams-Sonoma.
It IS very cute, but…$2000 is way too much for a mini fridge, thank you very much.
Your turn! What frugal things have you been up to this week?