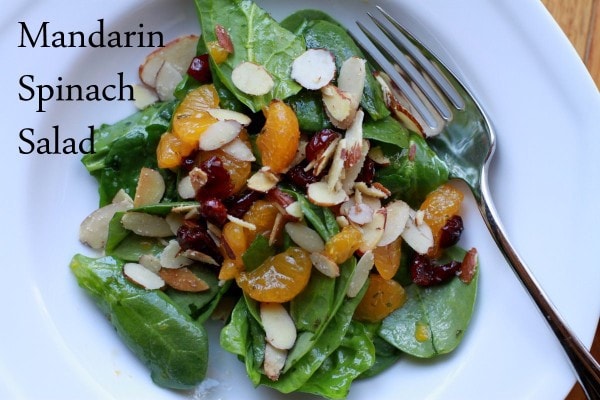 I got this easy recipe from a church friend, and I think it's delicious, so of course I want to share it with you.
You should so throw together a bowl of it.
Like most salads, it's quite customizable. You can use whatever greens you have a hankering for, you can use strawberries or some other fruit instead of the oranges, you could toast pecans instead of almonds…………….
You get the idea.
To make the dressing, simply combine all the ingredients in a jar.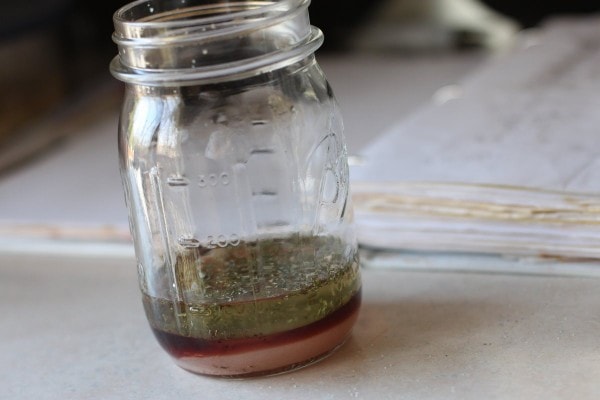 And then shake them all together.
It would be good to choose a jar with a tight-fitting lid.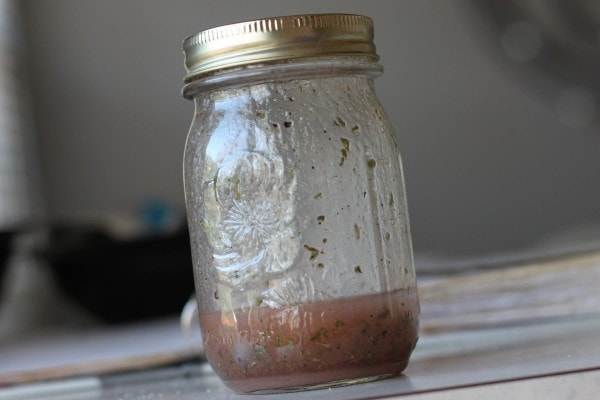 I changed the toasted almonds a bit from the original (which called for cooking almonds and sugar together until the sugar melted), only because I couldn't seem to keep from burning them with that method.
Also, it took forever, that method did.
There's nothing like standing over a pan for 15 minutes only to end up with burnt almonds.
So, I melt a tablespoon of butter in a skillet, add a cup of sliced almonds, toast them until they're lightly browned, and then add a tablespoon of sugar.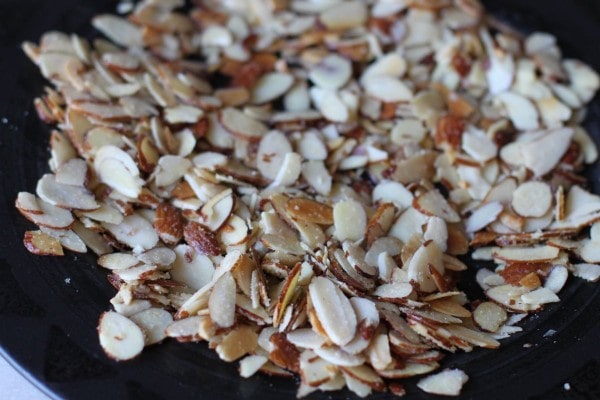 Let the almonds cool on a plate because if you leave them in the pan, they may get a little too toasted from the residual pan heat.
In a salad bowl, combine the lettuce or spinach, mandarin oranges, and cranberries. Add the dressing and toss to coat. Sprinkle the almonds over the top, and you're done.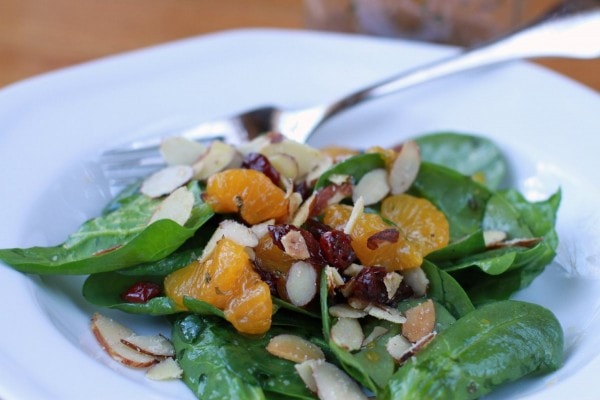 If you don't think you'll eat all the salad in one sitting, you might want to pass the dressing at the table, because pre-dressed greens don't keep very nicely at all.
If you're like me and could eat about 5 bowls of this in a row, ignore that and dump all the dressing on.
Leftovers? What leftovers??
Mandarin Spinach Salad with Sugared Almonds
1 head of green leaf lettuce
1 head of red leaf lettuce
(or use any other greens you like, such as spinach)
1 large can of mandarin oranges, drained
1 red onion, thinly sliced (I don't usually add this)
1 bag of dried cranberries
Sugared Almonds (see below)
Dressing (see below)
Combine lettuce, oranges, onion, and cranberries in a large bowl. Toss with dressing and sprinkle with almonds. Serve immediately.
Sugared Almonds
1 cup sliced almonds
1 tablespoon butter
1-2 tablespoons sugar, depending on how sweet you like your nuts)
Melt butter in a skillet over medium heat. Add almonds, and toast, stirring frequently, until almonds are light brown, about 5 minutes. Toss with sugar, and spread almonds on a plate to cool.
Dressing
1/4 cup oil (olive, canola, etc)
2 tablespoons red wine vinegar
1/2 teaspoon salt
dash pepper
1 teaspoon dry parsley
2 tablespoons sugar
dash of Tabasco
Combine ingredients in a jar with a tight-fitting lid and shake until combined.