Let's get right to it! Here's my five, and you can add yours in the comments.
1. $4 Spring Sandals
Lisey needed athletic shoes, and since I had a 30% off coupon for Kohl's, we stopped in and found her a pair.
(Incidentally, we looked at a pair of shoes and thought, ooh, those look comfy and cute, but then we saw that the price was $115. We decided they weren't THAT nice. 😉 )
While we were there, I took a peek at the clearance section and found sandals for Sonia and Zoe.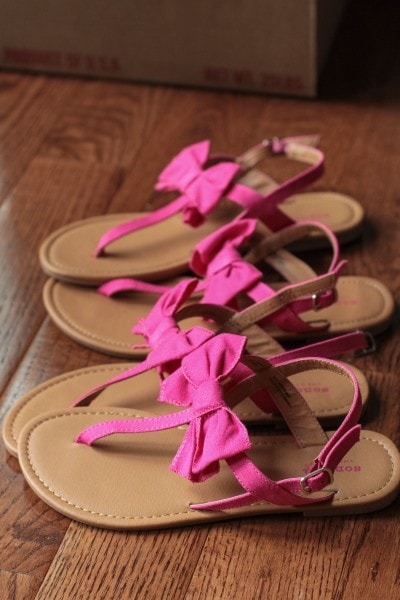 I bought them a size too big, and hopefully they'll be exactly right come spring.
They were only $4 a pair after my coupon, so it's not an enormous risk. Plus, sandals like these have a fairly flexible fit range, so I think they're gonna be just fine.
2. Oranges for Smoothies
I bought a bag of mini oranges a little while ago and they were a bit dry and sour.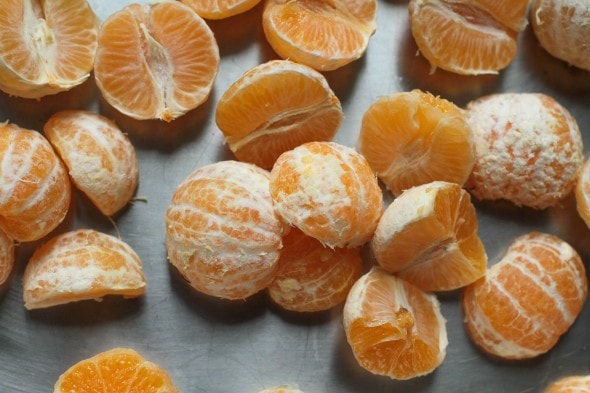 Since no one was eating them plain, I peeled them and froze them for smoothies. They're not crazy sour, so I think putting a handful into smoothies is going to go over just fine.
3. Bruised Apples = Applesauce
I stopped at the produce stand while I was driving by, and happily, they had almost a half bushel of bruised apples available.
The price? $5.
Oh yeah.
I made the most bruised ones into 4 quarts of applesauce, and we're just eating the apples that are in the best shape (mostly Honey Crisp, which, hooray!!)
4. I took my dishwasher apart (again.)
Sometimes, something un-choppable makes it down into the chopper apparatus at the bottom of my dishwasher.
(Common culprits: shrimp shells, cherry pits, grape stems, or a piece of glass).
So, then it's necessary to take the racks out and remove some of the bottom pieces of the dishwasher to access the chopper and retrieve the item.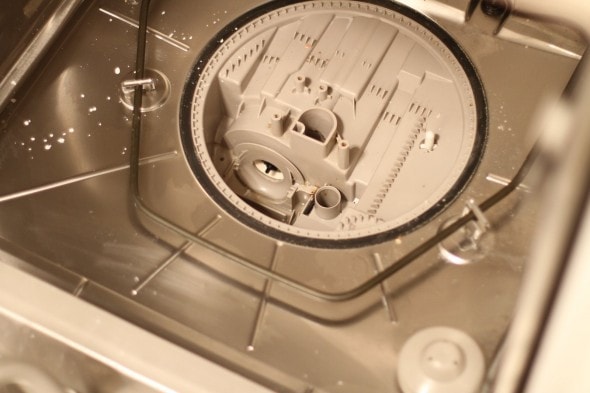 (I know something is stuck when I hear an odd noise during the wash cycle. This time it was a high-pitched sound, almost like really high cricket chorus.)
One upside of the dishwasher drama we've had in the last year (the chopper blade broke, then a new one broke too!), is that I'm getting pretty darn speedy at this task.
The culprits this time appeared to be some sort of woody stem, plus a a small piece of hard plastic and I'm pleased to report that the dishwasher is lovely and quiet now.
(In case you were wondering, you do not need whiskers to take your dishwasher apart. 😉 I happen to be the one good at this task in our house because our dishwasher drama started last December when everyone in my family, including Mr. FG, was laid out with pneumonia. I don't love appliance repair/maintenance, but you gotta do what you gotta do, whiskers or not!)
5. I used some elderly bananas from my chest freezer.
I found a cup of mashed bananas hanging out in the bottom of my chest freezer when I cleaned it out, so I thawed those and combined them with some other random overripe bananas to make a double batch of banana chocolate chip muffins.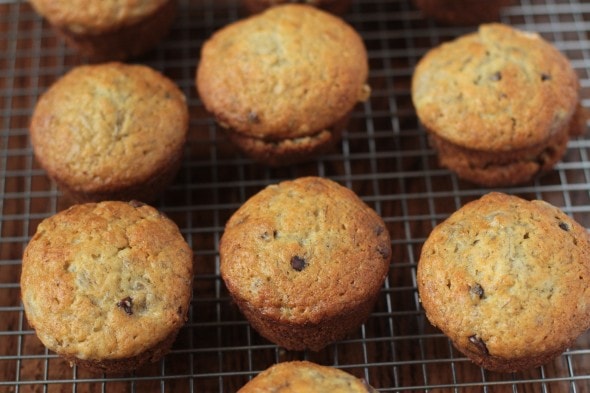 It's always my goal to use up my bananas before they get to muffin/bread stage, but boy, these muffins are a life-saver when the bananas get the best of me.
______________________________
Okee-doke-it's your turn! Share five frugal things of your own in the comments.