1. I got a free shoe rack
I don't have any specific shoe storage in my closet, so my shoes have just been sitting in a somewhat disorganized fashion on the floor.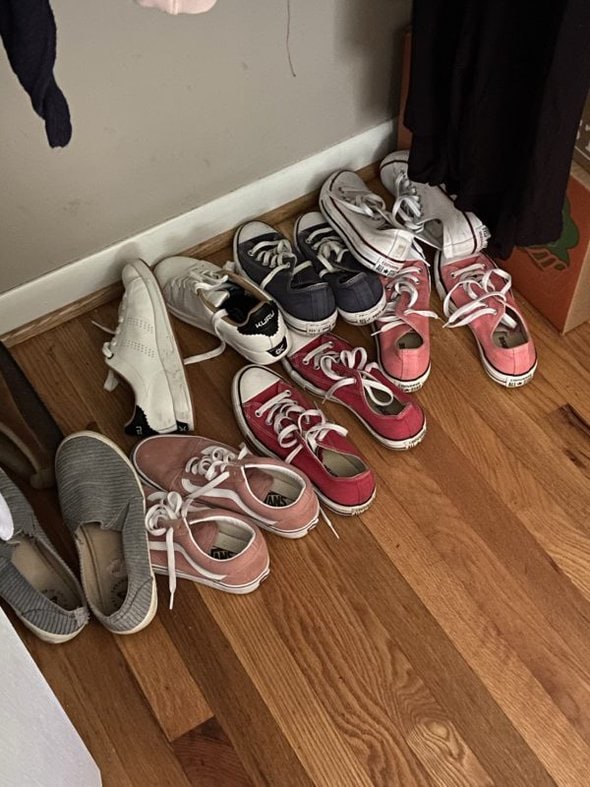 So when I saw someone was offering a shoe rack for free (before taking it to the dump), I said, "Oh, yes please!"
The rack was pretty wobbly, so I tightened up all the screws with my screwdriver, and that improved things considerably.
It could theoretically use a refinishing job, but I have a LOT of other things on my refinishing list already, and besides, this is going in the closet. It's not like I am really going to be seeing it.
So, I loaded it up with my shoes.
And I pushed it into my closet.
Now it's way easier to see all my shoes, and none of them will end up stacked on top of each other anymore. Yay!
2. I re-potted my grandma's chrysanthemum
You may remember that a South Dakota aunt of mine dug up part of a mum that my beloved grandma had owned, and this aunt packed it in the back of her car and brought it with her when she came to visit in 2020.
I planted it in front of my other house, but obviously I do not live there anymore.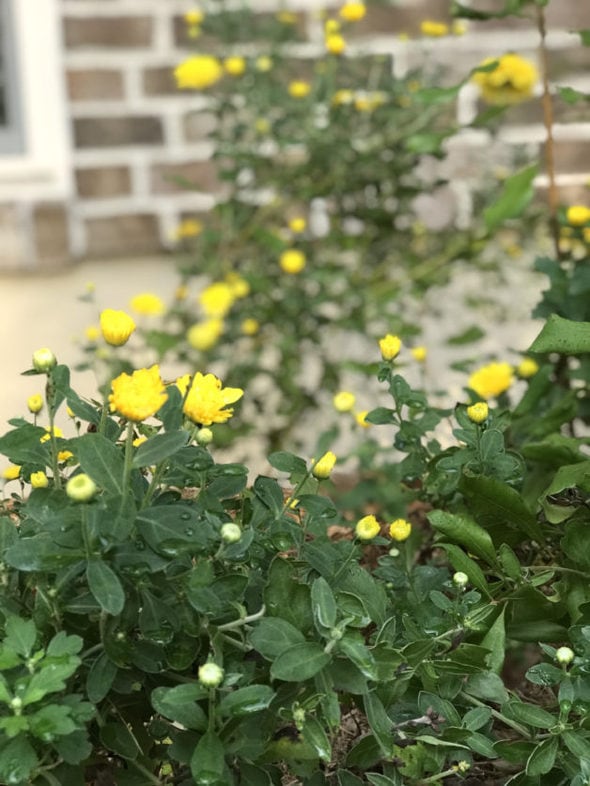 And while I'm sad about leaving many plants (like the hydrangea I grew from a stick!), I really really couldn't bear the thought of leaving my grandma's mum there.
So, I dug up part of it and put it into a disposable plastic plant pot to bring it over here.
Someone on my Buy Nothing group put out an, "I'm moving and you can come take anything from this pile of stuff in my front yard." announcement, and I saw a large-ish plant pot in the picture. So, I popped in and picked it up, and now my mum is in a better pot.
It looks a little wonky right now, but I am sure that it will fill out with time now that it's properly potted.
Obviously, once I am living in a home that I own, I'll plant it in the ground.
But for now, a pot is good.
3. I picked and ate some chanterelles
Since I have been having fun picking edible berries on my hikes, I joined a Facebook foraging group for my area.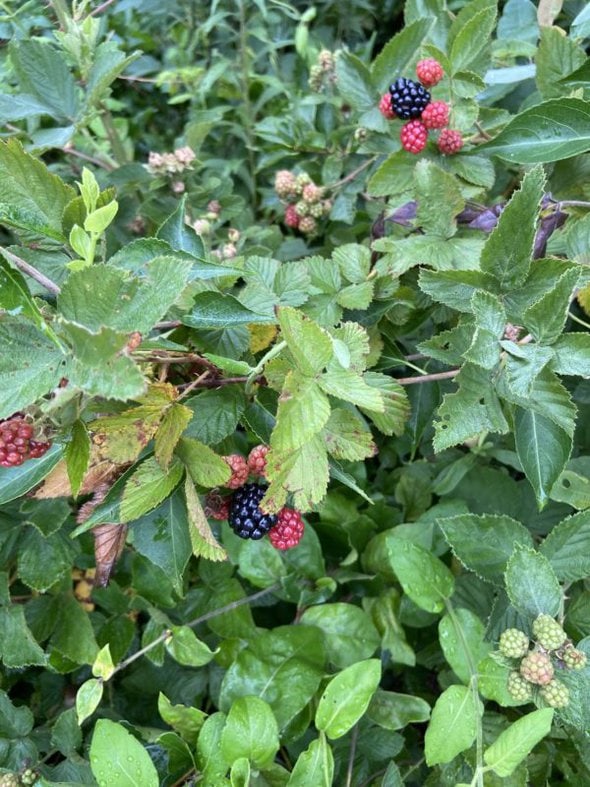 Sooo, now I am getting very educated about all the edible mushrooms that grow here too. I have seen lots of people gathering chanterelles, and I found some on a recent walk!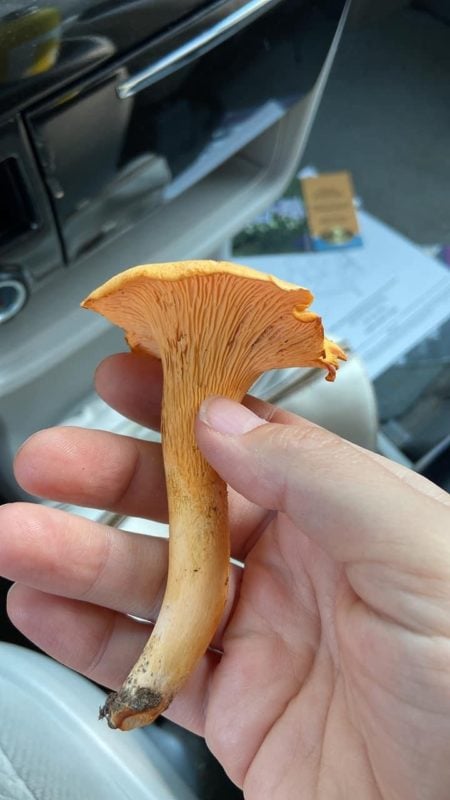 Chanterelles are quite easy to identify, given their unique shape and color, so I felt confident enough to pick and eat them, especially after checking with my group.
4. I got a free Mod Pizza
Zoe and I got dinner out together the other night, and I had enough points in my app for one free pizza. Woohoo!
5. I dealt with a half gallon of iffy milk
Sooo, I have decided that Zoe and I are in a stage of life where I need to buy half gallons of milk. The two of us just do not go through a whole gallon quickly enough!
As a result, I had a half gallon that was slightly off, and I didn't really want to dump it down the drain.
I used a little bit to make a yogurt/milk mixture to sub for buttermilk in my whole wheat pancakes.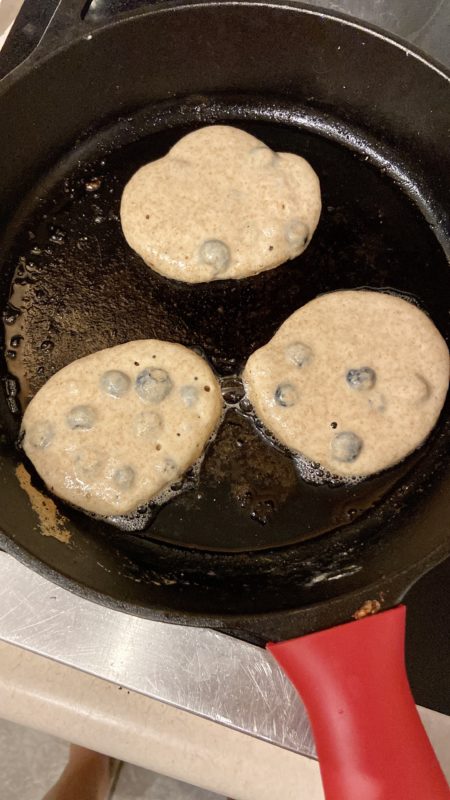 In the process, I accidentally dumped my whole box of recipe cards out, and the pancake one fell into my oil/milk mixture. Sooo, I made a new card.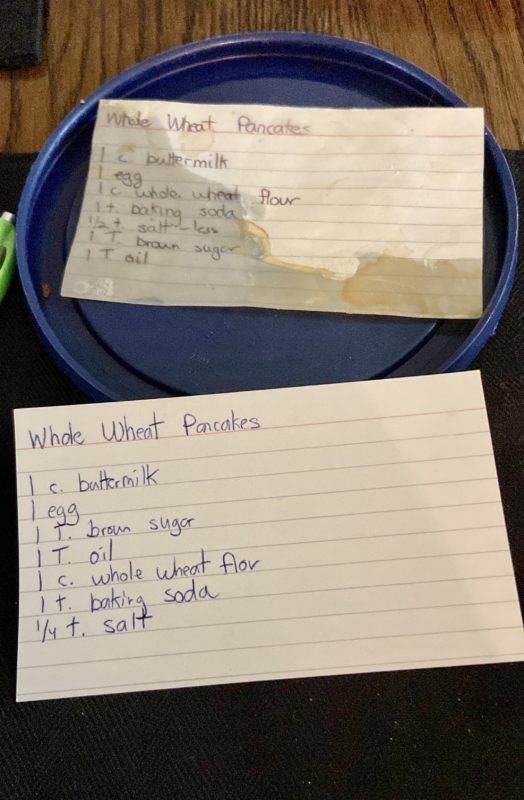 And in the process of organizing the recipe cards, I decided that my other buttermilk pancake recipe card really needed a reboot as well.
ANYWAY!
I also used two cups of the milk to make some chocolate pudding.
And then I froze the rest of the milk in two containers. I know, I know…I'm trying to clean out my freezer.
But look! I labeled these! And I have specific plans in mind. One container will make another batch of pudding, and the other will go into a batch of cinnamon bread.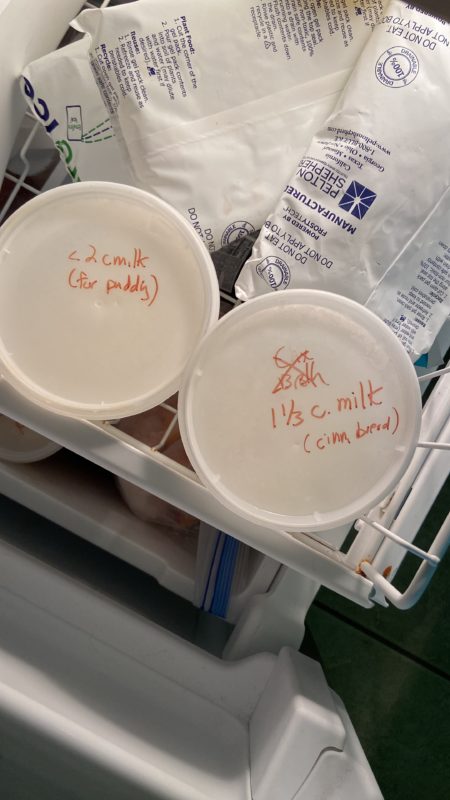 So, I feel optimistic that I will actually use these containers of milk.
Your turn! What frugal things have you been up to?