Good Monday to you, friends! I know not everyone feels this way, but I love Mondays.
They're like a mini New Year every seven days…a fresh start! A week of possibilities stretching out in front of me!
1. I helped Lisey list a bunch of books on eBay.
She's been cleaning out her room, and she found 7 book sets she wanted to sell (Sonia and Zoe have outgrown these books too, so no point in keeping them.)
She hadn't ever sold anything on eBay before, so yesterday I got her started with the first two, and she took over from there.
One set sold within just a few hours, so we'll pack it up and ship it today!
2. I helped Lisey do her taxes for free.
This is her first year filing, and I helped her learn how to use Turbo Tax.
SO EASY.
Turbo Tax is actually free for people who, like Lisey, have simple returns.
(She has exactly one tax document. Lucky girl! I have around 9283725.)
Joshua also has exceedingly simple taxes, so he should be able to use Turbo Tax for free as well.
3. I planned out my meals for the week and made an Aldi list.
I squeaked by ok last week without visiting Aldi, but I don't want to do that two weeks in a row, or my budget will suffer!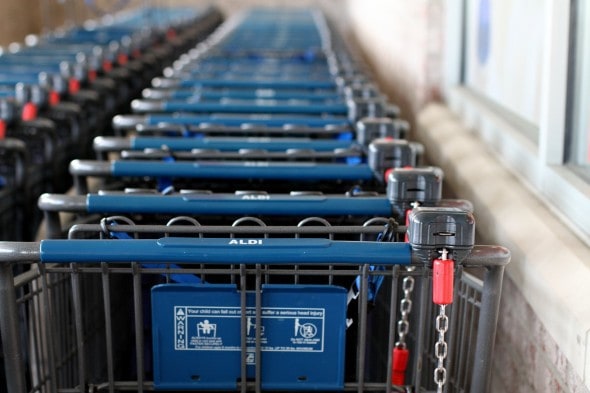 4. I listed a Star Wars movie on eBay.
Mr. FG and Sonia and Zoe have been working through the Star Wars movies, and instead of paying $20 for the digital version, we've been buying the physical copy because it's cheaper.
(This makes zero sense to me. How is it cheaper to buy a manufactured copy than to get a digital download? What gives, Amazon??)
Anyway, they've been watching the movies and then I list them on eBay. Thus far, we're just about breaking even, which is pretty great.
5. I used my Old Navy card for 40% off.
Lisey needed some new jeans and a couple of other things, so I used my Old Navy card to pay.
(They were offering a 40% off discount if you used that card.)
I also had a $20 reward on the card, so I used that toward my purchase.
Of course, I'll pay the credit card right away. Because interest will negate a discount in a hot minute.
Your turn! Share your own Five Frugal Things in the comments.