Well, the library makes up the first two, at least!
1. I put next month's book club book on hold
I am sort of allergic to buying books (unless they are somehow not available at the library).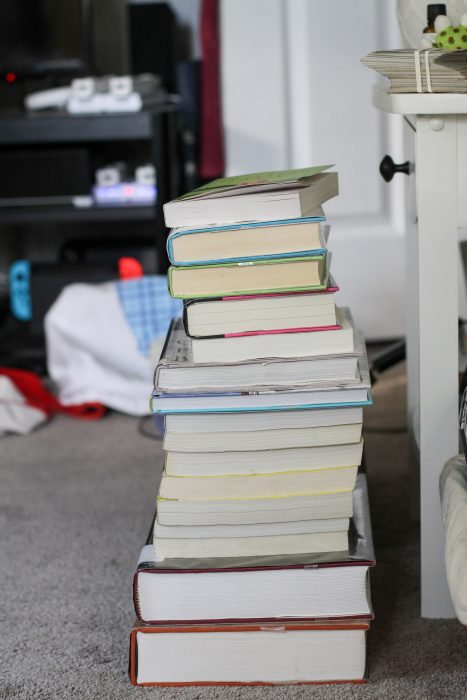 As long as they are at the library, that is where I will always go. Next month's selection is Everything Sad is Untrue and it was indeed available at the library.
I also caved and got an ebook at the library. I normally dislike ebooks, but I heard about this one called "Do Nothing" on Laura Vanderkam's podcast, so I looked it up and a digital copy is all our library had.
Will I actually read the book? Or will I completely forget about it, as I usually do with books that are digital?
Stay tuned.
2. I requested a new book at the library
I saw an article about The Miracle Pill, by Peter Walker. It's a book about how a sedentary lifestyle isn't great for us, and while that's sort of a "duh!" concept, the book intrigued me.
I sent in a materials request to the library, and they're going to try to get the book for me from another library system.
3. I ordered some Debrox drops
(If you are grossed out by any mention of earwax, skip this one.)
One of my ears has been feeling a little muffled and I'm guessing it's because my ear needs to be cleaned out! When the primary care physician last cleaned out my waxy ears, she suggested that I try Debrox drops next time.
The drops are significantly cheaper than a doctor appointment, so if they work, they will be totally worth the price. Here's hoping.
(Just in case you are wondering: I never, ever clean my ears with Qtips, since I know that doctors say that makes the problem worse. And rest assured that if these drops don't work, I will get my ear checked out.)
4. I filed our taxes with TurboTax
I bought the software from Costco back in January, but I put off finishing up the last few things.
I finally got it all done and it feels GOOD. All the tax papers are off my desk now!
(For the record, I think hiring a tax professional is good if your taxes are complicated. If they are fairly simple, the DIY route works great and costs much less. So far, mine are simple enough to go the DIY route.)
5. I…
submitted several medical bills for reimbursement
ordered more Starbucks coffee grounds from Amazon (way cheaper than the grocery store)
listed more books for sale on eBay
unlocked my Acorns investment account (someone from Germany had tried to log in!)
Share your frugal five in the comments!
P.S. If you want to try Acorns, you can get a free $5 bonus for opening an account through my referral link.
(The link will show you the $3 and $5 fee options, but there's a $1 option as well that you can find if you compare the subscription plans.)