This is a small thing I've wondered about for years, but never figured out!
So, I know quarts of homemade yogurt are definitely less trash-producing than individual cups of yogurt.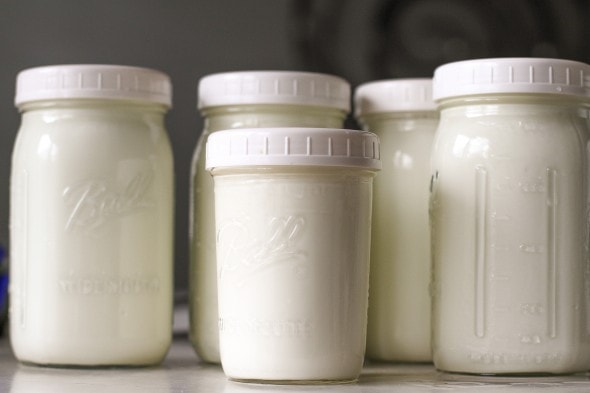 And I know my homemade yogurt is WAY cheaper than anything I can buy at the store.
(For instance, if you pay $4 for a gallon of milk, your yogurt quarts will be $1 each.)
But I've never been quite sure if the plastic from a gallon of milk is less than the plastic from four plastic quart containers of yogurt.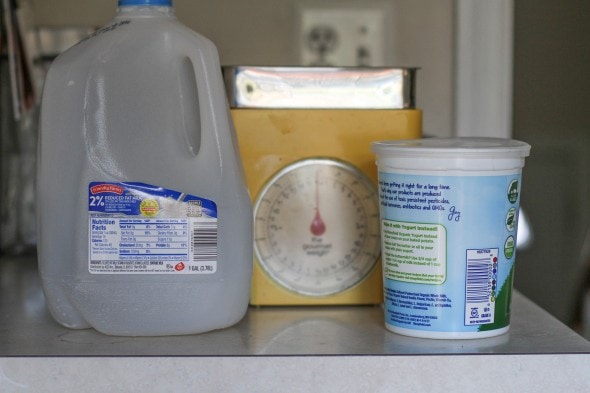 I needed a new starter last week (after 6-9 months or so, I seem to need a refresh), so I had the perfect opportunity to settle this question.
(Which, in the grand scheme of things, is not an enormous deal. I know. It's just the kind of minutiae that I wonder about!)
As it turns out, an empty gallon container weighs 2 ounces.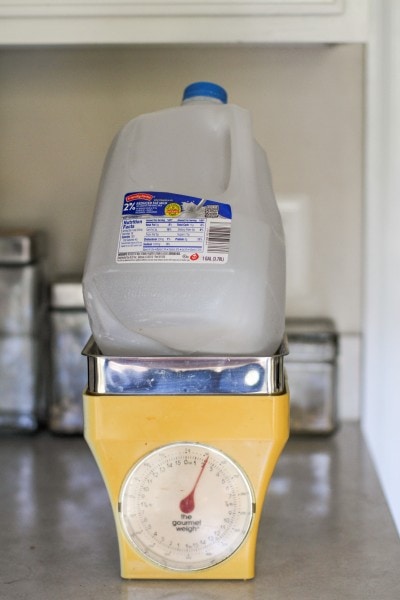 And an empty quart container weighs 1 ounce.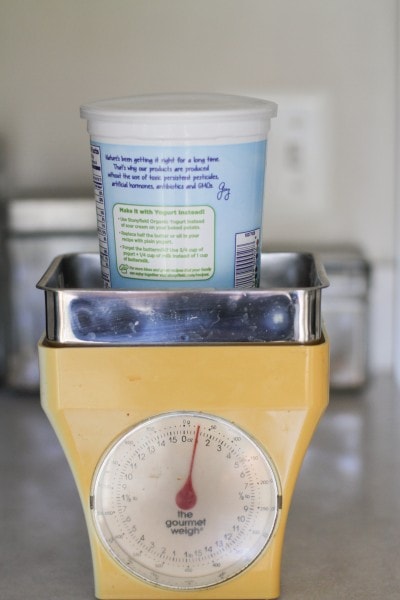 So, a gallon (4 quarts) of store-bought yogurt requires 4 ounces of plastic, whereas a gallon of homemade yogurt requires 2 ounces of plastic.
And now I don't have to wonder about this anymore. 😉
I'd have kept making homemade yogurt regardless of the outcome of this experiment, just because it's so affordable and so tasty (I love how mild it is). But hey, it's nice to know that it's also slightly less trash-producing than store-bought yogurt.
P.S. Of course, if I got my milk in returnable glass jars, the homemade yogurt would be trashless. But there's not a simple, nearby way to get milk in glass jars, so plastic gallons it is.
P.P.S. I use whole milk to make my yogurt every single time (it makes for creamier and thicker yogurt). But a 2% jug is what I had around when I took these photos.
P.P.P.S. Here's why I don't think you have to make yogurt.
P.P.P.P.S. Here's how you make homemade yogurt (no special equipment required). And here are answers to common questions about homemade yogurt.
https://www.thefrugalgirl.com/2016/10/im-getting-a-nose-job-and-its-going-to-save-me-money/
Save
Save