As you know, we've been talking quite a bit about the way that time relates to frugal practices and frugal though I am, I've said that sometimes, it makes sense to pay for a service in order to free up some time.
But as I was cutting my dear son's hair recently, I was reminded that it's also important to remember that even some paid-for services have a time cost too.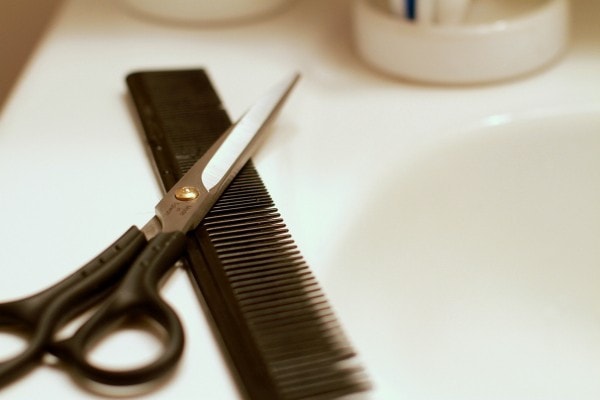 In short, it's not always as if the DIY option takes 100% more time than the pay-someone-else option.
For instance, if I had someone else cut my boy's hair, I'd have to drive to the barber/salon, wait for his hair to be cut, and drive him back home.
I'm guessing that would probably take about 30 minutes of my day, right?
Well, I can cut his hair myself at home in about 20 minutes and then clean up the mess in 5 (less if it's nice and we can do the haircut outside!).
So, not only does his haircut not cost me anything in real dollars, it also doesn't cost me any time. In fact, it might save me a whole 5 minutes. 😉
I also remind myself of this fact when I'm tempted to get takeout instead of cooking at home. A lot of times, I mentally figure the time cost of takeout as 0 minutes, but that's not really true.
(ok, maybe it is if you're getting delivery, or you happen to be out near your favorite takeout joint. But neither of those things are usually true for me.)
That's because I have to decide what takeout I want, order it, drive to pick it up, and drive back home. A lot of times, that IS faster than cooking an entire meal from scratch at home, but it's not 100% faster.
And if you compare the time it takes to make, say, pizza bagels, to the time it takes to order and pick up a pizza, there's not a lot of difference.
Of course, sometimes I do decide that it's worth it to pay someone for a service even if it doesn't save me a lot of time (I sometimes order takeout and I don't cut some of my girls' hair).
I'm not trying to say that DIY always saves time and money because that's just not true!
But when we're considering the relationship between frugality and money, I do think that we need to take into account not only the time it takes to do it ourselves but also the time we'd spend getting it done by someone else.
And if you're like me, taking that into consideration might give you the push you need to keep on keeping on.
What do you think? Do you ever find that paying for a service doesn't actually save you much time?
___________________________________________
Today's 365 post: Well, hello there, end-of-the-math-book!
Joshua's 365 post: Baby Robin