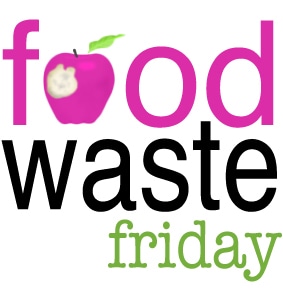 Every week, I post a picture of the food that has gone bad over the last seven days. Why do I do this? Because in March of 2008, I finally got fed up with the amount of food I was wasting, and I thought that showing my waste to other people would motivate me to use up my food instead of wasting it. Because this often embarrassing practice was so helpful for me, I invited other bloggers to join me in posting their food waste photos, and Food Waste Friday was born.
We've had a number of weeks without Food Waste Friday, what with all the holidays that happen at this time of year, but I'm ready to jump back in. Are you?
If you've vowed to save more money or create less trash this year, you should join us! Food waste is expensive and it clogs up the landfills, where it sits and produces methane. And that isn't terribly delightful.
If you're tired of throwing away slimy cucumbers and squishy oranges and hairy leftovers, make this the year you finally do something about it.
Check out my top ten ways to reduce food waste, implement them, and come talk to us about your waste every Friday. Public accountability did wonders for me, and heaven knows I was a food-wasting disaster before.
Let's see…what have I got to share on the topic today?
I found some wrinkly grapes in my fridge, so I picked out the really horrible ones (they went into the compost bin) and popped the rest into the freezer for throwing into smoothies.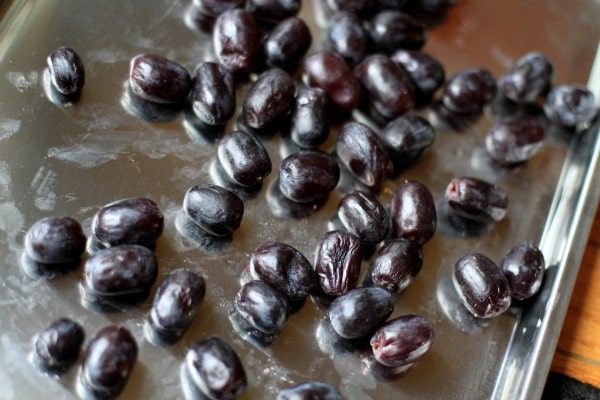 Frozen grapes are pretty good plain too, so if you ever find yourself with too many, the freezer is your friend.
One evening this week, I realized my fridge was getting kinda out of control. I was shoving things in wherever I could make them fit, and I know from past experience that this is a recipe for food waste.
So, I organized it and felt much better.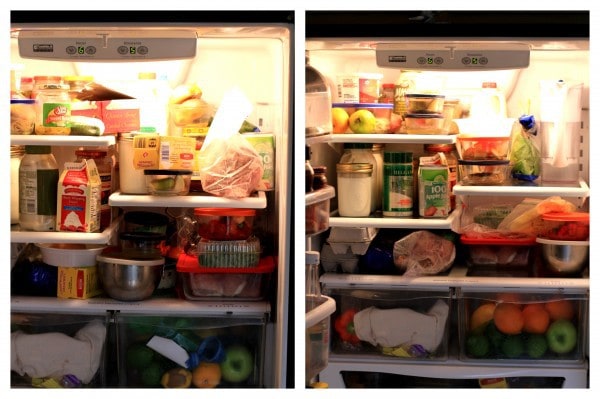 The after is on the right, and though it might not look greatly improved, it really is way more organized. Plus, the act of sorting through what was in the fridge helped me to remember what I had, which is important because knowing what food you have is a key part of preventing waste.
________________________________________________
How did you do this week? If you blogged about your food waste, link us up by entering your info into the widget below. You'll save money, reduce your trash output, and get a little publicity for your blog! And if you don't blog, you can still share about your food waste by leaving a comment.
Those of you who participate in Food Waste Friday can now grab a fancy-schmancy button to perk up your posts. If you copy and paste the following code into your Food Waste Friday post, this little graphic will appear.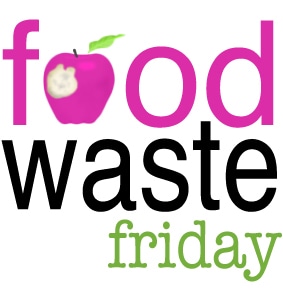 If you blog on WordPress, just make sure you're in html mode when you copy and paste the code, or it won't work properly.

________________________________
Joshua's 365 post: Oh, yes!