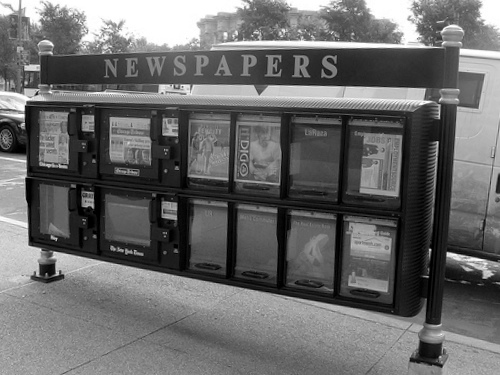 I start pondering this dilemma a while back when I mentioned on Twitter that I was canceling our newspaper subscription. So that you aren't left wondering, we chose to do this for several reasons.
We never managed to actually read the newspaper articles.
We can get our news online instead of in print.
We didn't need the sale ads…we don't shop a lot, and sale ads are available online anyways.
I don't use that many coupons, and even those are available online from places like
Coupons.com and SmartSource. (SmartSource is, in fact, one of the publishers of the coupon inserts that come in the newspapers! I am not affiliated in any way with them, though.)
Given all that, a newspaper subscription seemed like a waste of money and resources (paper for printing, gas for delivery, not to mention the production of those plastic bags the paper comes in!), and we felt that it would be wise to cancel our subscription.
Anyways, one of my Twitter followers was a little horrified and wondered why I wasn't putting more money into supporting the newspaper industry.
I do know that the print industry has fallen on hard times, but I haven't really felt compelled to do my part to keep it afloat. I understand that journalism is really important to maintain, but I'm not sure that newspapers as a form need to be around in order for journalism to flourish (though I could certainly be wrong about that!).
The thing is, I'm just not sure that it's possible for print journalism to survive in our culture, at least in the form of newspapers, and I don't think there's much that will save it. It's the internet age, and the odds of people continuing to purchase (and read!) daily newspapers is very low. People get most of their information from other forms of media, like TV, radio, and the Internet. We could argue back and forth about the advantages and disadvantages of these forms, but the bottom line is that most people don't read newspapers anymore.
So, for journalism to survive and thrive in this age, it's going to have to change with the times. Newspapers and other print media are going to have to put more resources into developing a web presence if they want to stay afloat.
This wouldn't be the first time news delivery has changed through the ages…people used to carry news on foot, via stagecoaches, and via telegrams. When stagecoaches were no longer necessary, it would have been kind of fruitless to try to prop up the stagecoach industry, and in the same way, I feel like propping up the daily newspaper industry is sort of fruitless.
Of course, the news industry isn't the only industry this has happened to. I'm sure lots of hairspray and pantyhose companies bit the dust once the '80s were over, and I'd guess that hoopskirt manufacturers faced the same problem when fashions changed.
So, on the one hand, I can easily talk myself into thinking that supporting newspapers is pointless.
But on the other hand, I can get very enthused about supporting small family farms, which, with the rise of factory farming, are getting to be few and far between. If that's the case, why am I not equally enthused about saving newspapers?
I guess it's because at this point in time (and you can try to change my mind!), I feel like the change from small farms to industry farms is more disastrous than the change from newspapers to online news. Basically, I'm more concerned about preserving local food than I am in preserving daily newspapers.
Plus, the local farm issue affects me more directly. My life isn't at all worse without a newspaper subscription…in fact, I think it's better. I have less paper clutter to deal with, I have fewer plastic bags to get rid of, and I'm saving money. But I do think our lives would be worse if the only food we could buy was available from factory farms.
Lastly, I can't really think of a downside to small family farms, but I can think of some downsides to newspapers (they resources, produce trash, and they're a fairly slow way of spreading news).
_________________________
So, what do you think? I'm really hoping that you all will share your input on this topic because I'm honestly not entirely sure of the right solution to this dilemma. And I'm totally teachable on the issue of whether or not the print medium is necessary for the survival of journalism, so feel free to school me. 😉
Photo by laffyk.
disclosure