This giveaway is now closed. Congrats to Kate T., the winner of the Novica gift card!
You know you do. 😉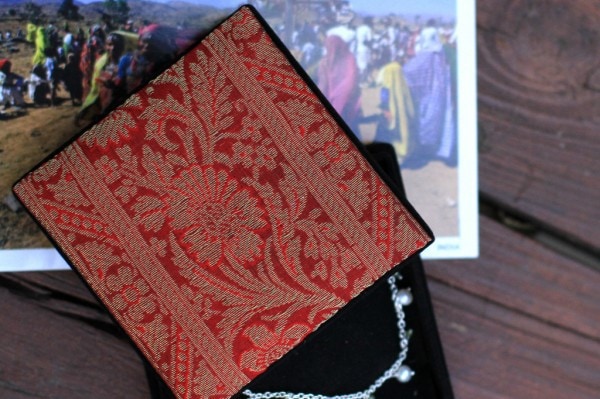 Novica is a National Geographic company that partners with artisans around the world, selling their wares to you and me at a fair price.
Novica offers these artists an audience far larger than they'd be able to reach on their own, and this helps make it possible for the artists to use their crafts to support their families.
I love Novica's mission, so when they emailed to see if I wanted to do another giveaway, I said yes right away. Judging from the response the last two times we had a Novica giveaway, I know you guys feel just as enthusiastic about Novica's mission and products as I do.
I like to support Novica because they serve artists, but I also like that the items you buy from Novica aren't cheaply made and commercially produced. You'll pay more than you would at a discount store, but the things you buy are unique and high quality, and they'll likely last longer.
(there's that whole, "Could this be an heirloom?" question coming into play!)
I ordered silver earrings and a sterling silver bracelet from Novica last year, and I wear those ALL the time. I love their simple, classic beauty.
(ooh, I see that they still have the Helix earrings. I highly recommend them!)
Anyway, this time I decided to buy an anklet. The only one I own is a plain cheapie from Claire's, and when I saw this pearl and peridot anklet from India, I knew I'd found what I wanted.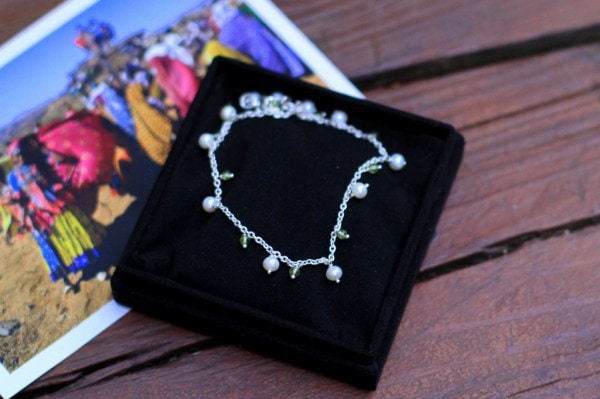 It's made of sterling silver, pearls, and peridots, and it puts my old anklet to shame.
I had Lisey model this for me so I could take pictures, and I think she kind of wants one now. 😉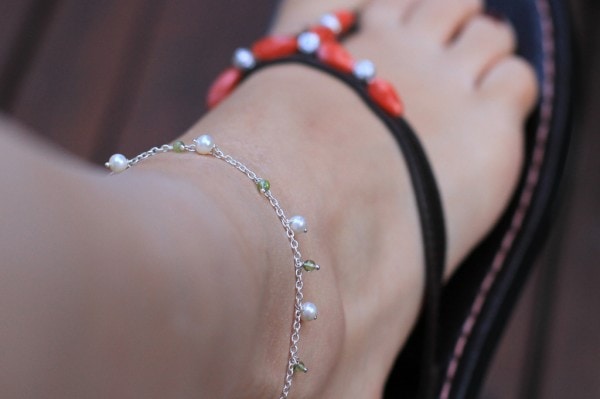 And I understand because I'm pretty darn excited about my new anklet.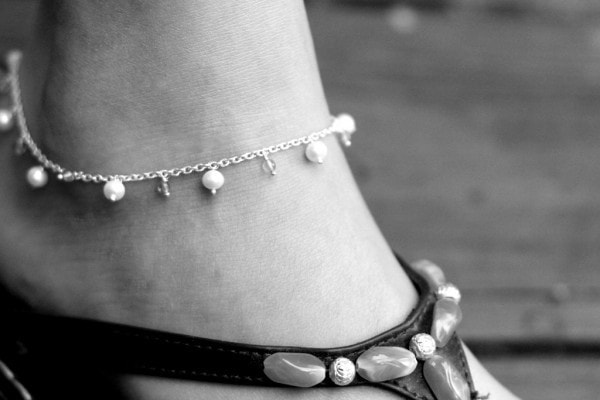 Of course, Novica doesn't just sell anklets…you can also buy earrings, bracelets (check out these beautiful silver floral bracelets), and necklaces.
They have things for men too, like silver cufflinks from Indonesia, and men's clothing from Peru.
But the jewelry they sell is really my first love.
If you need to replace a piece of jewelry or buy a piece for someone else, do make Novica your first stop. The jewelry you can buy there is so much nicer than the cheapie $5 stuff, and I think you will derive a lot more enjoyment out of a higher-quality piece.
Plus, you'll be supporting a small business and helping someone in a far away country provide for themselves and their families.
I'm pleased to say that Novica has given me a $50 gift certificate to share with one of you. Yay!
If you'd like to win, just leave a comment telling me what you'd like to buy at Novica.

(click right here to browse everything Novica has to offer).
-This is an electronic gift certificate, so you can enter no matter where in the world you live!
-I'll randomly choose a winner on Monday, June 18th, at 9:00 pm EST.
-The winner will need to email me back within 24 hours, or I'll select a new winner.
-One entry per person, please.
disclosure: Novica sent me a $50 gift certificate, but I was not otherwise compensated for this post. All opinions are my own, and I adore Novica's mission without being told to. I think you should love it too! 😉