This one's been a long time coming; those of you who follow me on social media have been slowly watching this process since I started in April!
When I realized I would be needing to furnish a rental (here's why), I immediately thought of the furniture I'd seen at the abandoned house my brother bought.
Even under all the dirt, I could tell some of it was decent quality, and this round dining table fell into that category.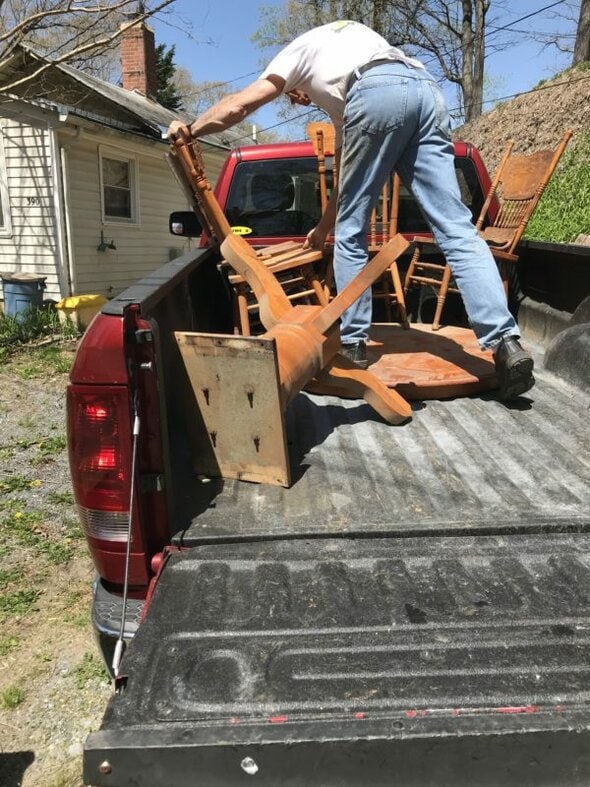 My dad took the base off so that we could get it out of the house door, and then we moved the base and the top into his garage, where they sat while I pondered a plan.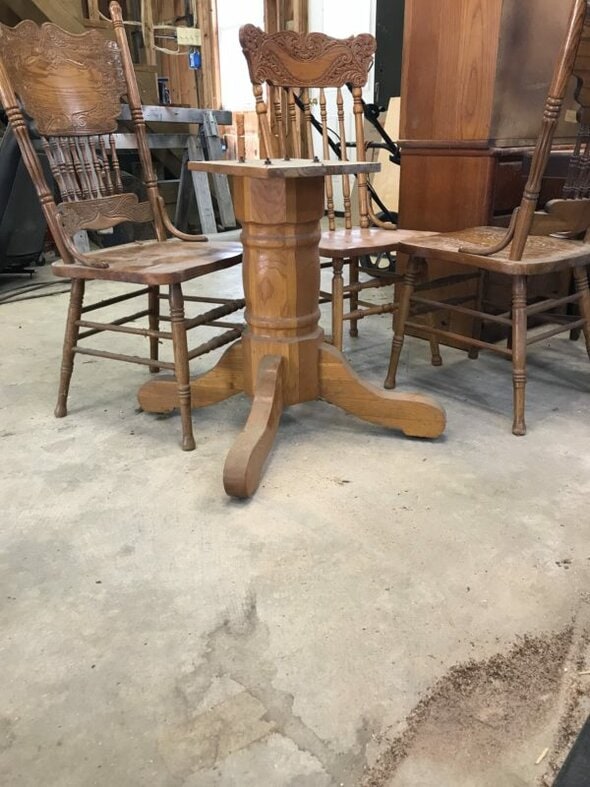 After poking around Pinterest for a while, I decided I wanted to stain the top, but paint the base.
Then it was time to get started!
The table base and legs
The base was easy; my dad unscrewed it all for me, so I was left with four legs and the main trunk piece to sand.
Since I was just painting these, I didn't have to do a crazy amount of sanding, and I got them knocked out in pretty short order.
As usual, I put on a coat of Zinnser primer, and then several coats of Benjamin Moore Advance paint. I don't think there are words to describe how great this paint is…it gives you such a nice smooth finish!
The hardware
Since this table originally came with a leaf, there was some associated hardware and of course, it was rusty. Nothing from that house is in good shape!
Luckily, my dad has a little machine that's good for removing rust…it's basically a motorized metal brush, and he showed me how to get these pieces all cleaned up.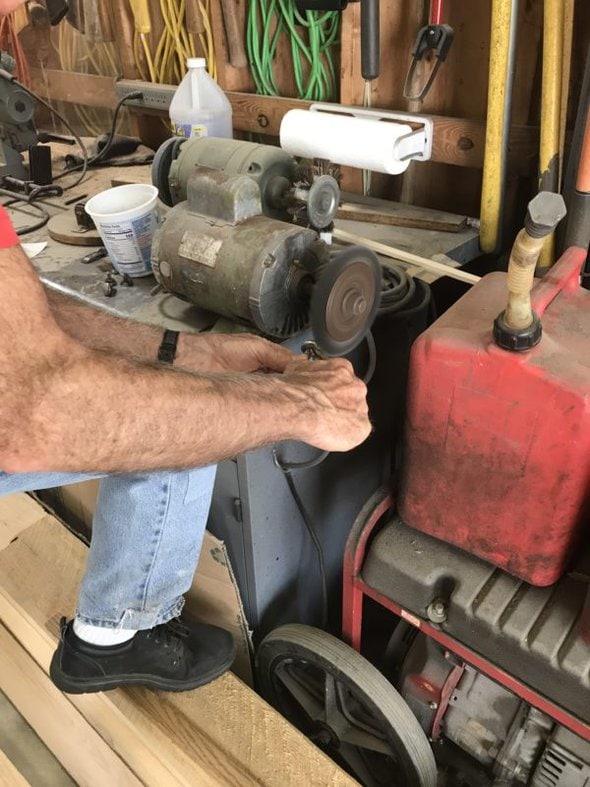 Here's a before and after.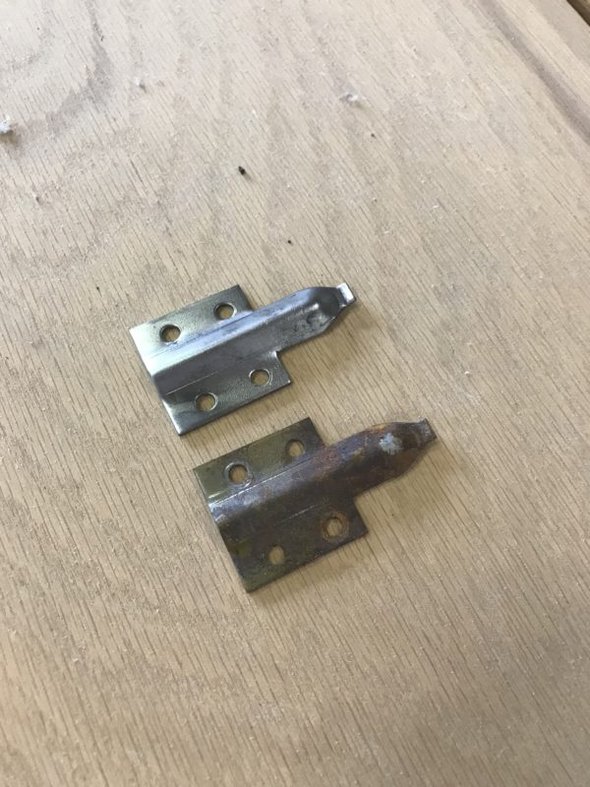 So satisfying!
I also used the same process for the metal feet that screen into the legs of the table.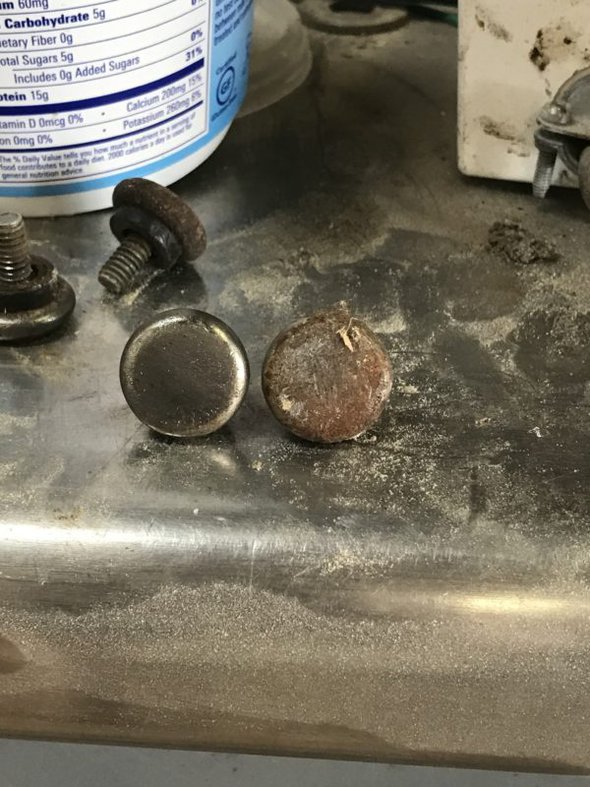 Here's a sneak peek of what the table feet looked like at the end!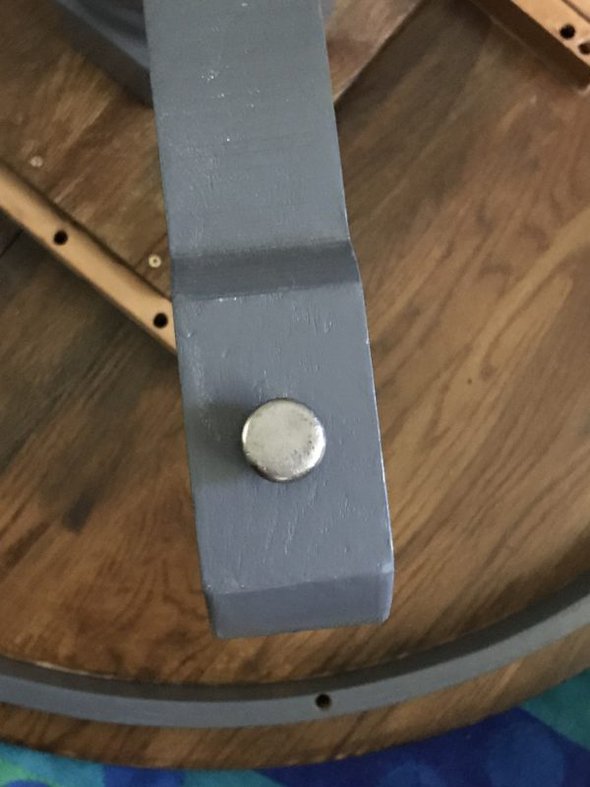 The tabletop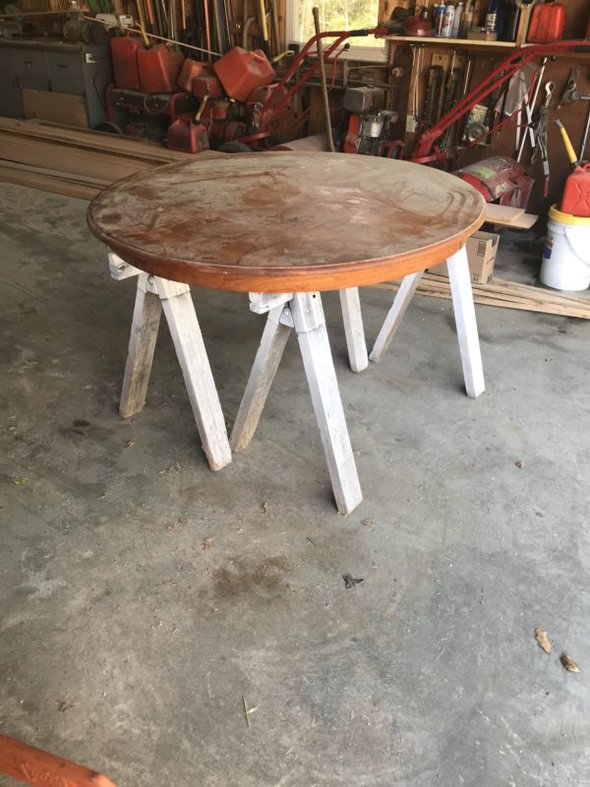 Shew. This thing needed a LOT of sanding. In order to restain a piece of wood, you really have to get all of the old finish off, and that is no small task with a sander.
I started out with an orbital sander, but it soon became clear that we needed something with more power. So my dad got out his belt sander and we went to work.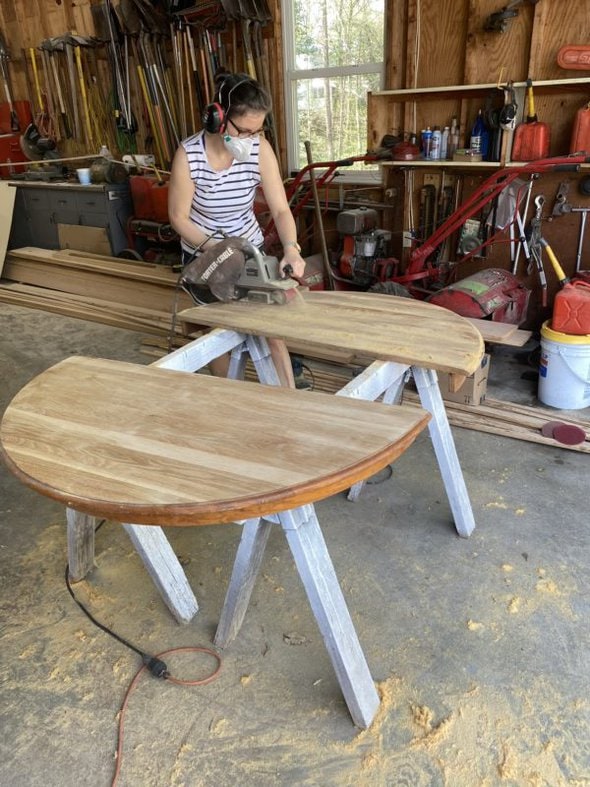 I had never used a belt sander before and I was surprised at how much work it is to keep that thing from running away. It has so much power!
The belt sander did a good job with the main part of the tabletop, and then I had to use the orbital sander and a manual sander to get the rest of the finish off.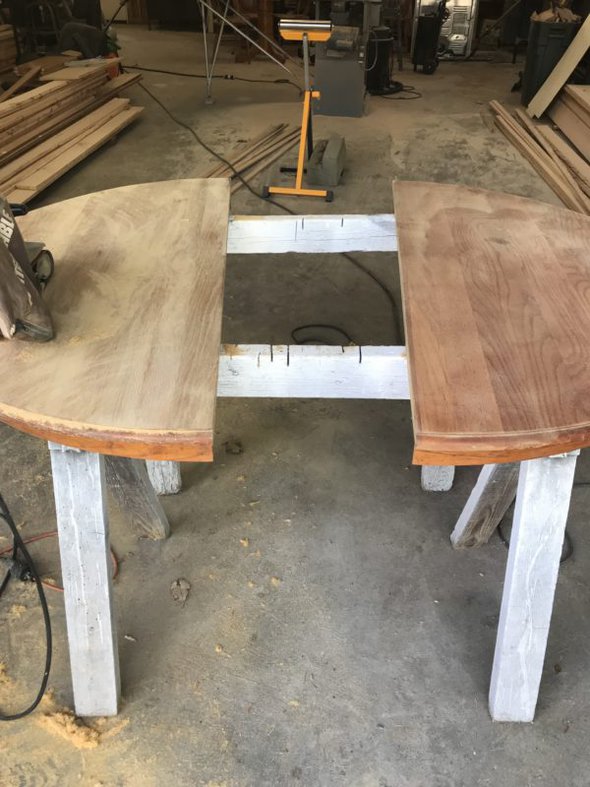 Preparing wood for staining is so much work; I was reminded why I almost always opt to paint instead. Painting is easier!!
We used the underside of the table as a test for stain colors; initially, we tried a walnut color, but then my dad remembered that he had a can of Jacobean stain and YES this was exactly what I wanted.
I applied the stain to both sides, and then we had some wet weather, so my progress got paused. We needed to add polyurethane, but that stuff does not dry properly in humid weather.
My dad kindly took care of this step for me, putting on a coat here and there when there were breaks in the weather and he also reinstalled the sliding mechanism under the table (which allows for a leaf to be inserted).
The leaf
At first, we thought that this table was leafless; I'd been all around the treasure house and seen no leaf.
But then my brother thought to check in the basement. It turns out, the basement was quite flooded, but he did spy the missing table leaf!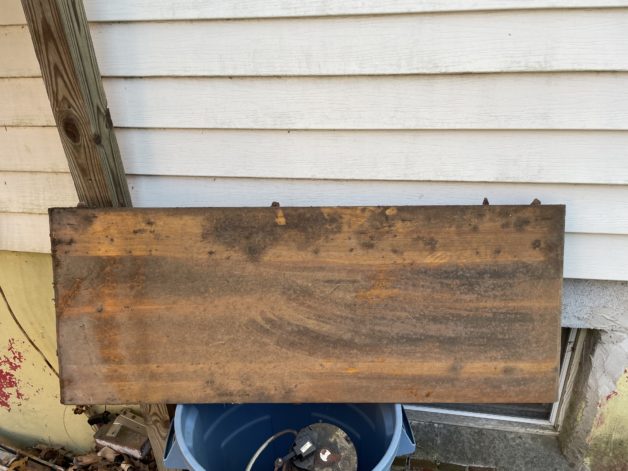 It was in a rather dreadful condition: wet, dirty, warped, and it had fuzzy mold on it. SO GROSS.
My dad kindly reglued and clamped the leaf to try to get some of the warping out, and it did help.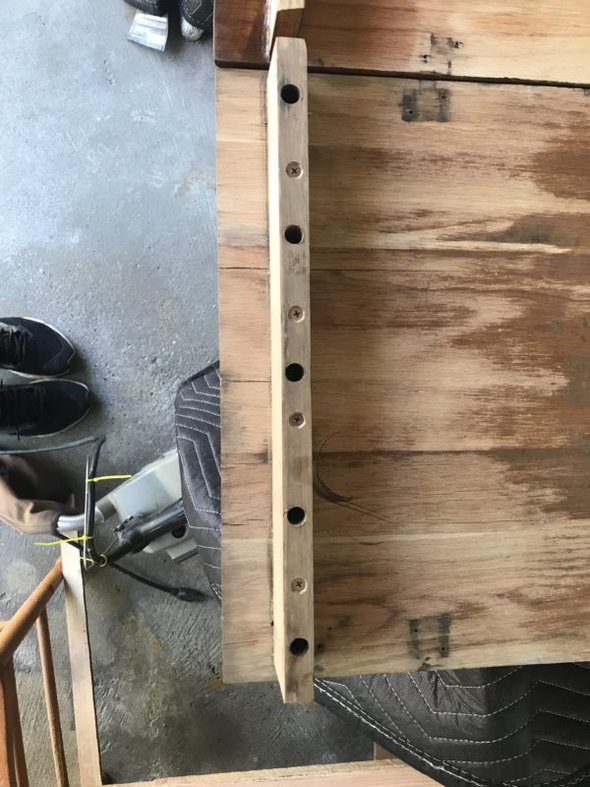 But the actual boards of the leaf were still not flat, so we attacked them with the belt sander.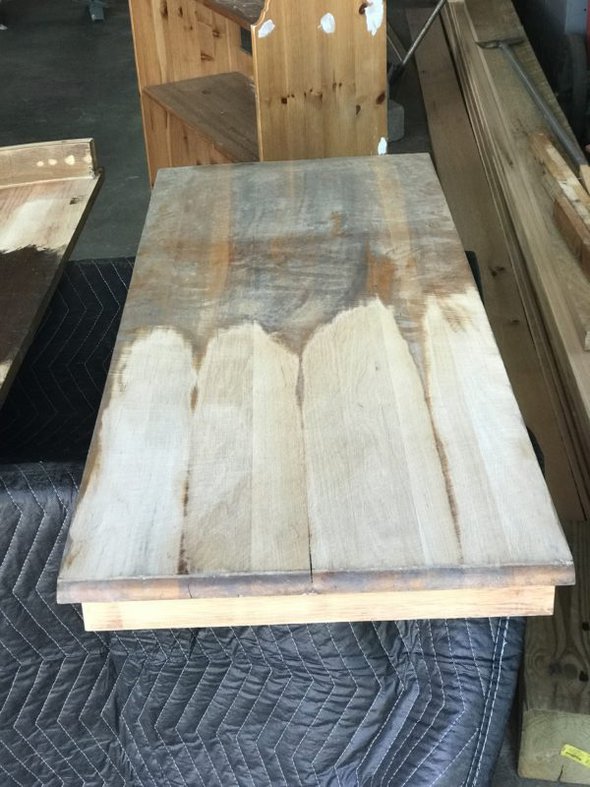 We sanded off tons of wood (you should have seen the piles of sawdust!!), and finally, the surface was fairly flat.
Once the leaf got all stained and polyurethaned, it was quite unrecognizable from its former self.
If you look closely, you can still spot imperfections, but considering where this thing started out, I'm pretty darn happy with it!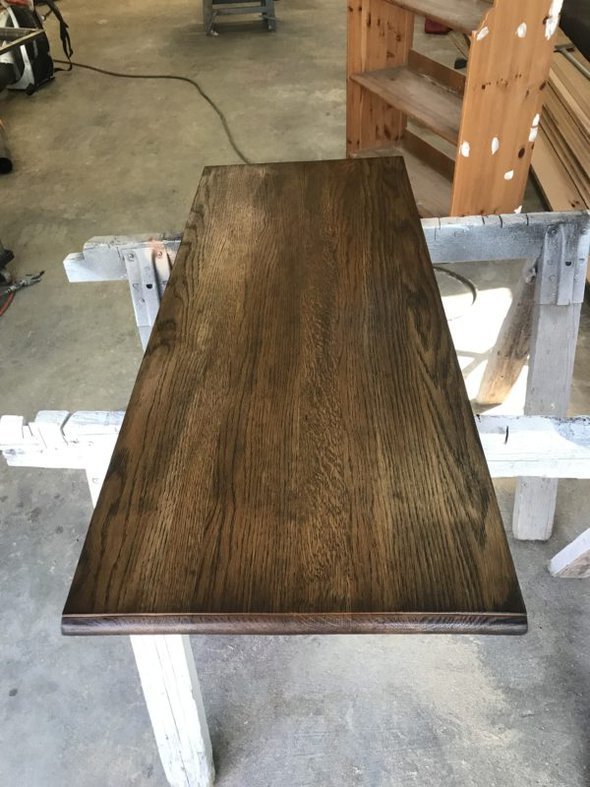 The skirt
Last step!
I'd moved into my rental by now, and my dad kindly brought the table over here. I turned the top upside down in my dining room and painted the apron/skirt in the same color as the base.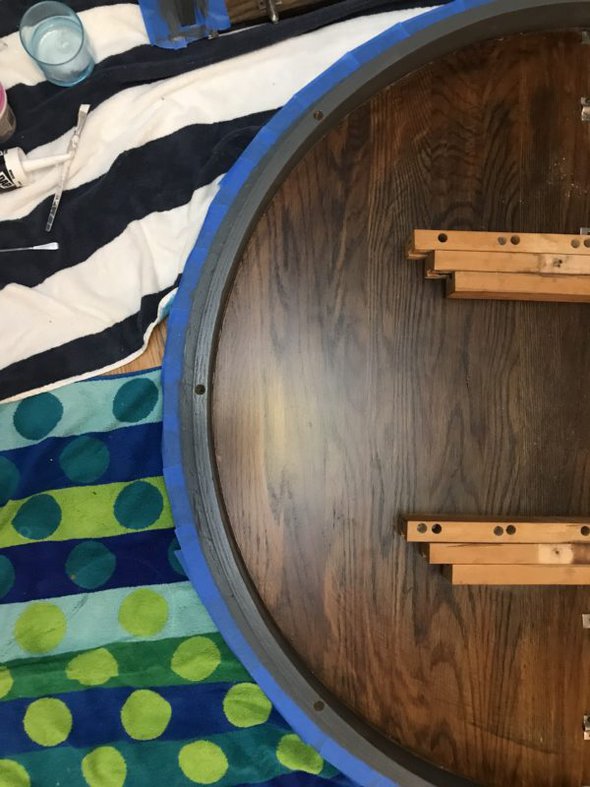 I also did a little touching up of the base, and when I looked at it from this angle, I remembered that this base used to be full of cobwebs and dirt. What a change!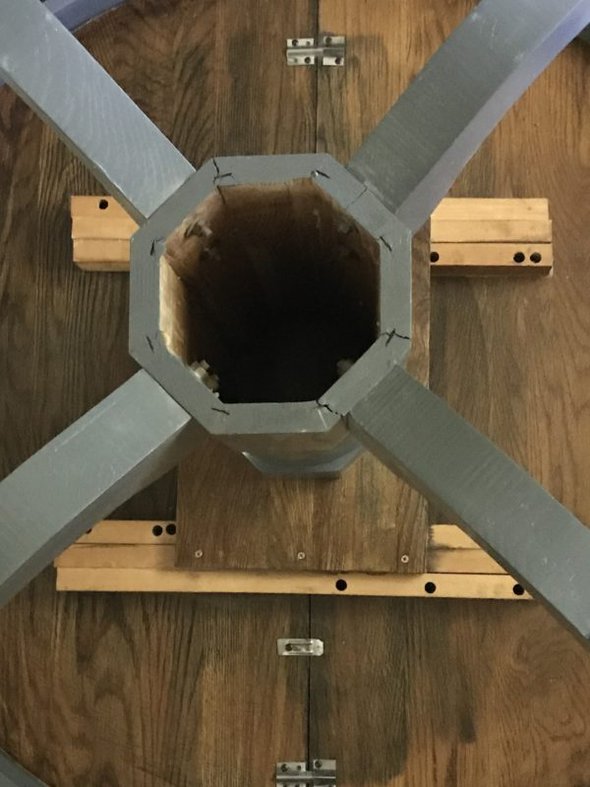 I screwed the base onto the top, and voila!! A new-to-me table was ready.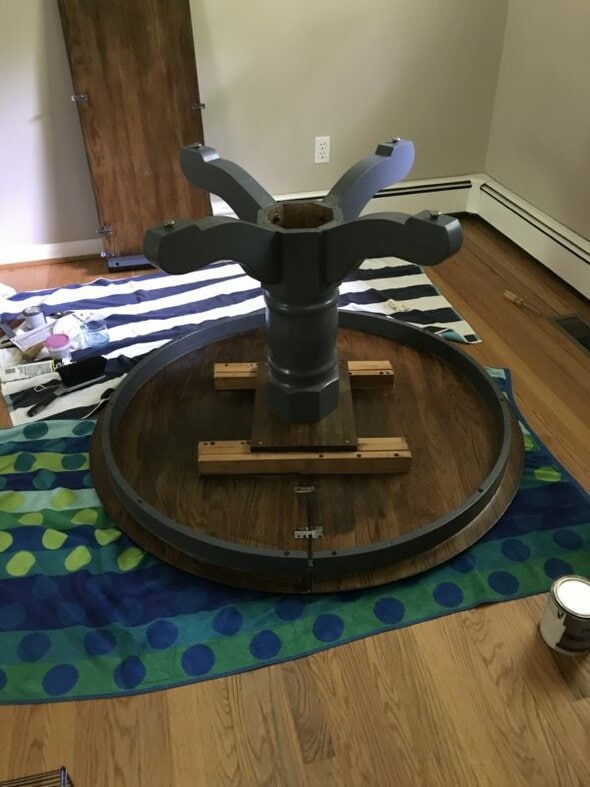 The after photos
The table sits in sort of a dark room, which makes after pictures sort of hard. But I did my best!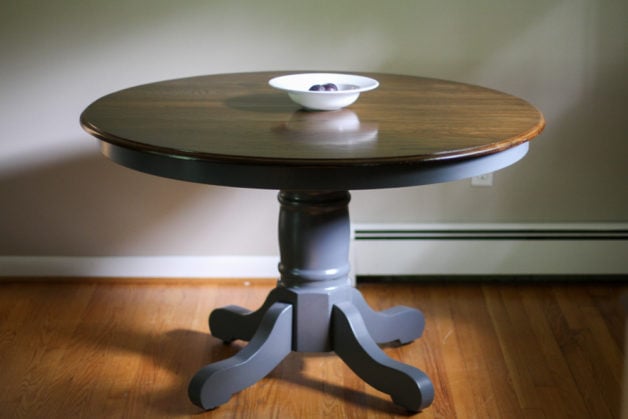 I really like the combo of the stained top with the gray base.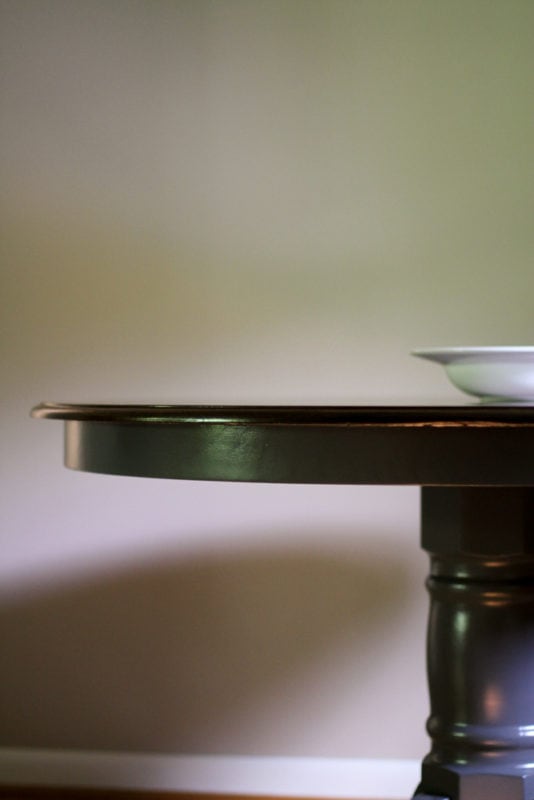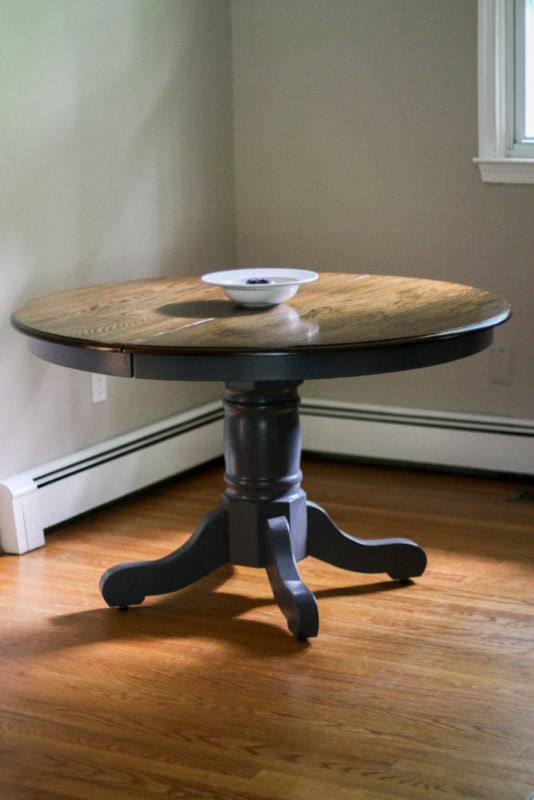 And I'm very happy with the stain color on the top.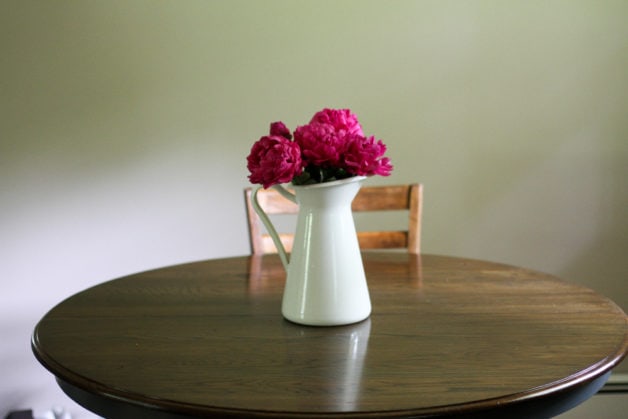 How much would this cost new?
A similar table from Wayfair costs $700.
And this Pottery Barn version, which is not even solid wood, costs $799.
This one from Haverty's is almost $1500!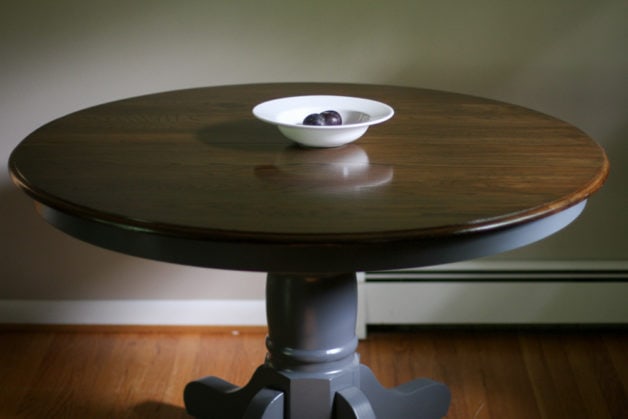 So…mine was definitely a win in actual dollars. I spent only $30 on supplies, and the table itself cost me nothing.
But my goodness, there were a lot of hours poured into this table between my dad and me.
If I was trying to refinish furniture and sell it for a profit, I'm pretty sure the hourly wage on this table would have been pathetic.
But on the other hand, we rescued a table that no one else would have wanted (particularly true in the case of the leaf!)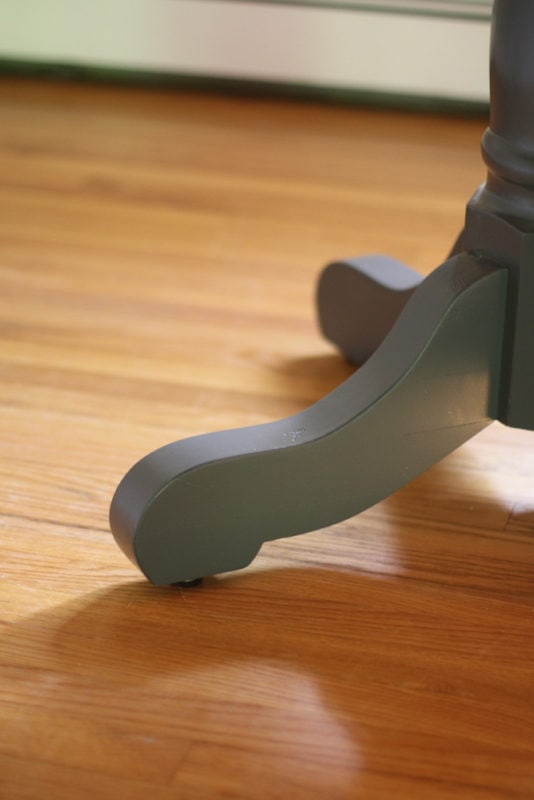 And I now have a nicer table than I'd be able to buy if I purchased new; this one has very nice metal rolling hardware for the leaf, and the whole thing is solid wood, with no veneer at all.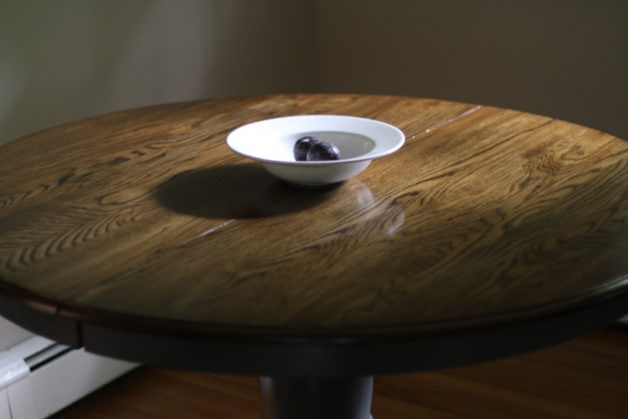 So overall, I'm really happy with this project. It was a very satisfying redo, and I was so grateful to have my dad's help and expertise.
Next up: I need to rehab those four chairs I snagged from the treasure house. My plan is to paint them the same color as the table base. And of course, I will show you when I'm done. 😉
P.S. In case you want a supply list, I used:
Zinnser water-based primer
Benjamin Moore Advance paint, satin sheen, in Westcott Navy
Minwax stain in Jacobean