This is a mis-matched pair of socks.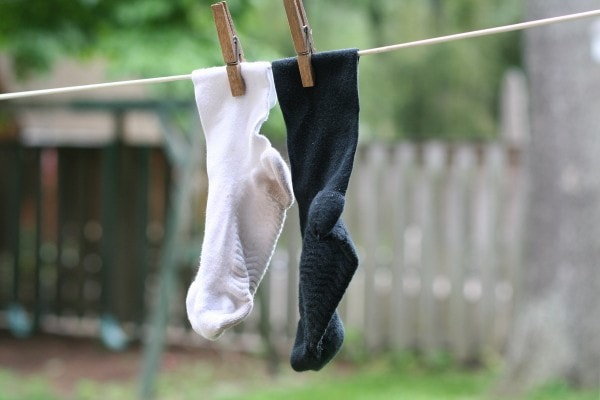 Duh.
I originally owned a white pair and a black pair. They were lovely and cushy and I got them for free after a rebate back in the day when I managed to make it out to Rite-Aid to score deals.
One of the white socks sprung a hole, though, and so did one of the black ones.
So, I started wearing the non-holey socks as a mis-matched pair. Unfortunately, the remaining socks began to wear holes this past winter.
They're still cushy socks, though, and they're one of the few pairs I happen to own that aren't ankle socks, so they are nice and warm.
Enter a pair of ankle socks from Aldi.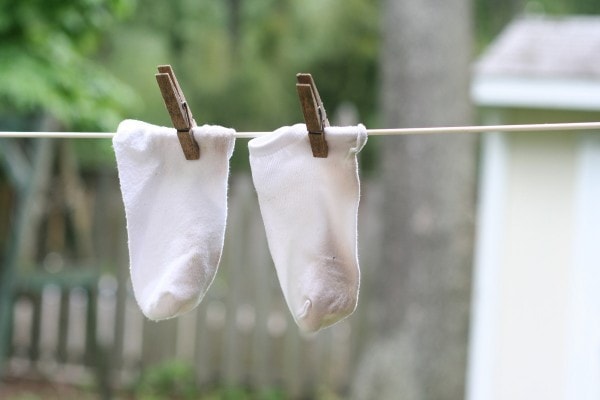 To keep myself toasty warm in the colder months, I put on the Aldi socks first and then layer the mismatched cushy pair on top.
This is the sort of nitty-gritty frugality that simultaneously makes Amy Dacyzyn smile and the rest of the population groan and roll their eyes.
The interesting thing about this is that the person that's wearing these uber-frugal socks is also the person who plunked down $1600 for a camera.
I make my own bread, I refashion old clothes, I shop at Goodwill, I live (mostly) without a cell phone, and I use broken things until Mr. FG insists I stop.
But I also go on vacation every year.
What gives?
Well, I think that frugality is not so much about savingeverysinglepossiblepenny and more about saving money on things that don't matter so that you can spend it on things that do matter.
(assuming that a person isn't in a poverty state…in that case, frugality is about surviving)
If I spent big bucks on groceries, clothing, a cell phone bill, and I bought new items all the time, I wouldn't have enough money to buy a camera or to go on vacation.
I personally would rather have a vacation once or twice a year instead of a cell phone and regular takeout meals.
And I'd rather cobble together a pair of socks than go without a camera.
That's what mindful spending looks like for me. If you spend your money mindfully, your budget will probably look different than mine. Maybe you'd prefer to buy clothes instead of a camera. Or maybe you'd rather get takeout frequently than go on a yearly vacation.
So, I'm not going to encourage you to save up for a camera unless you want one. And I'm not going to insist that your mental health requires a vacation. What I do want is to urge you to take stock of your spending and make sure that your money is going where you really want it to go.
If you're wanting to use your money for something but haven't managed it yet, see if there's a place in your budget that could stand some trimming. If you can cut your spending in a place where it doesn't much hurt (apparently for me that's my sock budget), maybe you can free up some cash for something you really, really do want.
______________________________
Do you scrimp and pinch in one area and splurge in another? Inquiring minds (mine!) want to know.
______________________________
Today's 365 post: Tackling the mending pile
Joshua's 365 post: A Funny Flyer