As you know, I have a grilled pizza recipe on the blog.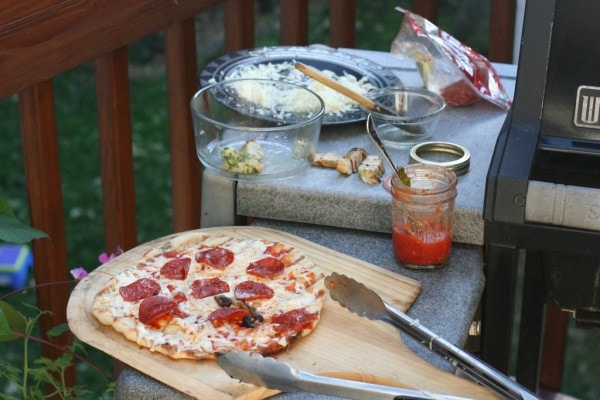 It's a decent recipe (or I wouldn't have posted it!), but in a Cook's Illustrated magazine (which I got from the library), I saw a really intriguing recipe for grilled pizza.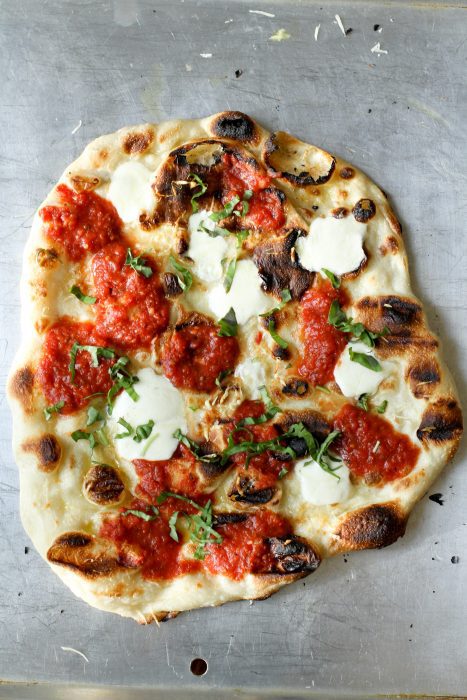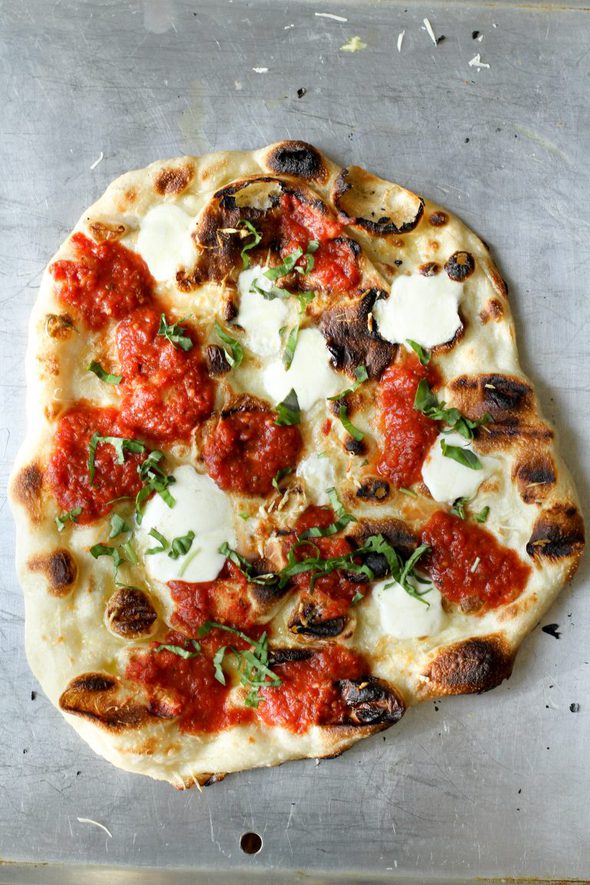 This version calls for making the dough 24 hours-3 days in advance (handy!!) and when you stretch the dough out, you do it in an oil-covered half-sheet pan (the oil on the dough helps it to crisp on the grill).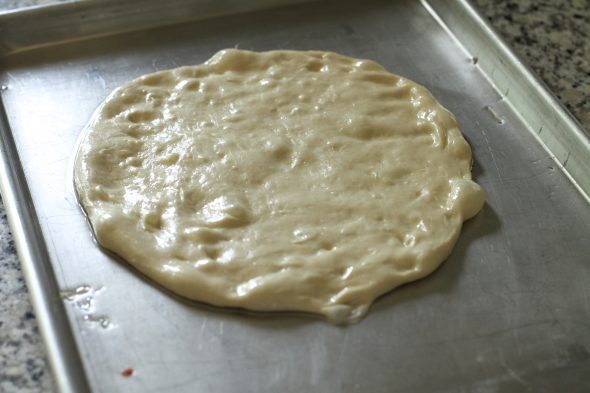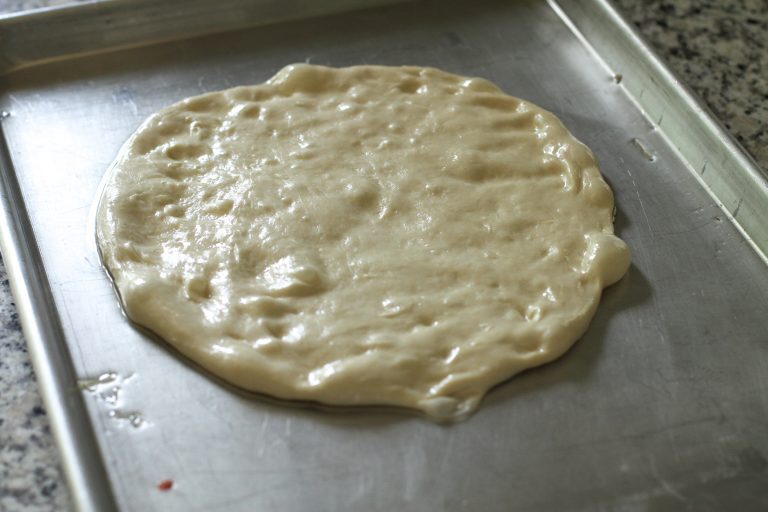 So, I gave it a try.
Unfortunately, I ran out of propane right as I was about to put my first pizza on the grill.
(I'd heated the grill up just fine, but then when I went to use the grill, I noticed the temperature was steadily dropping. And I'd forgotten to order a refill for my spare tank. Whoops.)
Since I was already so far into the recipe, I ran out to get some propane and then carried on. 😉
We all thought this was quite delicious, and definitely a step above the grilled pizza we usually have.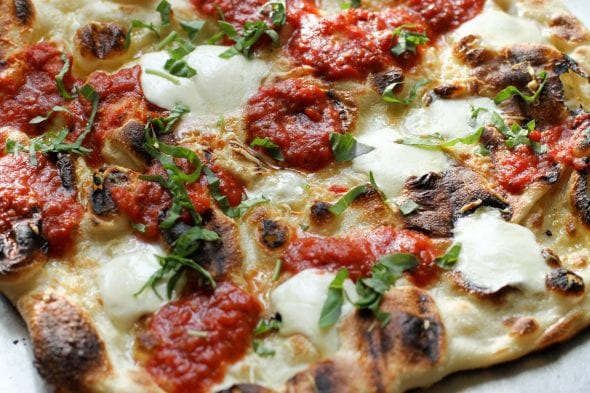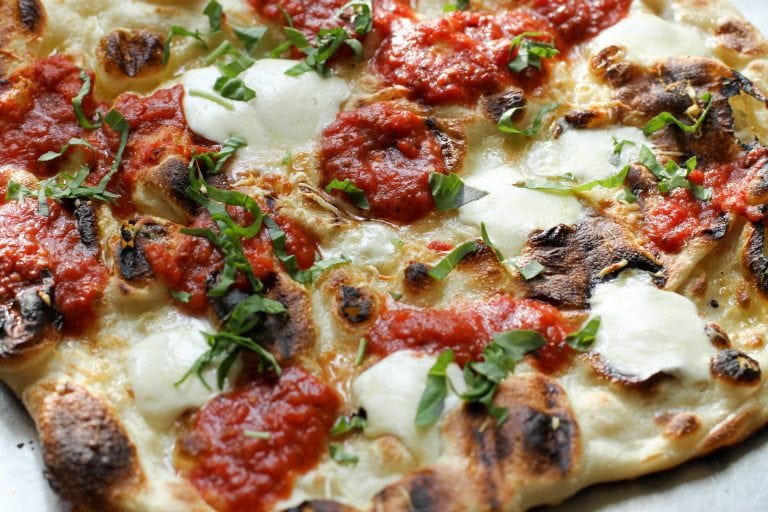 The sauce was bright and simple, the fresh mozzarella was a nice change, and since the crust was made with King Arthur bread flour, it was really chewy and flavorful.
That flour SERIOUSLY makes a difference in pizza crust, you guys. Totally worth the extra few dollars per bag. I'm too cheap to use it for all of my baking, but I do use it for pizza.
(Side note: I just looked up the KA bread flour on Amazon, and it's only $3.69 for a five pound bag through Prime Pantry. That's a very affordable price!)
Regardless of where you get it, you should buy a bag if you want to elevate your pizza crust.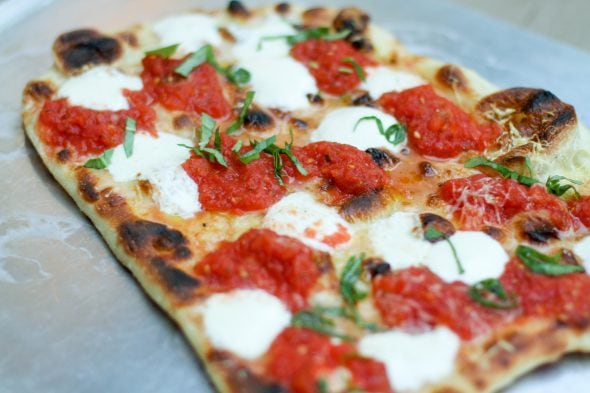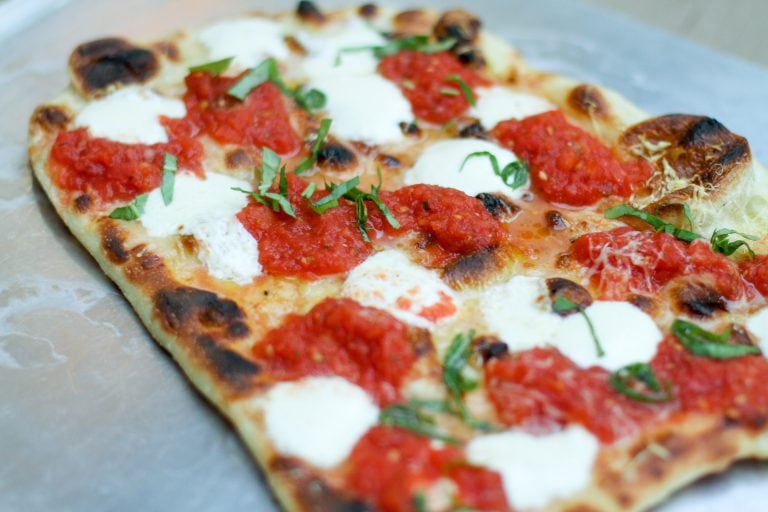 Where was I?
I did have a problem with the bottom of the crust getting too dark before the cheese melted, so I finished the pizzas under the broiler.
I think I'll do some tinkering with my grill temperatures to allow me to avoid the broiler. Not that it was a big pain…the broiler is quick and easy! But it'd be nice to keep it all on the grill.
And then I'd also tweak the tomato sauce. It was super tasty and very easy, but also a little on the watery side, especially once it hit the pizza.
A quick drain of the sauce through a sieve next time would help to fix that.
Obviously, I'm planning on making this again. 😉
And I am very pleased at the thought that I could make grilled pizza dough up to three days in advance. So fabulous.
________________
What new dish did you make this week?
________________
P.S. On the topic of propane tanks: if you live in the Washington DC, Dallas-Fort Worth, Philadelphia, Atlanta and Denver metro areas, you can get a propane tank refill delivered to your front door for only $10 if you're a new customer.
I tried Propane Taxi years ago with a $10 introductory offer like that, and I've been hooked ever since. So much easier than lugging the tank to Home Depot. And it works great as long as you remember to get your empty tank filled (which is what I forgot to do this time around!)
(I'm a paying Propane Taxi customer and they didn't ask me to post. I'm just sharing the refer-a-friend, $10 off link that every customer gets.)
Save
Save