Nursing school has such a weird schedule, you can't exactly get into a routine. Every week is different!
But I would say I'm getting into a better groove of figuring out how to work meals around our college classes and Zoe's work schedule.
What I Spent
I went to Sam's Club this week, which is good (I'm now all stocked up on some things!) and bad (I spent more money than usual!)
I spent:
$147 at Sam's Club
$15 at Safeway
$31 on a Hungry Harvest box
Sooo, $193 for me this week. But of course, it's not like I need to go to Sam's Club every week. Next week's groceries will be cheaper.
What We Ate
Saturday
I ate dinner with a friend, and Zoe had leftover pizza when she got back from work.
Sunday
This was the day my foot was the worst, so we had an easy dinner of Aldi cheese tortellini, Aldi tomato sauce, and basil from my plant.
Monday
I picked up a rotisserie chicken from Safeway.
We ate that with sautéed broccoli.
And a bag of Trader Joe's sweet potato fries.
Tuesday
Leftover chicken in a sandwich form for me, ramen for Zoe after her work shift.
Wednesday
Zoe had an evening work shift and I had lab until 8:00, so when we both got home, I made whole wheat blueberry pancakes for the two of us.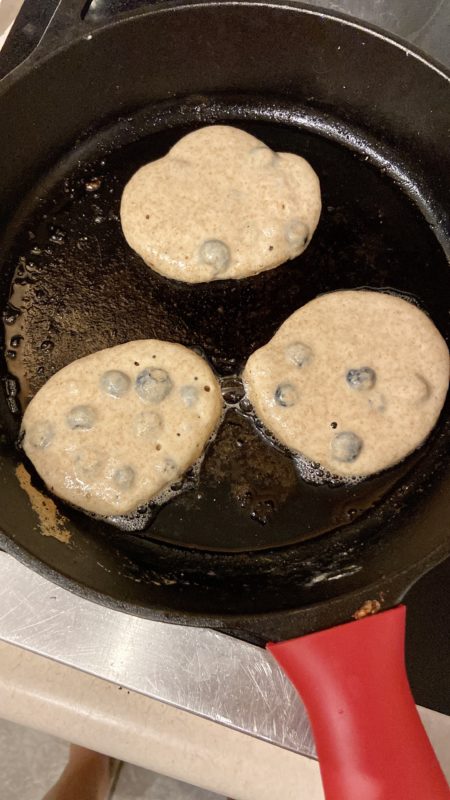 Thursday
I knew I had a little bit more rotisserie chicken left in the fridge, so I threw together a chicken noodle soup, using broth from my freezer.
Serendipitously, I had carrots and celery in the fridge and a partial bag of noodles in my pantry, so it all worked out quite swimmingly.
I didn't really measure anything; I used two carrots, an onion, two stalks of celery, a healthy shake of thyme, some salt and pepper, and then of course the chicken broth and the leftover chicken.
But if you want a more organized recipe with measurements and all, click here for a chicken noodle soup recipe.
I added a splash of heavy cream to my bowl and oooh, that was so good. 10/10, would recommend.
Lisey loves soup, so this dinner made me feel a bit wistful. But then Lisey called after dinner and we chatted while I did my dishes, and that made my heart feel happier.
Thank goodness that costly long-distance phone calls are a thing of the past! Being able to talk to Lisey all the time makes Hawaii feel not SO far away.
Friday
We have some leftover soup, plus some leftover tortellini from earlier in the week, so we'll probably eat those two things up.
What did you have for dinner this week?