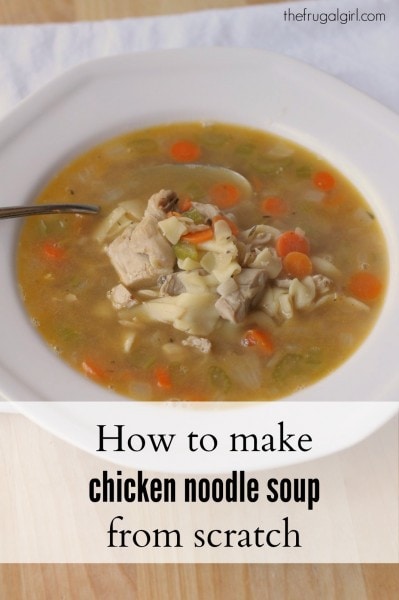 I know many of you black belt frugal experts can make chicken noodle soup (a classic frugal meal!) while blindfolded, so you may be slightly bored by this post.
But honestly, I wasn't too skilled at making a good homemade chicken noodle soup until sometime in the last year or two, so I figured there are probably some readers out there in the same boat.
So, this post is for you!
I learned the basic method from Cook's Illustrated (because of course), but mine is a more frugal version than theirs. 😉
This post piggybacks on two recent chicken topics, so in case you missed them:
Recently, I showed you how to salt, spatchcock, and roast a chicken.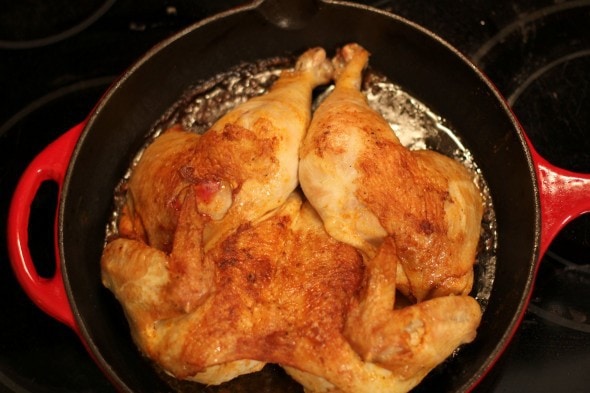 And then we talked about how to make broth (the sort that actually tastes good!) from the bones and raw backbone left from spatchcocking.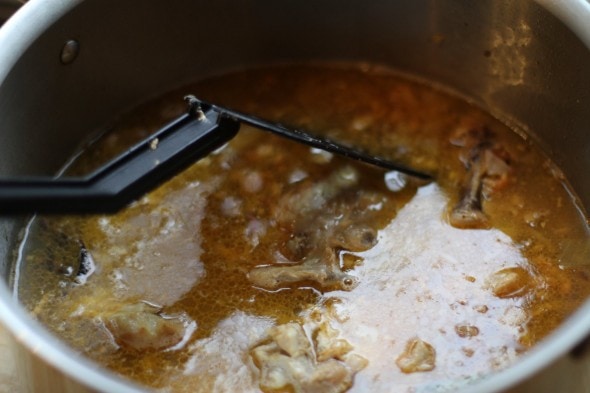 You can use the resulting broth in any recipe that calls for chicken broth, but since it's awfully tasty, it can easily serve as the base for chicken noodle soup.
(Not-So-Spectacular broth can be disguised in rice or sauces, but for good chicken noodle soup, you really do need to have delicious broth.)
In my broth post, I mentioned that if you know you're gonna be making chicken noodle soup, you should save some of the fat that rises to the top of the broth.
If you didn't, no worries. You can still proceed. 😉
So, you'll want to take the chicken fat (or vegetable oil) and heat it in your Dutch oven. Then add in a cup each of onions, celery, and carrots.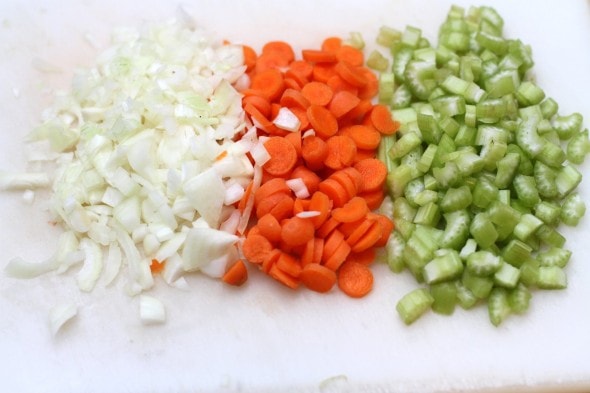 Chicken fat tastes very chicken-y, as opposed to, say, beef fat, which mostly just tastes greasy.
So, sauteing the veggies in chicken fat ups the chicken flavor in your soup a bit more. It is not essential, though.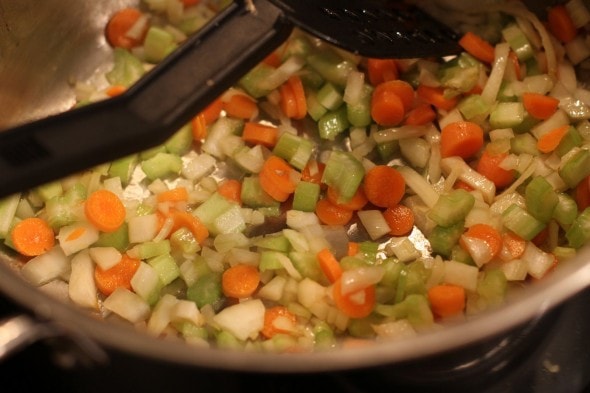 Cook these until they're slightly softened, about 5 minutes. Then add in 1/2 teaspoon of dried thyme plus your broth (the amount is flexible, but somewhere between 6 and 8 cups is good) and simmer your soup until the veggies are cooked to your liking.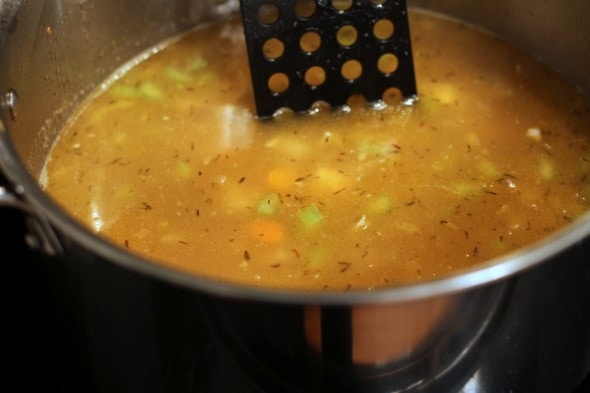 Now, hopefully you had some leftover roasted chicken that you can use for your soup.
If not, then during the above broth simmering time, you could poach some chicken breasts (remove the skin before poaching). Simmer them until they're cooked through, remove them, let 'em cool a bit, and then chop the meat up into bite-sized pieces.
Luckily, I roasted a big chicken, so I had plenty of leftover meat for my soup this go-round.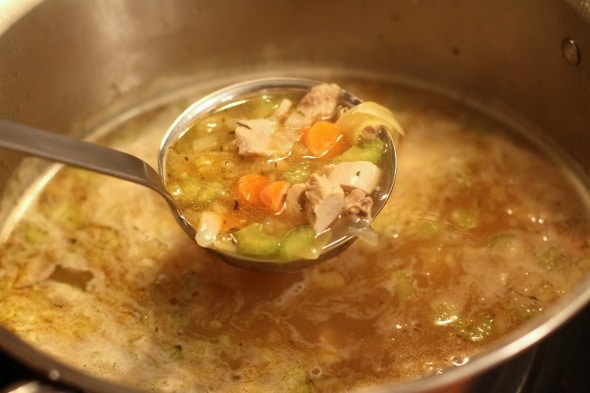 Finally, add in 2 cups of dried noodles and simmer until the noodles are soft (check your noodle package directions to find out how long that might be.)
Salt and pepper the soup to your taste and serve it proudly.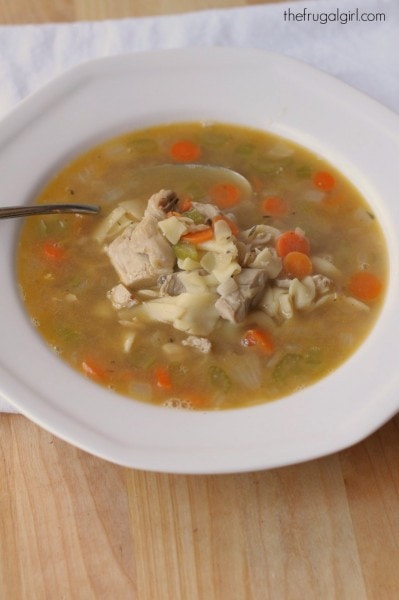 Leftover soup keeps quite nicely and tastes delicious when reheated. The noodles to tend to absorb broth as the soup sits, though, so you may need to add some additional water when you reheat the soup.
Homemade Chicken Noodle Soup
1 cup chopped onion
1 cup chopped celery
1 cup thinly sliced carrot
2 tablespoons reserved chicken fat (or vegetable oil)
1/2 teaspoon dried thyme
6-8 cups of homemade broth
2 cups chopped leftover roasted chicken
2 cups (3 oz.) dried noodles
salt and pepper to taste
In a Dutch oven, heat chicken fat until melted. Add vegetables and saute about 5 minutes. Stir in broth and thyme; simmer for about 10-15 minutes, or until vegetables are tender. Stir in chicken and noodles and simmer until noodles are soft (consult package directions for noodle cooking time.)
Season with salt and pepper to taste.
_________________________________
P.S. Congrats to Geneva, winner of the Third Day Naturals prize.
Also, don't forget that Third Day is offering a special discount to Frugal Girl readers. Use code TDN20 to receive 20% off! This is good only through December 14th, so go place your order before it expires.