It's a Q&A day!
On Instagram, Marie commented,
"Where do you keep your kids' daily homeschool materials? In your pictures of homeschooling them, I never see a bookshelf or a desk or anything containing their supplies. I have 4 kids too and a small house and I am struggling with this."
It's easy to have your house overrun with schooling supplies, especially when you have a bunch of kids in different grades!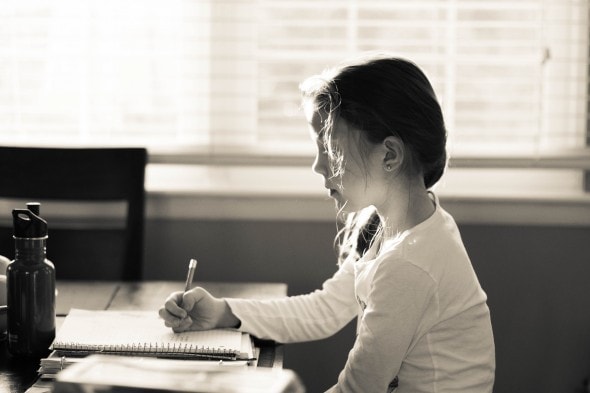 Since we don't have a formal school room and since our dining room isn't large enough to house bookshelves and other storage, my kids typically have kept their daily school supplies in their rooms.
Except for Joshua, they don't have rooms large enough for desks, so they do their school at the dining room table or at a desk in the downstairs office.
And let's be honest, also on the living room floor and on the floor in their rooms.
Or out on the trampoline and front sidewalk.
The point is, we don't have dedicated spaces for just school stuff, and I imagine you don't either!
I'll show you what this looks like for Sonia and Zoe.
Their rulers, markers, pencils, flash cards, and other such small supplies go in the bottom of this nightstand and also in the drawer.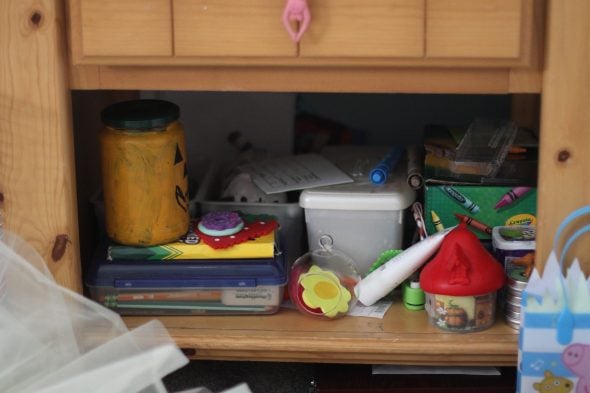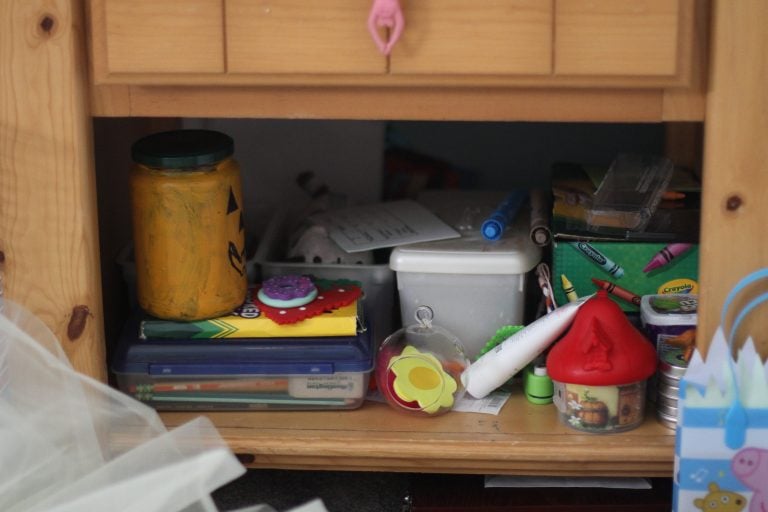 Obviously, we are not too pressed about keeping this ultra-tidy. 😉
Their actual schoolbooks go in the bottom shelf of their little bookshelf. I happened to take this photo when the shelf was pretty empty…they do have more books than this!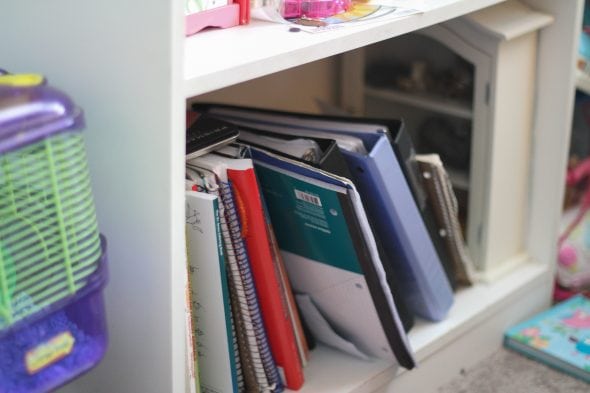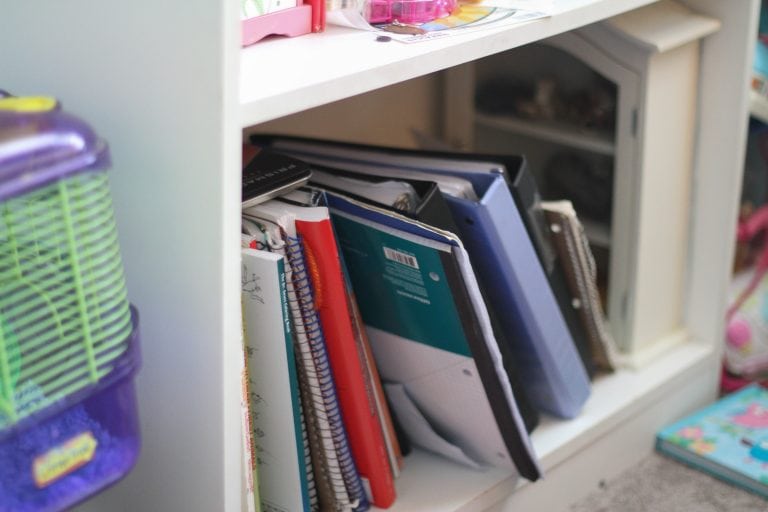 Each day, they pull out what they need, and then when they're done, it theoretically* gets put back.
*theoretically, because we all know that no kid puts their things away every single day. At least, none that live at my house!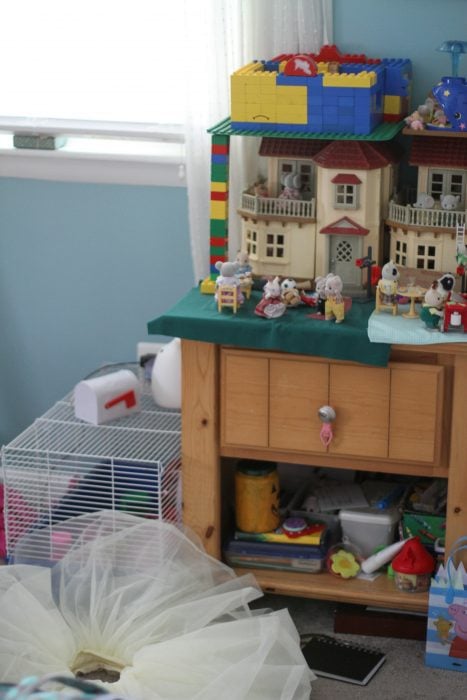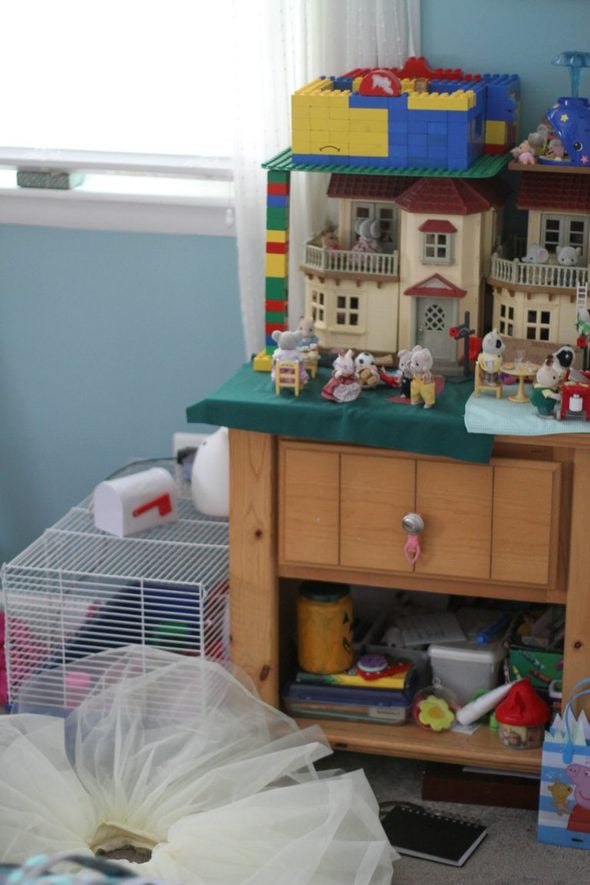 Since we don't have lots of space to dedicate to school storage, it's really important for me not to be a packrat. When we're done with curriculum, out it goes!
Consumables go into the recycling, and non-consumables we've outgrown or didn't like get listed for sale or giveaway.
So, the only things I keep are non-consumables that I'll use with younger siblings, plus teacher's manuals/checking books that I'll need in the future.
For memory purposes, I've kept some of my kids' early journal books and compositions, but for the most part, I get rid of their schoolwork every year. Who wants to read old grammar workbook pages? Or old math lessons?
(I do sometimes photograph funny stuff that my kids do on their school pages, and I instagram those with the hashtag #fgschoolpapers. I enjoy looking back at those every now and then!)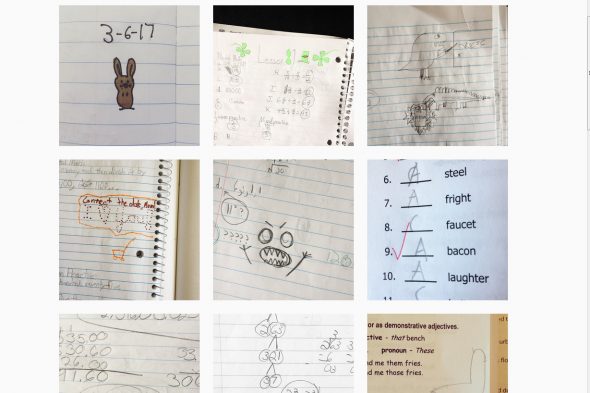 How do your kids turn in their schoolwork for you to check?
-Leah
I suppose this isn't super different than the way it happens at schools, except it's not quite as formal.
Basically, when they're done with their work, they bring it all to me and I check it.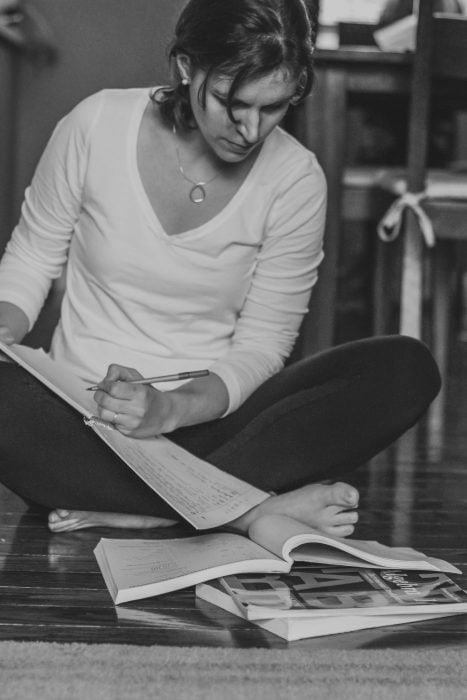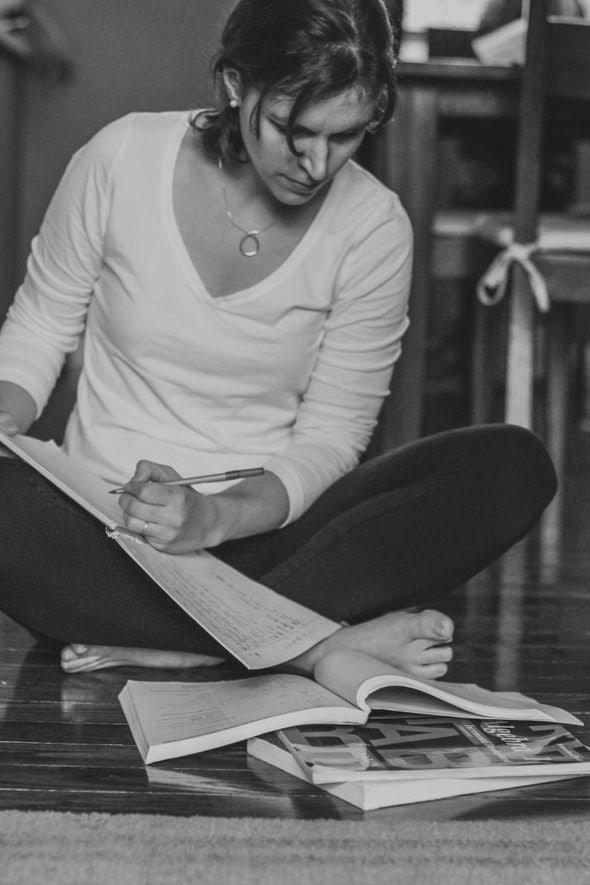 Once I've marked anything wrong, I either help them fix the mistakes, or they do it on their own and bring it back for me to re-check.
Math is the main subject that requires a fair amount of correcting (My kids don't get a lot wrong in subjects like grammar or vocabulary. I think they're word people and not so much number people!) and even though the process of correcting math problems is tedious, I think it's super, super important for the learning process.
So, we slog through that faithfully. 😉
Oh, and some of Sonia and Zoe's subjects don't really need to be corrected because we do them together. For instance, we work on science and history together, so I'm right there when they're doing any writing/question-answering, and I already know it's all a-ok.
____________
Got a Q&A question for me? Leave a comment here or email me!